Duotive Three Premium WordPress Theme

Due to the extreme popularity of their 2WO theme the Duotive developers are at it again, and believe it or not, Duotive Three premium WordPress theme is even better than its predecessor! By far, the greatest improvement with Duotive Three premium theme is the all-new admin panel, which makes working with WordPress easier than ever. Make sure to check out the VERY extensive list of features below to see everything that this extremely powerful theme is capable of.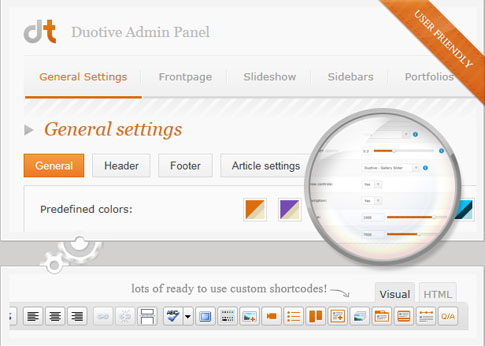 Duotive Three's admin panel is fun and easy to work with
Aside from this improvement over Duotive 2WO, the Duotive Three premium theme features incredible styling throughout with plenty of shortcodes to keep you busy styling your site exactly how you want it. There are tons of useful shortcodes for galleries, sliders, and pricing tables, as well as fun shortcodes that add touches of flair and style here and there, like the image frames seen below. Ultimately, Duotive Three is an incredible WordPress layout that builds on the successes of Duotive 2WO, which came before it, and offers up tons of new functionality. Make sure to give the Duotive Three premium WordPress theme a try at the end of the post!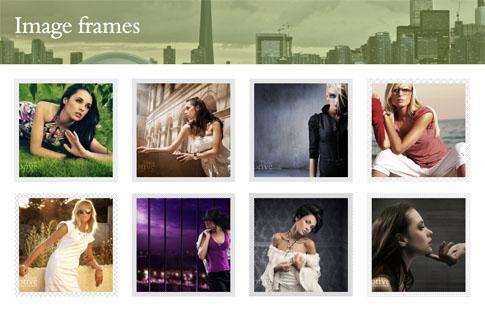 Decorative picture frames add a touch of style when needed
Duotive Three Theme Features
Color pickers to make your own schemes — have your theme represent you the way you want
18 predefined color schemes
9 beautiful predefined fonts
Custom background images, color overlays, and patterns for every page and post
Custom sidebar manager to create custom sidebars and assign them anywhere throughout your site
7 custom widgets (contact form, mini-gallery, slideshow, testimonials, recent tweets, and more!)
Simple favicon upload with the new Duotive admin panel
Video tutorials included!
Header Toolbox
Toolbox background color easily changed with color picker
Predefined menu location on the left that can be easily edited in WordPress
Social icons to share your profiles on the most popular social websites
Search box
All features can easily be turned on or off independently
Multiple Sliders
Duotive gallery slider
Duotive full-width slider
Duotive complex slider
Duotive presentation slider
Accordion slider
Content slider
Nivo slider
Frontpage Content
4 different frontpage templates (business, news, posts, and presentation)
Extensive frontpage manager available in the Duotive admin panel
Any part of each template can be changed or turned on and off
Typography
Multiple columns and combinations
Tables
Lists
Quote boxes
Buttons (with custom icons)
Much more!
Blog
5 different blog templates (classic, modern, accordion, dual columns, and full-width)
Meta info
Related posts
Sharing
Comments
Gallery
Build your own personal gallery to share your photos in a modern, stylish way
Many styles, shapes, and sizes
Sidebar and full-width layouts
Galleria JavaScript gallery
Shortcodes
Embed videos
Generate pricing tables
Set up Q&As
Create product tours
Slideshows
Tabs
Accordions
And so much more!
Customizable Contact Page
Sidebar with contact details
Contact form
Contact form can be sent to multiple email addresses
Footer
Display your partners with Duotive Three's unique content scroller
Adjustable colulmns
Editable menu location
Copywrite text
Duotive Three Theme Showcase
Come back and check out the showcase as we find more sites from around the web using Duotive Three.
Duotive Three: $35 | Demo & Download
---
Related Articles