Don't Rush to Sign Up for BlogRush

If you checked out any blogs in the make money online or blogging about blogging niche, chances are you've already heard plenty about BlogRush. For the rest of you, according to their website:
"BlogRush is a free service that was created to help bloggers solve their #1 need:
More Readers For Their Blog.

By adding the BlogRush Widget to a blog, a blogger can get instant distribution for their latest blog post titles across a network of related blogs.

BlogRush users earn "syndication credits" (the right to have their blog post titles shown inside a widget on another related blog) based on their own traffic (loads of the widget) as well as the traffic of other users they refer to BlogRush. Users can automatically refer others to BlogRush via special links on the widget, as well as through the promotion of a special referral URL they are given."
More traffic for free? Sounds great right? As if that weren't enough, John Chow states that BlogRush was "designed to be incredibly viral and to provide its users with tremendous distribution leverage to receive exposure for their blog content that they could never achieve on their own." Darren Rowse and Yaro Starak's reviews were slightly more reserved but still suggests giving it a go. So with positive reviews from some of the top authorities in my niche you'd probably expect me to write up a glowing review of this new service to try and wrack up the referrals right? Wrong.
Sign Up But…
While I think BlogRush could certainly be a worthwhile service for you to sign up for, I'd urge you to be very careful about HOW you sign up. In my opinion, BlogRush's 10 tier affiliate program, which is being tauted as one of the biggest reasons you should sign up, is in fact the programs biggest weakness. Darren's post included this explanation of the affiliate system:
Not only that – they have a referral system so that if another blogger signs up to Blog Rush after clicking through to it from your widget you'll get credits each time that the referral blog shows the widget. The referral system goes 10 tiers deep – so you can potentially get ALOT of credits.
That certainly doesn't sound like a bad thing, right? Well, for the big guys it's not. However, for anyone that signs up for BlogRush via an affiliate link, it could be a big problem. By signing up via an affiliate link, you'll be promoting someone else's content for free. Let's say for example that I had signed up through John Chow's affiliate link. Then I wrote a post recommending that everyone with a blog signed up for the program. Let's say my post was incredibly successful and earned me 100 referrals. I'd then begin to earn credits on those referrals' traffic and referrals, and my content would be displayed all over the place. However, I wouldn't be the only one earning credits and having my content displayed, John's content would be as well.
You're Shooting Yourself in the Foot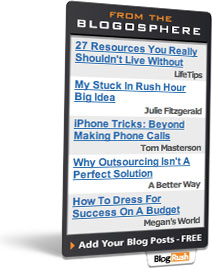 Why is this a problem? To continue my explanation I'm going to use a math equation but just stick with me and it will simple, I promise. If I were John's only referral, he'd be earning credits for the amount of traffic his blog generated (J), as well as my blog (M) and all my referrals' sites (R) for a total of J+M+R. My total would obviously be M+R and last but not least my referrals total would simply be R. While other programs (such as Yuwie which I reviewed last week) run on this type of model, in BlogRush's program, my content is competing with John's for space. As you can see from the image to the left, there is limited space on each site. Since our blogs are in the same niche, my content would be displayed on the same sites as John's. If he is continually reaping the benefits of my efforts as well as his own, his content will always be displayed more often than mine. No matter how many referrals I make or how much traffic my site drives, John would at a minimum, earn the same number of credits as me. When you consider the fact that the major bloggers will likely have hundreds of referrals, it's easy to see who will benefit most from this program.
Bottom Line
Does this make BlogRush something to avoid? Not at all. However, I would urge you to NOT sign up for the service through the affiliate links of a site that is in your niche. You may also want to think twice before displaying the BlogRush widget on your site. After all, you might not want to promote sites you're in direct competition with. However, if after considering these issues you decide to give BlogRush a shot (I did) and you author a blog about making money blogging or blogging tips, click over to BlogRush through this link (non aff) and sign up. Reap the benefits of your work and spend your time and effort promoting your own content, not mine. If your blog or website is about a different topic or niche, then by all means, I'd love it if you signed up through this link. If you do, as always, we'd love to hear about your experiences and impressions.
Update: I logged in to BlogRush this morning and was greeted by a message to BlogRush members from John Reese. It does address the "math" issue so I figured I should update this post to include this information:
In our video we mentioned that you earn a 1:1 ratio of syndication credits on your own traffic, and any direct referral's traffic (such as "Bob" in the example video) and any direct referral's referral traffic (yes, that sounds confusing!) such as "Jen" in our example. We also mentioned that you'd also earn credits based on activity through 10 generation levels. Here's the breakdown of our formula:

Your Traffic = 1:1 1st Generation Of Referrals (Directly From You) = 1:1 2nd Generation Of Referrals (i.e. Jen in the video) = 1:1 3rd – 6th Generation Of Referrals = 1:4 7th – 10th Generation Of Referrals = 1:8

1:1 means you earn 1 syndication credit for every 1 impression of the widget by your own traffic or by any users located on the 1st (direct) or 2nd generations. 1:4 means you earn 1 syndication credit for every 4 impressions of the widget by any user located on the 3rd to 6th generations. 1:8 means you earn 1 syndication credit for every 8 impressions of the widget by any user located on the 7th to 10th generations.

When all of this math is added up, it leaves 1 headline space available out of every 10 that are served. This means that BlogRush uses 10% of the headline spots (5 headlines in each widget load) to monetize the service. We currently have plans to sell these extra credits to any user that would like to purchase additional credits — this is one of the ways we will pay for the service.
The decreasing returns certainly helps alleviate some of my concerns. I guess all that's left now is to give it a spin and see what kind of results I get. I would still suggest avoiding signing up as a referral of someone in your niche as it just makes sense not to worry about splitting the returns on your work even at a 25% rate.
---
Related Articles