Dishing up Digg Data
While there are still several people entering this site from Digg, I think the traffic levels have died down to the point where we can take a look at the data and get a good feel of what benefit hitting the front page of Digg had. There have been a lot of posts like this one, in fact, I've written a couple of them myself, but I guess I'm a bit of a stats junkie as I still read every one I come across. If traffic numbers and conversions aren't your thing, well don't say I didn't warn ya!
Just to catch everyone up, about 5 days ago my article Benefits of a Blog Redesign hit the front page of Digg.com. Traffic went through the roof as the site was hit with what is known as the Digg effect. Luckily, my site was able to withstand the onslaught and as far as I can tell, stayed up the entire time. So, what kind of traffic numbers are we talking about?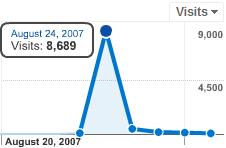 Now that's what I'm talkin about! Actually, from most of my experiences that's a fairly mild Digg spike since the story hit the front page at 2 a.m. central. Another 1,000 or so visitors found there way here over the next few days as well and in fact, as the story starts to rank in the search engines, previous experience suggests I'll continue to receive a fairly regular, although small, flow of traffic from the social site. For example, the entry on Digg already ranks #3 in Google for the search phrase "blog redesign".
While the quality of traffic that Digg sends has been denigrated by countless bloggers and webmasters, I actually picked up about 30 new subscribers and sent well over 100 people to Text Link Ads and another 100 to my John Chow page on the milliondollarwiki. While those percentages aren't what you'd expect to see from normal traffic, that's hardly what I would call useless. Considering the fact that none of the 500 StumbleUpon users subscribed or clicked through to TLA, I'll take Digg's conversion rates any time.
Perhaps the longest lasting benefit of hitting the front page of Digg, or any other social media site for that matter,  is the number of links that follow. Putting your content in front of a large audience of typically young technology inclined people almost always results in links for your site. According to Technorati, I received new links from 25 distinct sites with an average Technorati Authority of nearly 300! Not only will that help increase my Google toolbar PageRank (whenever they get around to updating it) and my Technorati Rankings, it will also help my site rank better in the search engines. Plus, some services such as SponsoredReviews rate your site on the amount of "link pop" it boasts so extra links will often mean extra money.
And there you have it, just about every stat I could think of to pass along about what hitting the front page of Digg did for this site. If you can think of other stats you'd like to see or have other questions, please don't hesitate to ask. I'll offer up as much information as possible. If you're wondering how to go about actually GETTING to the front page of Digg, well that's a matter for another post (or three).
---
Related Articles