Discovery WordPress Theme is Here!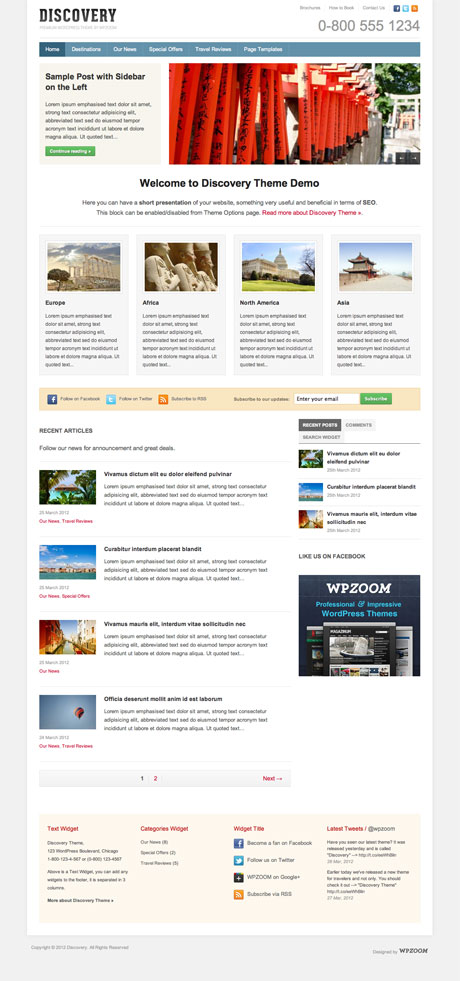 I think the biggest thing that so many people miss in web design these days is that they forget what the core purpose of design is in general. At it's core, design is meant to help us make sense of what is going on around us, or to help us see and discover things that we didn't notice otherwise. It's a lot more than flashy effects and bells and whistles. It's about form, function, and structure. The ability to help guide our visitors, customers, readers—whatever the case may be—to exactly what it is they're looking for. Fortunately, if you're a fan of all these things, there's Discovery premium WordPress theme out there for you!
The Discovery theme offers flexible features that make it the perfect option for anyone needing a template that can easily adapt to whatever situation they throw at it. You've surely found out from running a business or website before that your needs can change in an instant. When those situations arise, you need a platform that doesn't hinder you from growing in that direction. Rather, you need something that can develop with you and your model. Discovery premium theme offers a wide array of features built upon a rock solid coding foundation that will enable you to achieve this with ease.
Starting with the WPZOOM Options Panel, you'll definitely have no shortage of options available to you to help you get your theme working the way you want in a timely fashion. So if you needed your site up and looking great yesterday, Discovery has you covered. Everything from custom widgets, attractive styled features such as threaded comments, and plenty of page templates allow you to develop a full-featured site that is uniquely you with little effort.
WPZOOM offers plenty of other benefits too, such as ensuring that all of their themes are not only search engine friendly, but they offer search engine optimization options in the backend so that you can tailor your search strategy to fit your organization. This along with being internationalized and localized shows what a great, well-rounded theme Discovery premium WordPress theme is and it's a testament to the quality that WPZOOM has been putting out for years and continues to strive for in it's newer designs. If you're still unsure about Discovery being a good fit for your site, take some time to click through the live demo by following the link at the bottom of this post. Enjoy!
Discovery Theme Features
WPZOOM Options Panel
Custom Menus Management
Threaded Comments Support
Custom Widgets and Features
SEO Options Section
Custom Page Templates
Developed for WordPress 3.3+
Custom Logo Input
Automatic Image Resizing
Internationalized and Localized
Banner Management Section
Custom Background Support
Discovery Theme: $69 | Demo & Download
Note: Many of the articles on this site include affiliate links that may earn us a commission if you decide to buy the recommended product.
Related Articles