Diner Premium WordPress Theme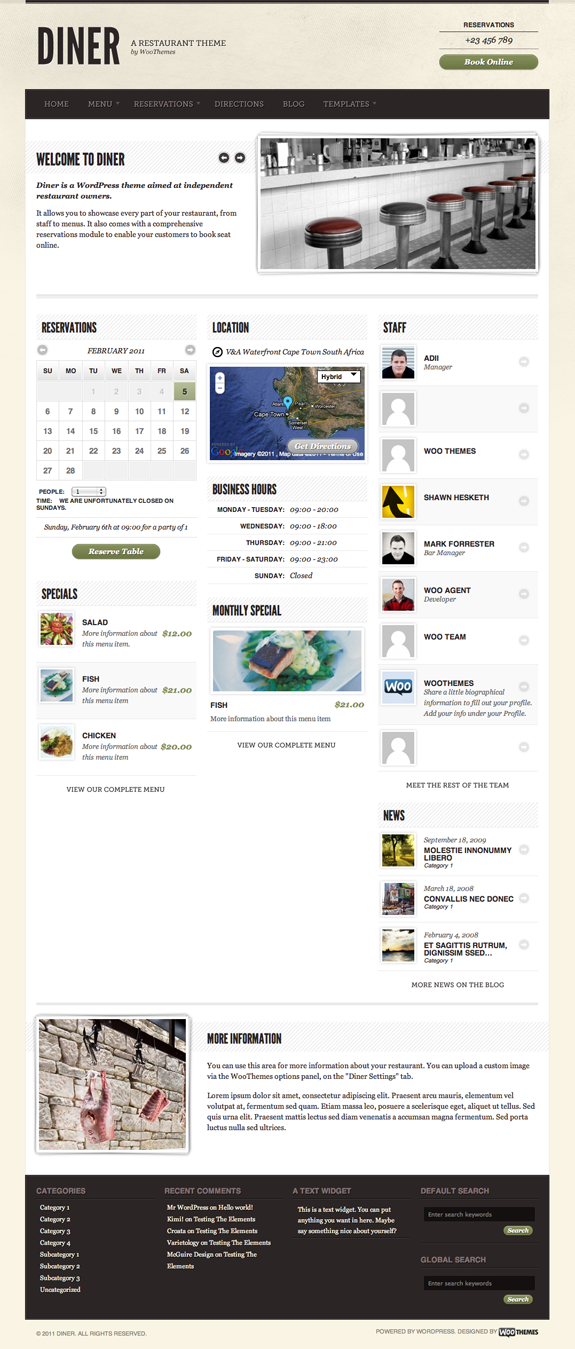 Diner is the perfect premium WordPress theme for restaurant/bar owners wanting to showcase their food menu, location, and for allowing online reservations — all the while presented in a slick and spacious layout, powered by custom post types and some additional features. Remember: every WooThemes layout is built on the Woo Framework, making site alterations a snap!
Diner Features
Custom Homepage — The Diner homepage showcases food specials, menu items, business hours, reservation options, a featured slider, and a 'general information' module most of which can be enabled/disabled as desired. Most importantly it is showcased in a clean and spacious layout.
Food Menu Page Template — The food menu template allows you to showcase all the food items on your restaurant's menu. A site visitor can arrange the menu items according to price or rating. After dining, your customers can even rate the meal they had at your restaurant!
Reservation Functionality — Diner comes with in-built functionality capable of taking table bookings for the restaurant. You can set your opening and closing hours, average length of a sit-down booking, and then view/manage orders from your WordPress dashboard.
Location Page Template — The location page template helps site visitors determine where your restaurant is; and with Google Maps integration, one can get directions to the restaurant without leaving the website.
Custom Post Type — The featured slides, food menu items, and reservations are delivered through the all new Custom Post Type functionality in WordPress 3.0, making it easier than ever to add new posts!
Custom Widgets — The theme has 8 widgetized areas, and as always comes with custom Woo Widgets…15 total in Diner!
Alternative Styles — Diner includes 11 alternative color styles.
Standard Diner Features

Backend Theme Options
Making simple changes without editing code — like adding your own logo, changing to an alternate color style, or adding Google Analytics — couldn't be easier with WooThemes' backend options panel.

Cross-Browser Compatible
WooThemes has tested their layouts to ensure they are compatible with all the modern web browsers like Firefox, Safari, Google Chrome and Internet Explorer. All are web standards compliant.

Auto-Sizing Thumbnails
An image resizer script built into the Woo Framework automatically scales your post images for pixel perfect display in your template. No need to upload new cropped images when re-designing your website.

Localized for Translations
All of WooThemes' templates come packaged with a PO file for easy WordPress translations into your desired language — editing one neat, little file without hunting down text in all your theme templates. (Supports WPML plugin)

Woo Framework
All themes are built on the same Woo Framework — modifications through the options panel are a breeze, and all is neatly coded for search engine readiness and further theme development.

Custom Page Templates
Every WooThemes layout comes packaged with a full-width page template without the sidebar, and sitemap/archives page templates for efficient quick links to all the hidden posts you wrote ages ago that still deserve to be seen.
Diner Showcase
Take a quick look at some of the sites from around the web using the premium WordPress theme, Diner:
Diner: $70 | Demo & Download
Buy one for $70 (and get two more free) or get access to EVERY WooThemes layout for only $125!
---
Related Articles