Delicious WordPress Theme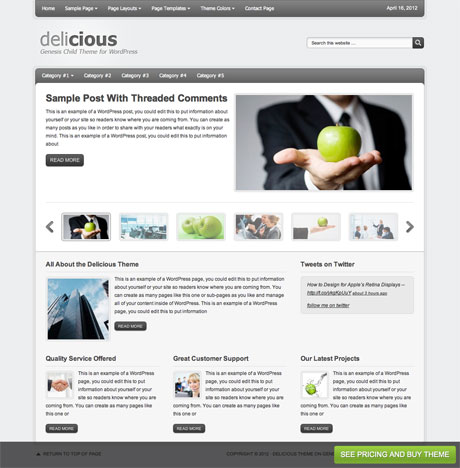 Working in the online space can be a daunting task. If you're a marketer or a businessman, you understand the pressures of needing to make sure that your business is always performing at its best. Part of that equation is ensuring that your web presence is strong and professional and represents you in a way that is accurate and engaging. That's a pretty tall order for any organization. Fortunately, you don't have to make all of those choices or decisions on your own when you have a theme like Delicious premium WordPress theme from StudioPress.
Delicious is a child theme built on StudioPress' Genesis Framework. I think that a lot of people are unsure of what exactly a child theme is and how it interacts with a framework, so I'm going to shed a little light on how that whole arrangement works. The Genesis Framework is a coding base that is utilized across all of their child themes. It is essentially the foundation in which all other designs are built upon. A child theme is then activated through the WordPress backend in conjunction with the Genesis Framework. What this does is it gives us a strong, consistent base to use across our site that isn't affected if we decide to change the child theme out. For example, if you were to simply swap one theme from a club with another theme from a club, you're completely restructuring the way that your markup and code is laid out. This can oftentimes be detrimental to your search rankings, ultimately hurting the performance of your site. Fortunately, with a framework in place, all of that expertly coded markup remains the same, and simply the design and a few key features change. This creates consistency throughout your site and provides ease of maintenance as well. In my opinion, working with a child theme is the only way to go with a WordPress install!
So, aside from offering up a great deal of functionality that is incredibly helpful, Delicious also looks really great. There are six different layout options that you can choose from, and a great options panel on the backend that allows you to fine-tune everything from logos to featured images to meta information. Additionally, all StudioPress themes come with unlimited updates and unlimited support, so you can rest assured that you won't be facing any potential issues on your own if they happen to come up.
For the price point and what you get in return, Delicious is an incredibly tough deal to beat in the WordPress space. The best thing to do at this point would be to check out the live demo at the bottom of this post to see all that Delicious has to offer you in action. Enjoy!
Delicious Theme Features
6 layout options
Fixed width
Theme options
Featured images
Threaded comments
Search optimized
Unlimited support
Unlimited updates
Delicious Theme: $24.95 | Demo & Download
Note: Many of the articles on this site include affiliate links that may earn us a commission if you decide to buy the recommended product.
Related Articles