DeepFocus From ElegantThemes Is Now Responsive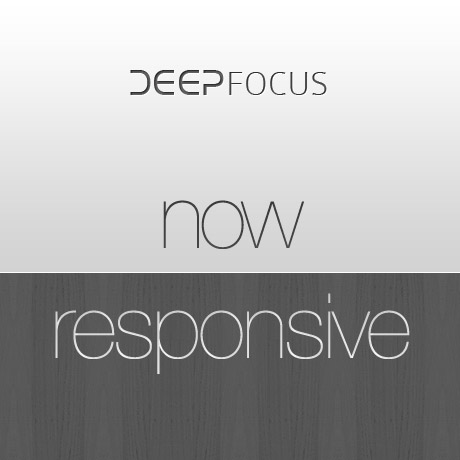 DeepFocus premium WordPress theme by Elegant Themes has been a long-standing favorite among photographers and artists looking for a way to showcase their work. The clean, beautiful design does an excellent job of presenting portfolio items in a way that doesn't detract from the original work itself. In fact, the theme is styled so well that really takes on whatever elements are introduced with the pictures used throughout the theme. The neutral palette serves creatives well as a great platform to get their latest pieces out to the public.
Well recently this classic theme went through a big overhaul and it is now completely responsive! DeepFocus' classic styling and functionality have always made it a great option for creatives needing a way to setup an online gallery, but with the recent responsive update it's practically a no-brainer to go with! DeepFocus' responsive redesign means that your content—from blog posts to site pages to portfolio listings—will all be served up in the best possible way to all users no matter what device they might be surfing around on. It doesn't matter a visitor is viewing your site on the smallest Android on the market or jumbo cinema display on a Mac, it's going to look great regardless as all of your content is reformatted automatically thanks to some CSS media queries.
Another benefit of running a responsive site is that you only have one site to worry about, but it effectively gives you multiple versions of your site that work well on various devices of different sizes across the industry. Instead of having to worry about managing your desktop site and a mobile site with two totally separate stylesheets and sets of markup, you now only have one streamlined template to work with that gives you everything you could ever need for your site and so much more! All of Elegant Themes' templates are cross-browser compatible, even working with some supremely old versions of Internet Explorer (just because the website works in IE6 doesn't mean you should keep using it…please do us all a favor and upgrade…now).
If you're interested to learn more about DeepFocus, head over to Elegant Themes and check out the live demo of the theme after reading through the list of features below. When you're there, take some time to try resizing your browser so you can see how the media queries work and how your content will be reformatted. Enjoy!
DeepFocus Theme Features
Responsive design
WordPress 3.3 compatible
Firefox compatible
Opera compatible
Netscape compatible
Safari compatible
IE8 + IE7 + IE6 compatible
Five Color Schemes
Gallery Section
Threaded Comments
Optional Blog-style Structure
Gravatar ready
Advertisement ready
Widget ready sidebars
Theme Options Page
Custom thumbnail images
PSD files
Valid XHTML + CSS
Smooth tableless design
ePanel theme options
Support and updates
Complete localization
Note: Many of the articles on this site include affiliate links that may earn us a commission if you decide to buy the recommended product.
Related Articles