Daily Blog Score 7-26 & My Office
I finally finished setting up my home office! I'm pretty stoked as for whatever reason, I feel more productive when sitting in front of a desk rather than lounging around with my laptop doing who knows what while trying to blog. Plus, I get to use my 22 inch Apple wide-screen display which I hadn't hooked up since we moved.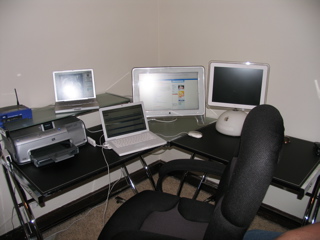 Oh, and before you think I'm trying to brag or you start to think I'm already rich or something, you should know I bought that display at an auction for exactly $2.00. A company I was working for had an auction selling off all their old hardware. This one was marked as broken but I figured I'd bid a couple bucks and have some fun tinkering around with it if nothing else. It started up the minute I plugged it in and has worked perfectly ever since. You gotta love the bargains. Ok, back to your regularly scheduled blog post.
When I got around to calculating my daily blogging score I realized I came up WAY short of my daily goal of 50, but setting up the office has got to count for at least 20 points right? Also, I wasn't sure whether my brainstorming session counted as a plan for a series of articles but I went ahead and threw it in there. While it isn't a plan per say, I came up with a few solid ideas including two regular blog features I will be trying out here. It was a close call whether that was worth 20 points but I'll give myself the benefit of the doubt… Anyway here's a look at my score sheet for today.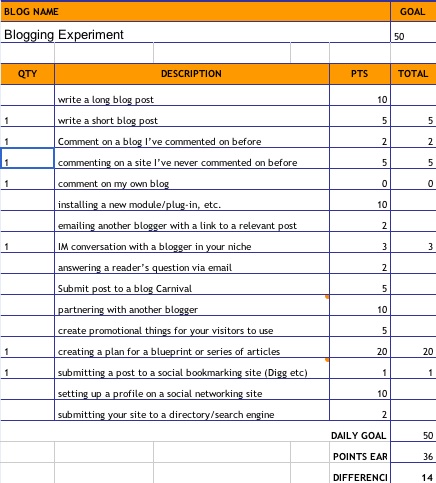 How did you do today?
---
Related Articles