Content Strategy – Do You Need It?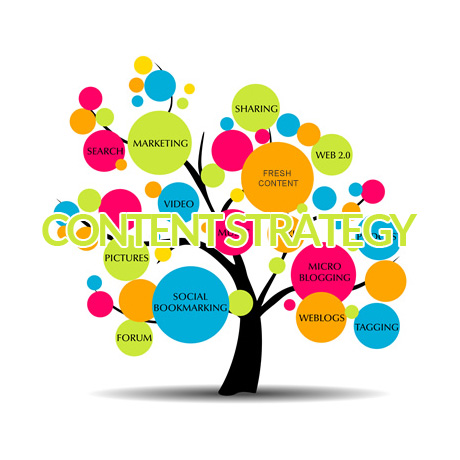 Content is king. You've heard it repeated over and over lately. You may have actually been plowing at it for quite sometime already. Blogging and posting something daily on your website as best you can and in the process you've amassed pages upon pages of content over the years. And it's a mess. You can hardly keep up with whatever you've posted years ago nor do you have the time to rummage through all those posts that have already been archived. And now you want to be more strategic, more relevant. Where to start? First, let's define.
What is Content Strategy
Content strategy focuses on the planning, creation, delivery, and governance of content. Content not only includes the words on the page but also the images and multimedia that are used.

The goal of content strategy is to create meaningful, cohesive, engaging, and sustainable content.
(source: usability.gov)

Kristina Halvorson, founder of Brain Traffic, and author of Content Strategy for the Web describes content strategy as "planning for the creation, delivery, and governance of useful, usable content."
In a previous article, we've touched on identifying your target market (who you are talking to) as you start building your brand. Part of your content strategy is to create good, appropriate, and useful content directed at this target market and deliver it in a timely fashion.
Some businesses, however, do not see its usefulness and how it affects bottom line targets. Interestingly, though, media giant BBC Worldwide has recently revealed its new strategy for content investment (from £30m to £200m), implying, if not openly declaring, that content is indeed the future.
According to Tim Davie, CEO of BBC Worldwide,

"We will invest more into the unique content that powers everything we do, and realise the full potential of the BBC brand with audiences around the world," he explained.
(source: BBC.co.uk)
This may seem a bit intimidating especially if you don't have the same resources as these big players do and you consider yourself small fry just starting to get your feet wet into this whole new world of content strategy. You may also think you don't consider yourself expert enough to create content that will make a dent in the market you want to penetrate. In a recent interview with Bloomberg, Martha Stewart issued a controversial statement that has created an uproar in the blogging community, She said,
"Who are these bloggers? They're not trained editors at Vogue magazine. There are bloggers writing recipes that aren't tested, that aren't necessarily very good, or are copies of everything that really good editors have created and done. Bloggers create a kind of a popularity but they are not the experts. We have to understand that." ~ Martha Stewart
Of course, this sweeping "vote of confidence" is not the barometer for which you should measure your content strategy's potential success or failure. Some of the basic elements of a good content strategy listed below are simple enough to be followed even by bloggers or content providers who don't consider themselves "experts". These are:
Know Your Target Market – Identify who you are talking to.
Assign a Customer Avatar – Identify your customer profile.
Unique Selling Point or Proposition – Provide a unique product or service to make your customers' lives easier
Keep Your Audience Engaged – Write compelling, creative, content. People are usually drawn to stories.
Provide a Clear, Strong Call to Action for Your Readers. – Direct people to the next step. Don't leave them hanging.
Stay true to your brand and keep it real. This will resonate louder with your audience than all the "expert marketing hype" you can dish out.
Note: Many of the articles on this site include affiliate links that may earn us a commission if you decide to buy the recommended product.
Related Articles