Commenting on John Chow dot Com – A Case Study
Just about every single person that has ever given advice on blogging has suggested commenting on other blogs and getting involved in your niche. In fact, it's so important that commenting earns you points towards fulfilling your daily blog score goal. However, one thing I've noticed throughout my life is that there are some people out there who absolutely must see something for themselves before they believe it. I know because I'm usually one of them. Anyway, I thought I'd give you "doubting Thomas" types some solid concrete evidence to back up the almost cliche advice to comment on other blogs.
Towards the end of last month, I picked a bit of a fight over on JohnChow.com. While wracking up the comments wasn't my intent, I did record a new personal best for my daily blog score, as well as earn myself a spot on John's list of top commentators. So, what did I get out of it? See for yourself. This is a screen shot of my referrals from JohnChow.com for the 15 days after I began commenting on his site.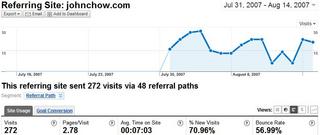 (Click image for full size version)
As you can see, JohnChow.com sent 272 visitors to this site in 15 days. That's on pace for more than 500 visitors in a month and an average of about 18 visits a day. Sure that's only a fraction of John's traffic numbers, however, there are plenty of sites out there that don't get that many visitors total, in a month. As with most things that produce results, it does take some work. John's site has a very active base of commentators, a significant portion of which only leave one line comments (spam in most books) just to pump up their comment count. However, I probably spend less than 20 minutes a day commenting on his site and at this stage in my blog's development, one minute per visitor is a pretty good exchange. Not only that, but the traffic John sends me is highly targeted as well. People that read his blog are naturally more likely to be interested in the subjects I cover. The stats illustrate that point quite well as the referrals from JohnChow.com are more than twice as likely to subscribe than the average visitor to this site.
So, is commenting on other sites in your blog's niche worth your time and effort? Looking at these numbers, you tell me…
---
Related Articles