Coffee Lounge Theme Review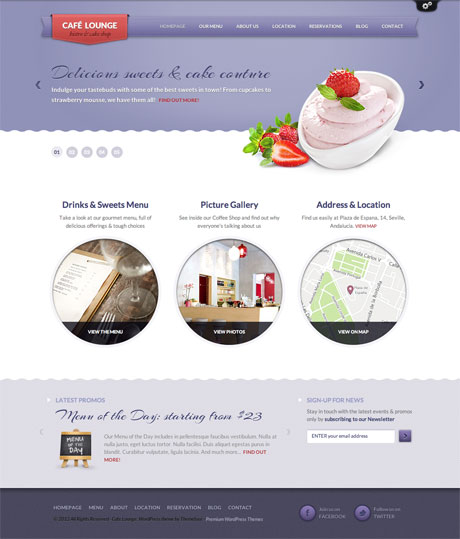 Your bistro's baked goods are some of the best your city has to offer, your desserts are deliciously decadent, and your drinks are downright delightful. In fact, the only thing about your cafe that could use a little improvement has nothing to do with the food at all: it's your website. In fact, that website that you've neglected all of these years could be the one thing holding you back from really hitting the big time with your food and becoming the next Emeril Lagasse! Okay, so maybe that's stretching the truth just a little bit, but it's true that if your website is done up right that it can function as a well-oiled marketing tool to help bring in business and boost your bottom line. If you're looking to make an update to your site, or simply looking to put something in place for your restaurant for the first time, you should definitely check out Coffee Lounge premium WordPress theme by ThemeFuse.
One of the things that will strike you upon seeing Coffee Lounge for the first time is the gorgeous homepage slider. This works as a great way to put the spotlight on some of your signature dishes or drinks that your establishment is best known for. Beyond that, you'll notice that Coffee Lounge comes with an assortment of beautiful color schemes and patters to perfectly match the branding of your eatery and invite your site's visitors in. Administrative duties on your site are incredibly easy with Coffee Lounge premium theme thanks to the Fuse Framework, which is a unique, massive backend content management system that provides you with almost unending possibilities of making changes in order to suit your specific needs. Additionally, there are plenty of shortcodes to let your imagination run wild to create countless different pages and templates for your website.
All of ThemeFuse's templates are cross-browser compatible with all the major players in the browser space, ensuring that anybody viewing your site on any type of device is going to see a stunning design, stellar content, and tasty treats at every corner! The usage of jQuery image lightboxes and Javascript enabled tabs ensures that all of the great functionality in the theme is available to all users as well. If you're ready to make a little change to your online presence for your restaurant, it might be difficult to find a better deal than Coffee Lounge premium WordPress theme. The live demo link at the end of this post will allow you to see Coffee Lounge in action, which we highly recommend so that you can see all of the incredible features it has to offer first hand.
Coffee Lounge Theme Features
jQuery Image Lightbox
Dynamic Sidebar Widget Creation
Feedburner Ready
Auto Image Resizing
Cross Browser Compatible
jQuery Image / Video Lightbox
Font-face custom font
Custom Widget (Prefix with Fuse)
Powerful Admin Options
Javascript enabled tabs
Coffee Lounge Theme: $59 | Demo & Download
Note: Many of the articles on this site include affiliate links that may earn us a commission if you decide to buy the recommended product.
Related Articles