Codelobster PHP Edition: Free PHP, HTML, CSS, JavaScript editor (IDE)
Even if many designers don't like this part, a website is built on tons of code sequences and managing these is a pretty tough job. Until few years ago, the construction of a website was mostly based on HTML and CSS but nowadays we have many other items to add into a website, such as PhP elements, the information must be manipulated via MySQL help , the images are sliding within a jQuery plugin etc. Under these circumstances there is no wonder that a code editor is mandatory in the arsenal of a designer; the programmers were aware about it and came with fabulous offers. At the same time, the multitude of solutions confuses the designers & coders and they can hardly make a decision.
One of the best code editor is Codelobster PHP Edition. By using this precious tool, the coding is simplified and a lot of time is saved. Here is only a small part of the features that should impress any coder:
1. Highlight tags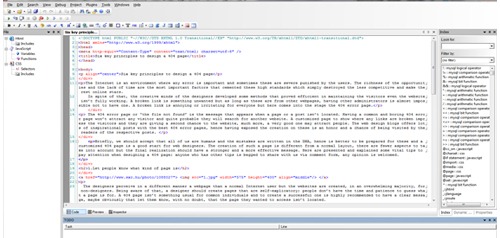 It's very important to have highlighted the tags from the rest of the website texts. It's incomparably easier to see if you add correctly the respective commands. The code editor allows distinguishing the HTML tags but also PhP and Javascript items, depending on each one's preference and needs.
2. Context help & pair highlighter
The art/science (depending on each one's perspective) of making websites evolved and even the greatest coders have sometimes small problems and aren't sure about the role of some tags. It is enough to press F1 and, by the same speed as a F1 car, a complete explanation appears in your browser. We all know that the huge majority of HTML tags are pairs and it's a great feature to have a pair highlighter by your side. Obviously, Codelobster PHP Editor has this facility.
3. Powerful auto completion
Yep, sometimes it is boring to write all CSS attributes and a powerful auto completion is another saving time point. Try yourself the Codelobster PHP Editor to see the auto completion feature in action.
4. PHP debugger
PhP isn't the easiest language and anyone may make mistakes, but using a powerful debugger, it's far better to correct any wrong interpretation.
5. Project manager
It's a very important feature. Very few people need just few line codes. Everyone wants a full website and in this case a project manager is a gold mine. By using the project manager, everything is created into a united building; for example, the links will work no matter where the website's files will be transferred.
6. It is free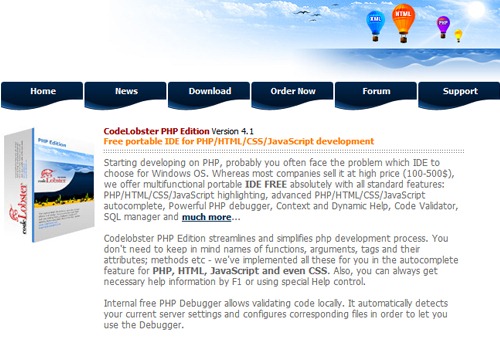 I purposely let it at the final, to amaze you. All the above advantages are free! This code editor is free and anyone may download it from here. The good news aren't yet ending. The list of features isn't finished and only by visiting the official website you may find these interesting and useful "surprises". It isn't important what Windows version you use because the code editor works anyway. Therefore don't waste your time and try Codelobster PHP Edition.
---
Related Articles