Century WordPress Theme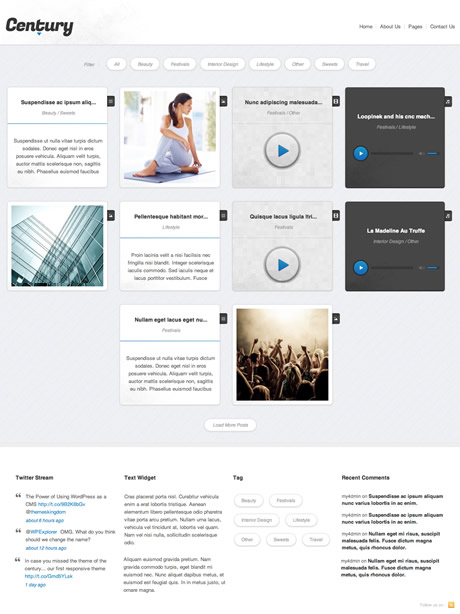 Century is a Responsive WordPress Theme from ThemesKingdom that aims to provide you with a clean way to showcase multimedia content including videos, photos, the written word, and more. Thanks to the responsive design, Century will look good no matter the device visitors are accessing your site from. This is achieved through a very complex set of coding that makes responsive design work.
For a reference video to how Responsive WordPress Themes work, feel free to check out this video on the subject.
Aside from being a Responsive WordPress Theme, Century is setup to allow you to fully customize the site to your liking thanks to the admin options created by Themes Kingdom. The Theme was created with search engine optimization in mind so you can have a WordPress Theme that not only looks good but is also friendly to the search engines.
Better yet, this WordPress Theme is part of the Themes Kingdom club which grants you access to this wonderful Theme plus dozens others (plus future themes) for just $29 – cheaper than the price of most INDIVIDUAL Themes!
Century Theme: $29 | Demo & Download
Includes ALL Themes created by Themes Kingdom!
Note: Many of the articles on this site include affiliate links that may earn us a commission if you decide to buy the recommended product.
Related Articles