BlogRush: Dead on Arrival
Well, the stats were bound to come in and unfortunately for BlogRush, they fell short of a "flood of targeted traffic." In fact, they fell short of even a trickle.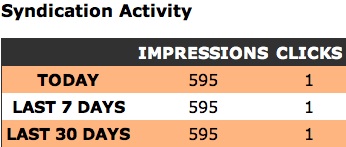 Granted, I'm not one of the big guys that I wrote about in my post bringing up possible issues with the service. So, how did they do? Darren Rowse over at Problogger.net shared his statistics and they were even worse than my own! Darren's content has been displayed roughly 70,000 times. That is of course a testiment to the kind of traffic his blog can drive and the number of referrals it can generate. So, how large was the "flood of traffic" he received? A whopping 35 visitors! Now I don't know about you, but if that's the kind of traffic a blog the size of Problogger receives, I'm not going to spend any time promoting the service or displaying their widget.
But Wait, There's More!
Not only does BlogRush have a problem with traffic, they apparently are having trouble keeping up with the number of credits people are earning. When my stats were first displayed, I had roughly 500 credits waiting to be "spent. By the time of this writing I'm at almost twice that. However, the number of times my content had been displayed has only increased by 100 or so. Again, I'm not the only one seeing this as Darren mentioned it as well. With the number of credits he's earning on a daily basis I can only imagine the backlog in his account. If the backlog continues to grow, BlogRush could find themselves with some very unhappy members. Regardless, with the completely inept click through rate we've already seen, BlogRush might go down as one of the most highly promoted, flops in recent internet history.
We now return you to your regularly scheduled posting, I don't think I'll be giving BlogRush any more coverage in this space. Good thing I warned you Don't Rush to Sign Up for Blog Rush eh? Don't worry, that's what I'm here for 😉
---
Related Articles