Blocco WordPress Theme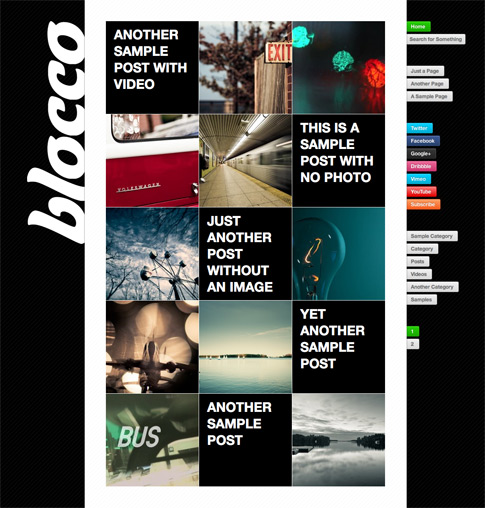 Blocco premium WordPress theme is one of the first Press75.com themes to include a "responsive design," which provides a unique and tailored layout depending on which device (desktop, laptop, tablet, or mobile) you are using. This makes Blocco premium theme compatible with any mobile device, but stands out especially on iPhones and iPads. Give Blocco theme a trial run using the link at the bottom of the post!
Blocco Premium Theme Features
Widgetized content areas
Featured images
Custom menu management
Network installation support
Press75.com "Simple Panel" theme options page
Logo customization options
Simple video embedder
Social media integration options
Standard Press75 Features
Browser Compatibility
Every Press75 theme is tested to ensure compatibility with modern browsers including Firefox, Safari, Chrome, and Internet Explorer (7.0 and up).
100% Valid XHTML & CSS
Every Press75 theme contains 100% valid XHTML and CSS code. Keep in mind that certain themes will include HTML5 and CSS3 elements.
Blocco Theme Showcase
Come back and check out the showcase as we find more sites from around the web using Blocco.
Blocco: $75 | Demo & Download
Press75 offers one-time purchases and various packages to fit your needs — there's something for everyone!
Note: Many of the articles on this site include affiliate links that may earn us a commission if you decide to buy the recommended product.
Related Articles