Best WordPress Themes of 2012
2012 is going to be an exciting year in the world of WordPress Themes. With tens of millions of websites powered by the one and only WordPress, developers are constantly innovating their themes to keep pace with the development cycles of WordPress.
Now in our 4th consecutive year, we are pleased to present you with the Best WordPress Themes of 2012. Instead of creating a huge list of themes, our 2012 Themes will be broken down by category. Throughout the year we will not only keep this list updated with the latest and greatest in the world of WordPress Themes, we will also add one new WordPress Theme daily to our homepage calendar.
So whether you want the best of the best (listed here) or to review our daily list of new Themes (homepage), BLOGEX will continue to be your #1 place for WP Themes throughout all of 2012.
---
How It Works
Throughout this page, you'll notice tables that look like this. We wanted to briefly explain what they mean so you can quickly get to the WordPress Themes you are looking for.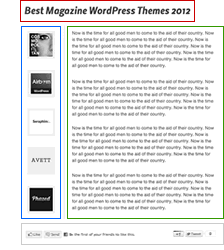 The text in the red box shows the category being reviewed (ex: magazine themes, business themes, etc).
The pictures in the blue box are the top 5 WordPress Themes in that respective category.
The text in the green area is a short review.
The gray box includes social buttons so you can share the Best WordPress Themes 2012 with your community (and we very much appreciate this).
So now that you know how it all works, let's get going on the Best WP Themes of 2012!
---
Best Magazine WordPress Themes 2012
WordPress Themes 2012 Coming Soon.
---
Related Articles