Best WordPress Themes of 2011
[title5_wrap]HEY! It's a new year, and we've got a new list of themes! Check out the Best WordPress Themes of 2012[/title5_wrap]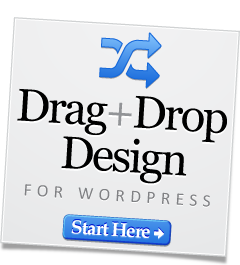 Updated December, 2011: In what has become somewhat of an annual tradition for Blogex, we are pleased to share with you our Third Edition of the Best WordPress Themes: this time for 2011. If you are looking for our top pick in WordPress Themes this year, it is without a doubt Elegant Themes.
WordPress has seen significant growth throughout the entire year, with an estimated 32 million sites running WordPress as of December, 2010. Whether you are completely new to WordPress or are a seasoned pro, this page contains some of the absolute best Free & Premium WordPress Themes available today. (And best of all, we keep it updated).
Forget the days of browsing site after site only to be left wondering, "Is this still updated or compatible with the latest version of WordPress?" Through all of 2011, we will be continually adding new themes with changelogs if necessary. We encourage you to share your theme recommendations in the comments below so we can add them to our list.
---
New For 2011
We are going to add new features this year by showcasing some great Premium Plugins (to give your WordPress site the added functionality it needs) as well as the Best WordPress Hosts (best price, highest reliability, easiest to use), so you can not only learn about the best themes for your WordPress powered site, you now have the chance to find ALL of the best WordPress services right here on one page.
Remember: we keep everything updated throughout the year, so bookmark the page and check back often. Help us even more by linking to this post on your website or blog and sharing it on FaceBook and Twitter.
We are also excited to remind you about our daily list of WordPress Themes. Each and every day we add one new Free WordPress Theme and one new Premium WordPress Theme so you can stop searching site after site for the best new WordPress Themes – we have them all here, and if you just check back here daily, we PROMISE it will be worth your time. We even have a list of the two best WordPress hosting companies (with a cool bonus from us if you join either of them). To find all of this information, simply select one of the buttons at the top of this page.
So yes, lots of exciting new additions this year – but let's get down to what got you here in the first place: The Top WordPress Themes of 2011.
---
Free WordPress Themes 2011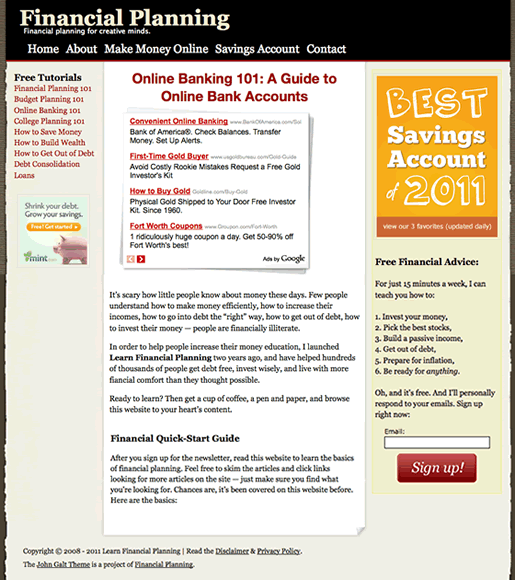 JohnGalt is one of our favorite Free WordPress Themes for 2011.
If you are doing any sort of business online, chances are you are selling something: a product, your services, affiliate offers, etc. Over the years of testing different layouts, this narrow main content pane has consistently preformed the best and yet very few theme developers use this layout when designing free or premium wordpress themes. While you should always be testing things like graphics, font size, colors, and the like – JohnGalt will help take a big part of guesswork out of the equation by providing a layout proven to convert.
Our friends at Learn Financial Planning have not only created an exceptional free theme in JohnGalt, they also provide information on things like the top online savings account and the best savings account rates.
JohnGalt Theme: Demo | Download |
---

WooThemes continues to be a great source for high quality free WordPress Themes in 2011. From SEO to design to the plain ol' attention to details, the free WordPress Themes from WooThemes are some of the best.
If you've spent any amount of time research WordPress Themes, I'm sure you are no stranger to WooThemes. They continue to be in front of the pack for a reason. Below you will find all of their free themes (including their 100th theme release Swatch) with links to view and download.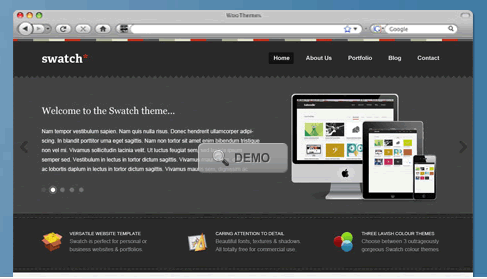 Swatch Theme from WooThemes: Demo | Download |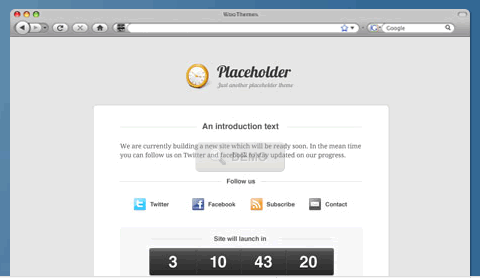 Placeholder Theme from WooThemes: Demo | Download |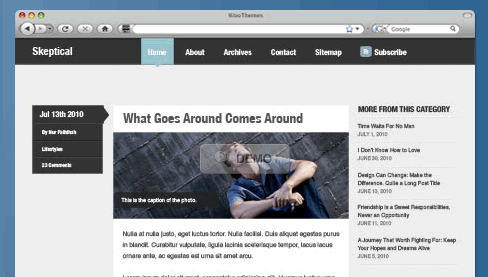 Skeptical Theme from WooThemes: Demo | Download |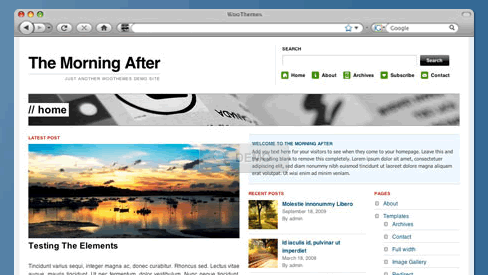 The Morning After Theme from WooThemes: Demo | Download |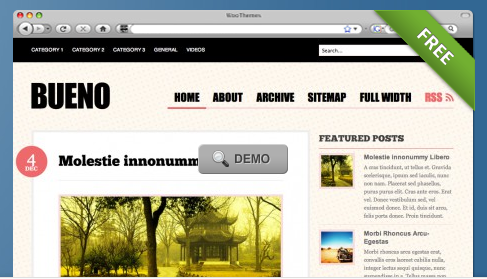 Bueno Theme from WooThemes: Demo | Download |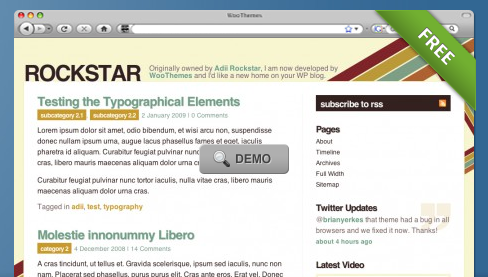 Rockstar Theme from WooThemes: Demo | Download |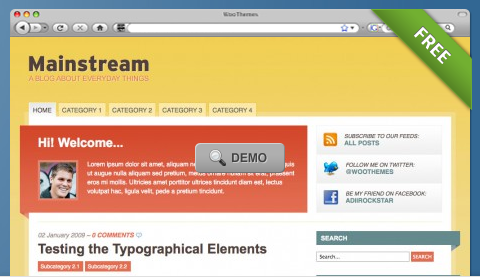 Mainstream Theme from WooThemes: Demo | Download |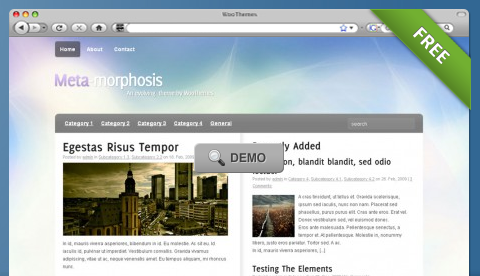 Metamorphosis Theme from WooThemes: Demo | Download |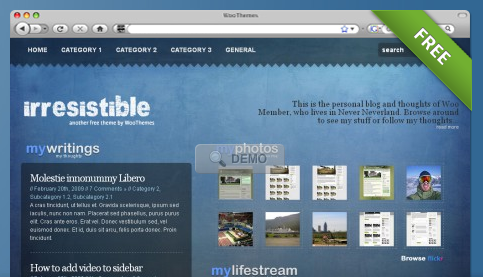 Irresistible Theme from WooThemes: Demo | Download |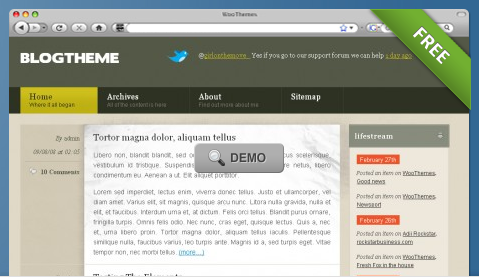 BlogTheme from WooThemes: Demo | Download |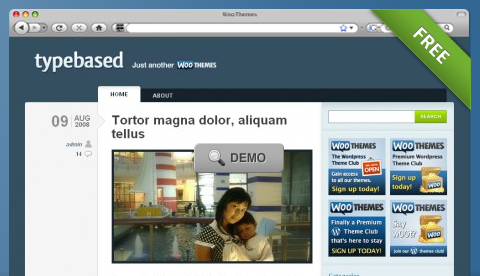 TypeBased Theme from WooThemes: Demo | Download |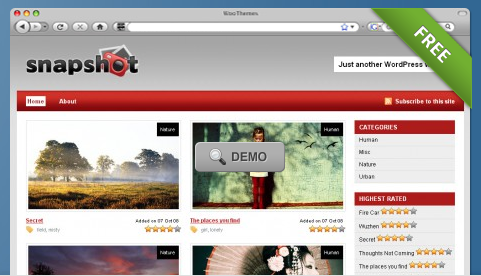 Snapshot Theme from WooThemes: Demo | Download |
PremiumNews Theme from WooThemes: Demo | Download |
---
Blissful Blog: Blissful says it's created for the wedding industry, but if you are looking for a clean, more minimal design, this is a great option. It is 3.0 compatible and includes features such as tweeting posts, custom sIFR fonts, featured images, custom backgrounds, headers and more. | Demo | Download |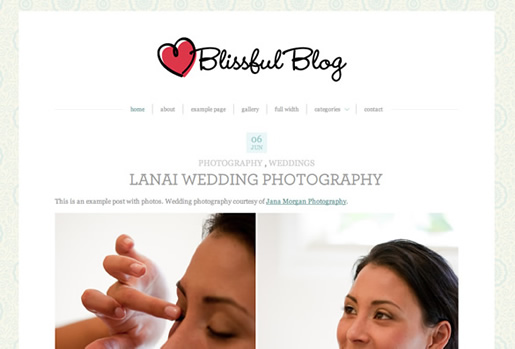 ---
Clear: Are you a writer looking for the perfect theme to showcase your work? Tired of all the heavy designs, features, and options that you simply don't need? Clear Theme was designed to make your content stand out and make everything else get out of the way. | Demo | Download |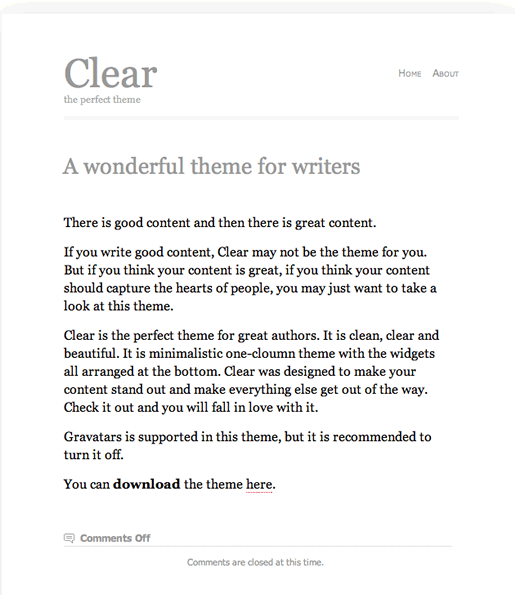 ---
Boldly: Boldy is just one of the free WordPress themes from our friends at Site5. As you will see, this theme resembles most premium wordpress themes even though you can download and use it for free. The download link takes you to a page showcasing all of Site5's free WordPress themes because each and every one of them is worth taking a look at for those interested in the top WordPress themes of 2011. | Demo | Download |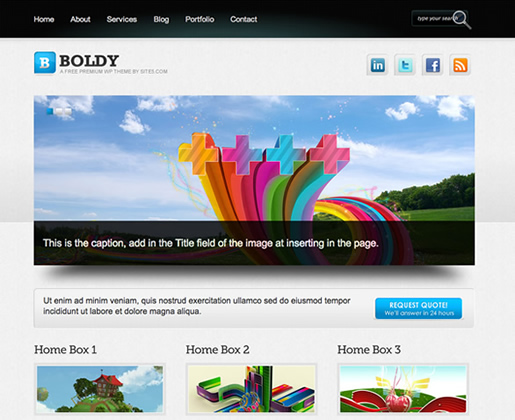 ---
MiniCard: Keeping with our tradition of providing a good cross-section of Free WordPress Themes, MiniCard is a breath of fresh air for those tired of the often repetitive look to most WordPress Themes. Are you looking for a business card WordPress Theme for 2011? MiniCard might just fit the bill. Inspired by the business card site by Tim Van Damme, this theme has built in vCard/hCard support and is great for those who want a simple way to showcase their social accounts from across the web. | Demo | Download |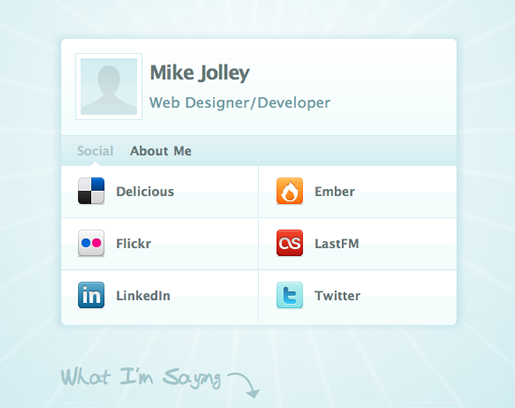 ---
LiveTwit: Perhaps our most unique Free WordPress Theme for 2011, we new this had to be included. LiveTwit streams real time tweets on topics or persons of your choice. This is a very unique idea (and one that could be extremely useful for certain sites and audiences). | Demo | Download |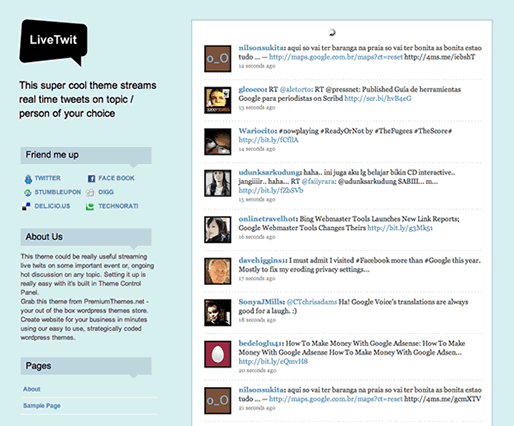 ---
K2: Don't let the minimal look completely scare you away from K2. Yes, it's a sort of "next version" of WordPress' standard Kubrick which was the first theme so many of us saw when installing WordPress circa 2007-2009 even though in reality the K2 theme is almost more of a framework with great features like dynamic resizing (so depending on the browser width of the user) the site might be 3, 2, or even 1 column. Their custom search box is also VERY unique. It automatically populates search results similar to Google's instant results for a truly user-friendly experience. If you're looking for a WordPress Theme that is more of a canvas to build your masterpiece on, definitely consider the K2 Theme for 2011. | Demo | Download |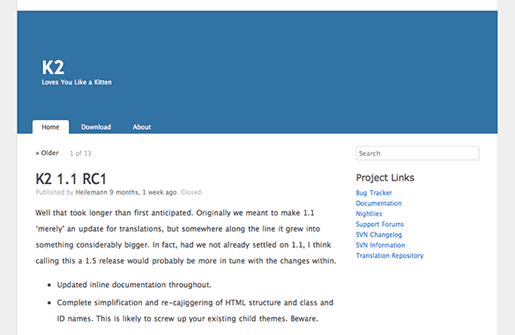 ---
Crafty Cart: This is an oldie but a goodie! If you are looking for a great free shopping cart that runs on WordPress, check out the craftily designed Crafty Cart Theme by King Cart. | Demo | Download |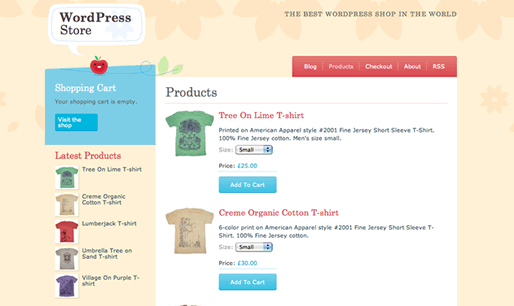 ---
Freemium: Nice looking free theme from Freebies Dock | Demo | Download |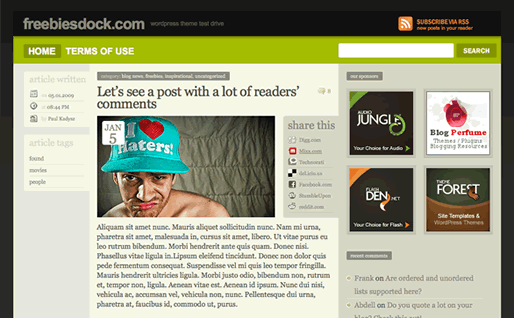 ---
NuBlue: From the venerable Jai at BlogOHBlog! NuBlue is a great, free WordPress Theme with featured Twitter functionality plus an all-around nice layout and feel for just about any website or blog | Demo | Download |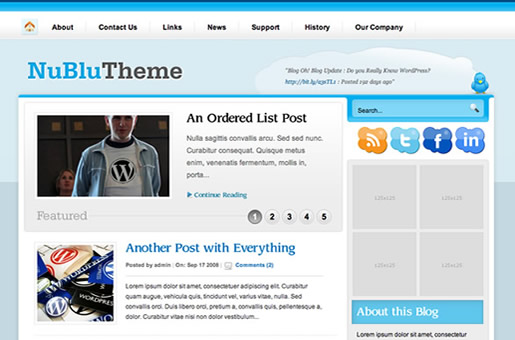 ---
BasicoDark: After realizing we had no dark-styled Free WordPress Themes for 2011 (thanks for pointing that out Karen), we are pleased to present BasicoDark from WPExplorer. This great, free theme is the dark version of their popular Basico Theme, and if you like the black background look, you'll definitely want to check out this top dark WordPress Theme | Demo | Download |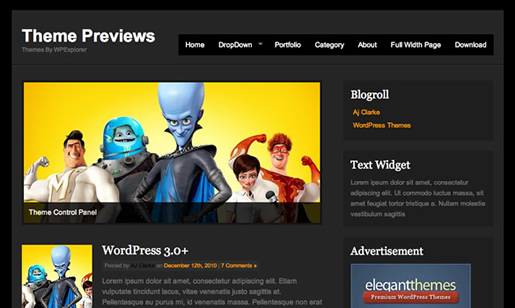 ---
Simplista: The free WordPress Theme from WPNow.com | Demo | Download |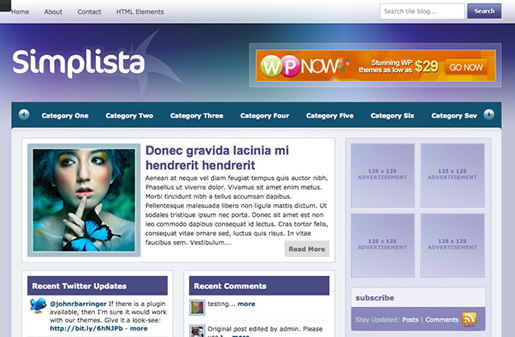 ---
Best Free WordPress Theme Sites
If you are looking for a more artsy, graphically designed, and just all-around uniquely styled WordPress Theme, you will definitely want to check out EZ WP Themes. Not only do they release 5-10 new free themes each month, the look of their designs set them apart from the "typical" theme design.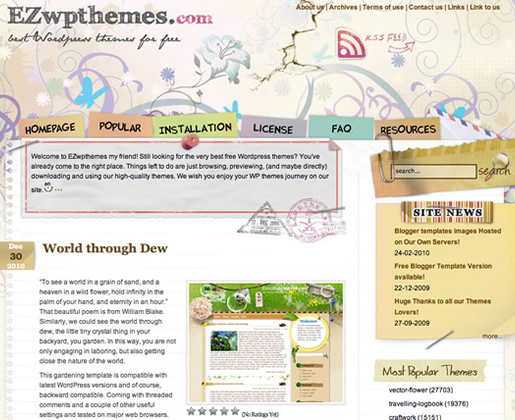 ---
New WP Themes was new to me in 2010, but boy was I impressed. Not only do they release a free, new WordPress Theme almost every day, the designs they come up with look pretty professional, and they have been consistently releasing themes for going on 2+ years. Some of the sites that release themes that often lack the "wow" factor because they are just focused on volume. New WP Themes seems to have found a good balance between high volume releases and nice looking designs.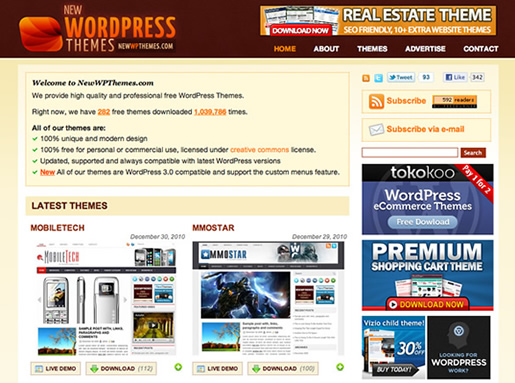 ---
Best Plugins & Code 2011
Add some of that high-end functionality to your site with one or more of these awesome premium WordPress plugins & code snippets. Prices from just $2.

Do you sell a product or service on your website or blog? Check out these awesome pricing tables. More Info

If you need to add a event calendar to your site, check out this wonderful plugin. More Info

Do you like those lightbox effects for images, video, and special content? Now you can add it to your own site! More Info

One of my personal favorites…add a Mega Menu to your website navigation with this piece of code. More Info

Add sliding tabs to your site with this jQuery-powered piece of software. Small file size – very customizable! More Info

Working with or creating a theme that doesn't have shortcodes? Now it does. More Info

Have to see to believe. Manage multiple WordPress sites for yourself or clients? This is the tool of your dreams. More Info
---
Best WordPress Hosting 2011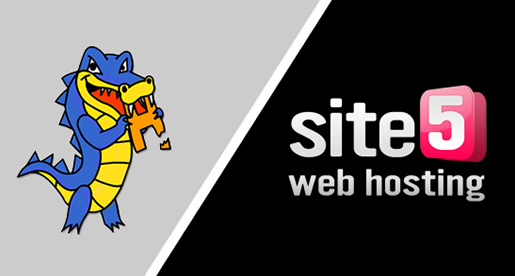 We've tested just about every major (and minor) webhost out there, and at the end of the day — these are the only 2 you should care about. Plans start from $3.95/month and both specialize in WordPress Hosting.
For Blogging Experiment we used to use HostGator's basic shared hosting which you can get for 1 penny with this link. Just recently, we transferred to Site5 for their VPS account. You can try Site5's shared hosting or even VPS hosting FREE for one month with this link (coupon code: FREETRIAL).

Web Hosting Hub is our favorite all-around web host with the best combination of price and features. Check them out today!
For a more detailed review of Web Hosting Hub, check out our WordPress Hosting review page and discover how to join for 43% off!

---
Best Premium WordPress Themes
Let's face it: when things are free, you often get what you pay for. While there are a LOT of resources for high quality Free WordPress Themes listed above (the best in my opinion), sometimes it's hard to know which of the Premium WordPress Themes are worth the investment. Here are our three favorites for 2011.

Number 3: WooThemes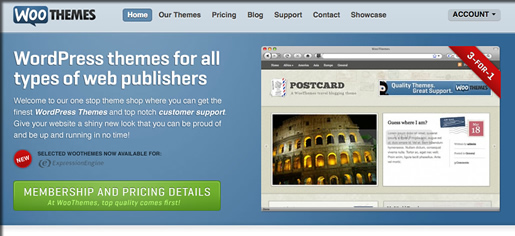 WooThemes not only releases some of the Best Free WordPress Themes, they are also one of my favorite places for Premium WordPress Themes. I have bought a lot of themes from Woo, and if you are in the market for a top-notch premium theme, you should definitely check out their offering. It's one of the best!
Visit WooThemes
Number 2: Theme Forest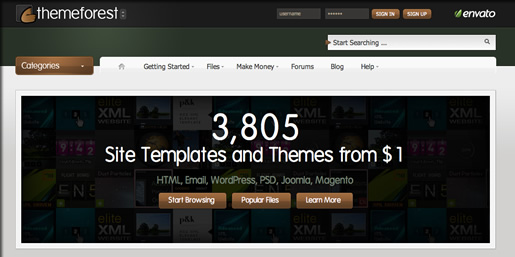 Theme Forest is a wonderful place for WordPress Themes in 2011, and if you are looking for the widest selection of premium themes and HTML templates, this is your choice. Better yet, they are part of the Envato Network which includes other sites like Graphic River (to buy stock images), Audio Jungle (to buy stock audio), Video Hive (pre-created video clips), and more so your one account can work across their entire network.
Visit Theme Forest, setup your own account, browse the different marketplaces they have created, and you will quickly see why everyone loves the Envato sites. They are the first place I turn for all things "web" related, and they are one of my top picks for Premium WordPress Themes in 2011.
Number 1: Elegant Themes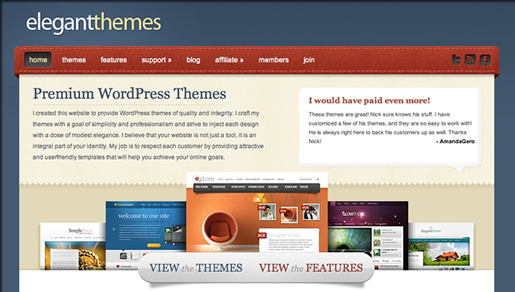 At the end of the day, there is simply no better deal in all of WordPress than Elegant Themes. With over 60+ premium WordPress themes, this club blows everything else out of the water. For a mere $39 (yes, just $39) you get access to ALL of their premium themes + access to their support forums which are second to none. I'm not just a fan of ElegantThemes, I'm also a paying customer.
They provide some of the highest quality Premium WordPress Themes of 2011, and they come at a price you simply won't find anywhere else! This is one example where you as the customer get the better end of the bargain. While most individual premium themes cost $40-$100 each…for a fraction of that, you can download ALL of the over 50 premium themes from ElegantThemes for $39. If you do anything with WordPress, this is the membership you need!
Visit Elegant Themes
[title5_wrap]HEY! It's a new year, and we've got a new list of themes! Check out the Best WordPress Themes of 2012[/title5_wrap]

---
Related Articles