Best WordPress Themes of 2010
2011 Update: This post is old! Be sure to read about our new and updated Best WordPress Themes of 2011.
It's a new year, and it's time for a new list of the best wordpress themes.
We all know there is site after site touting theme after theme, and because I didn't want this to be a "me too" type post where I just copy information from another blog, I have intentionally narrowed down this list to bring you what I think are some of the Best WordPress Themes for 2010.
Throughout the year, I will continue to update this list as new themes/marketplaces come on the scene, but for those of you looking for several of the best looking wordpress themes now, I KNOW you will find one or two on this targeted list.
---

Finding nice looking (and usuable) free wordpress themes is a REAL chore these days. Take a look at some of the best free wordpress themes online today with these selections. Remember that with most things that are "free," you get what you pay for. Finding the needle in the haystack doesn't have to be impossible anymore thanks to some of these great free themes.
WooThemes is at the top of my list this year. I've picked apart several free wordpress themes from several different companies, and from a "complete package" standpoint (out-of-the-box seo, design, and attention to the details), the free wordpress themes from Woo are some of the best I've seen.
While I'm sure you are no stranger to WooThemes if you've spent any amount of time researching WordPress Themes, they continue to be the front of the pack for a reason. Below you will find all of their free themes with links to view and download.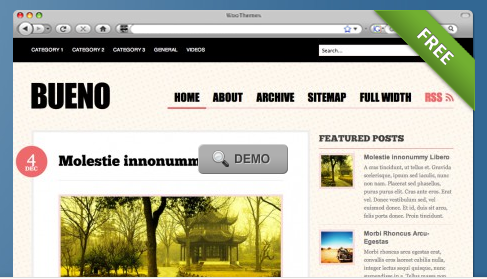 Bueno Theme from WooThemes: Demo | Download |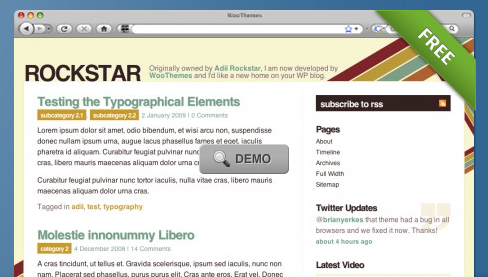 Rockstar Theme from WooThemes: Demo | Download |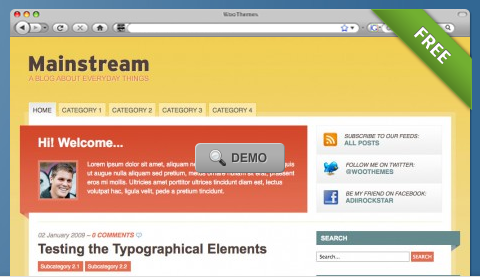 Mainstream Theme from WooThemes: Demo | Download |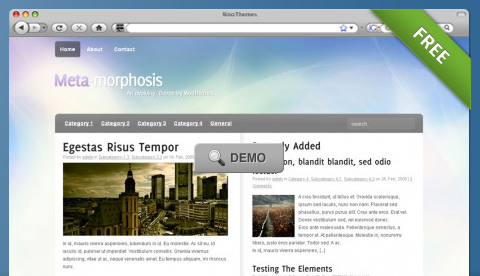 Metamorphosis Theme from WooThemes: Demo | Download |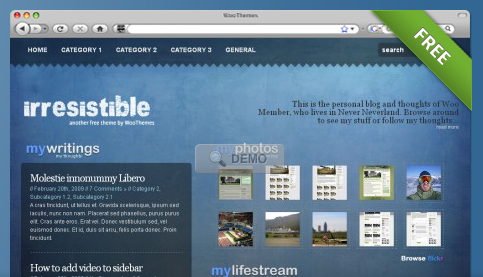 Irresistible Theme from WooThemes: Demo | Download |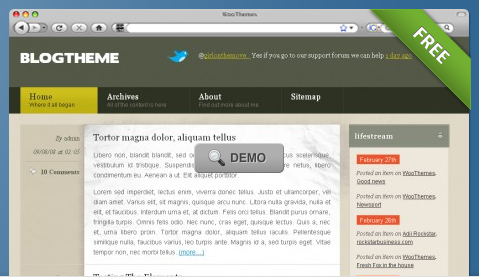 BlogTheme from WooThemes: Demo | Download |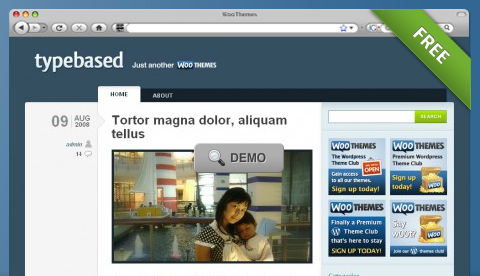 TypeBased Theme from WooThemes: Demo | Download |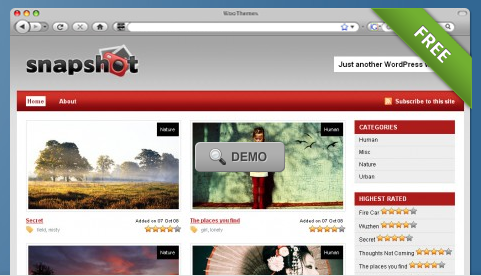 Snapshot Theme from WooThemes: Demo | Download |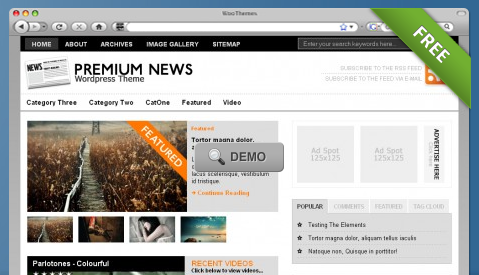 PremiumNews Theme from WooThemes: Demo | Download |
---
Freemium: Here is a nice looking free Theme from FreebiesDock.com | Download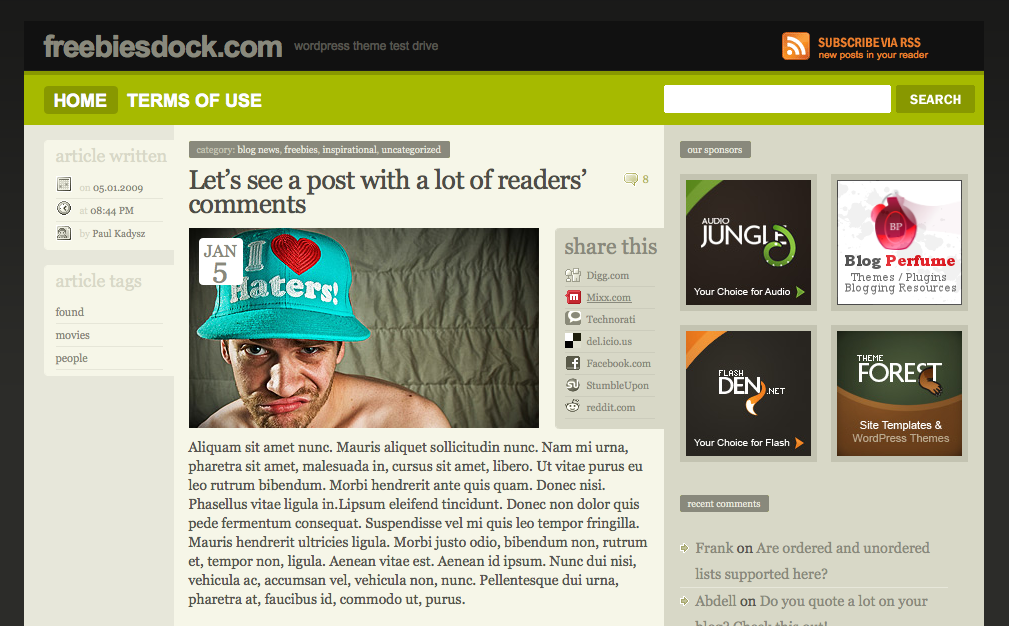 ---
Simplista: The free WordPress Theme from WPNow.com | Download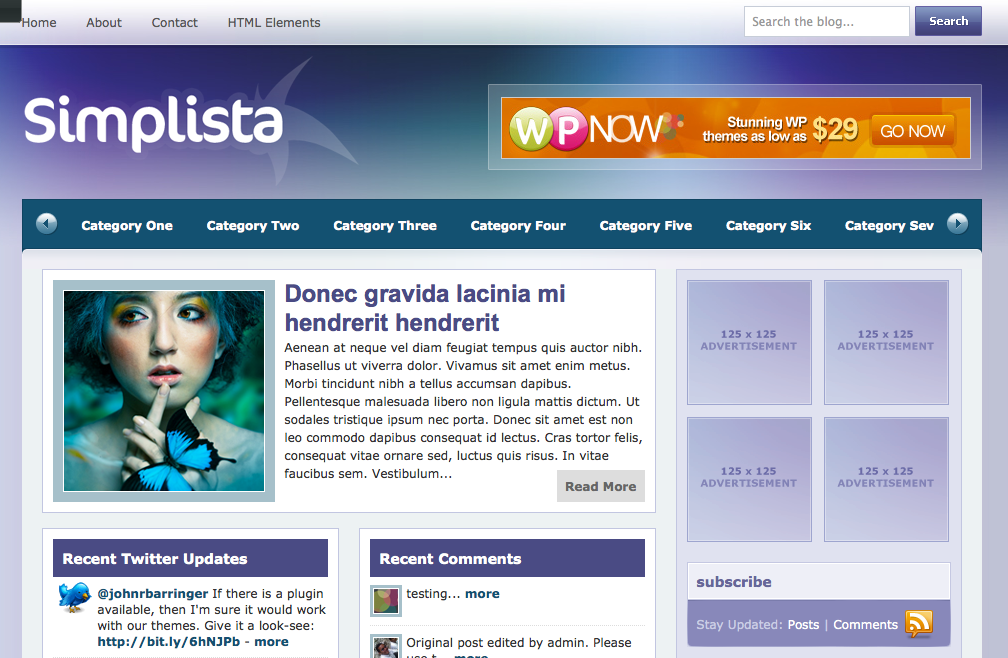 ---
Best Free WordPress Theme Sites
WP Theme Designer has dozens and dozens of high-quality free WordPress Themes.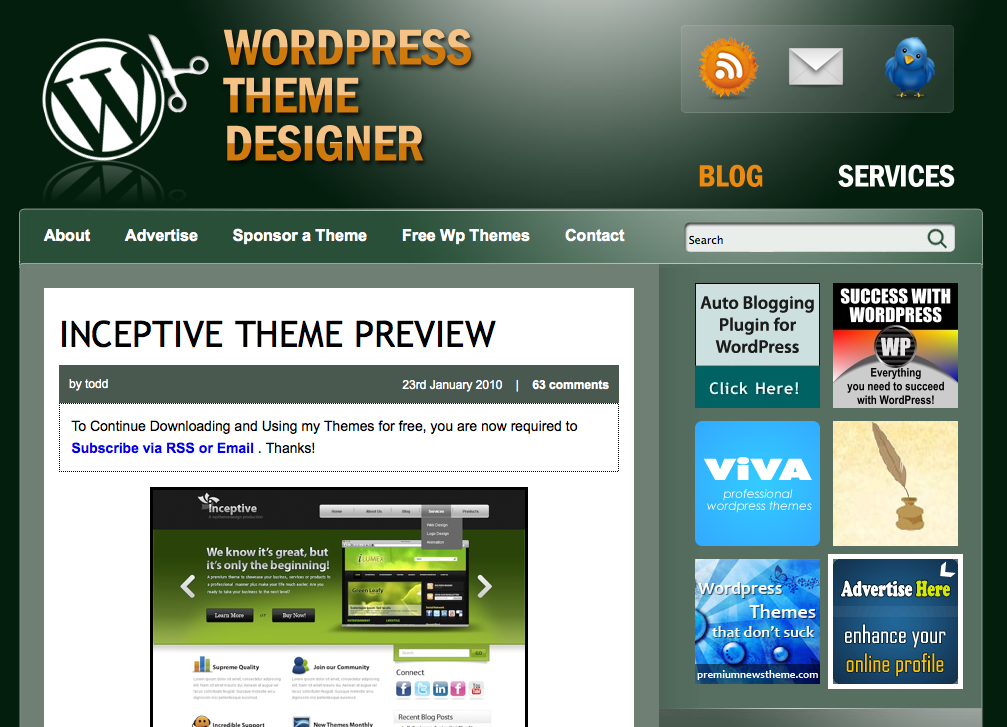 ---
If you are looking for a more artsy, graphically designed, and just all-around uniquely styled WordPress Theme, you will definitely want to check out EZ WP Themes. Not only do they release 5-10 new free themes each month, the look of their designs set them apart from the "typical" theme design.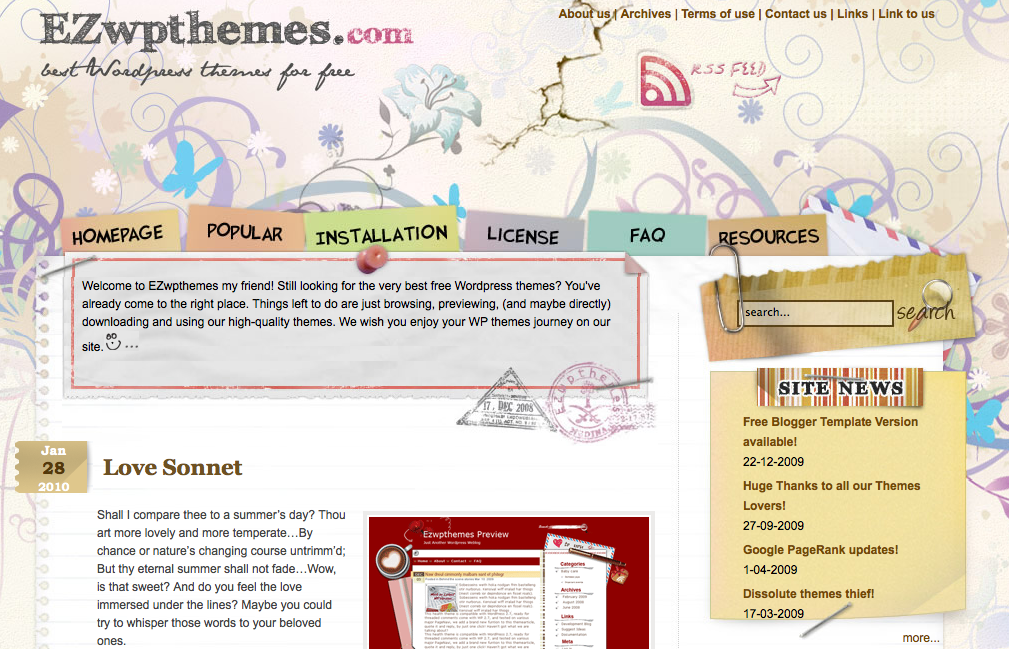 ---
BlogOHBlog continues to be a great place for Free WordPress Themes even in 2010. I have personally hired Jai (the owner) to do some WordPress customization work, and if you are looking for someone who really knows WordPress inside and out, he's definitely one you should consider (he can be hard to get a hold of sometimes, but he has always done good work). Even if you don't use him for custom WordPress work, you should at least check out his popular Free WordPress Themes.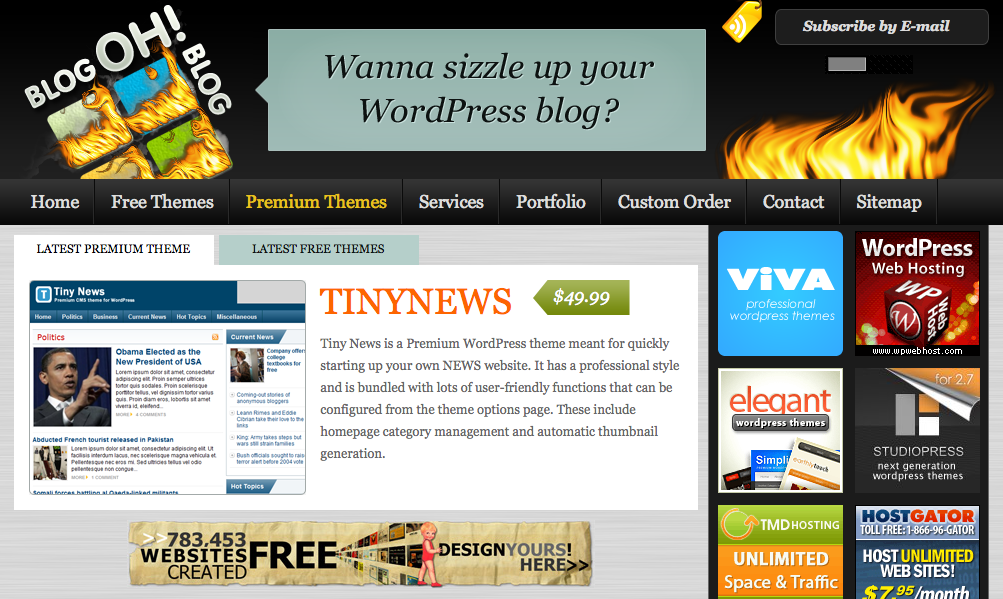 ---
New WP Themes was "new" to me, but boy was I impressed. Not only do they release a free, new WordPress Theme almost every day, the designs they come up with look pretty professional. Some of the sites that release themes that often lack the "wow" factor because they are just focused on volume. New WP Themes seems to have found a good balance between high volume releases and nice looking designs.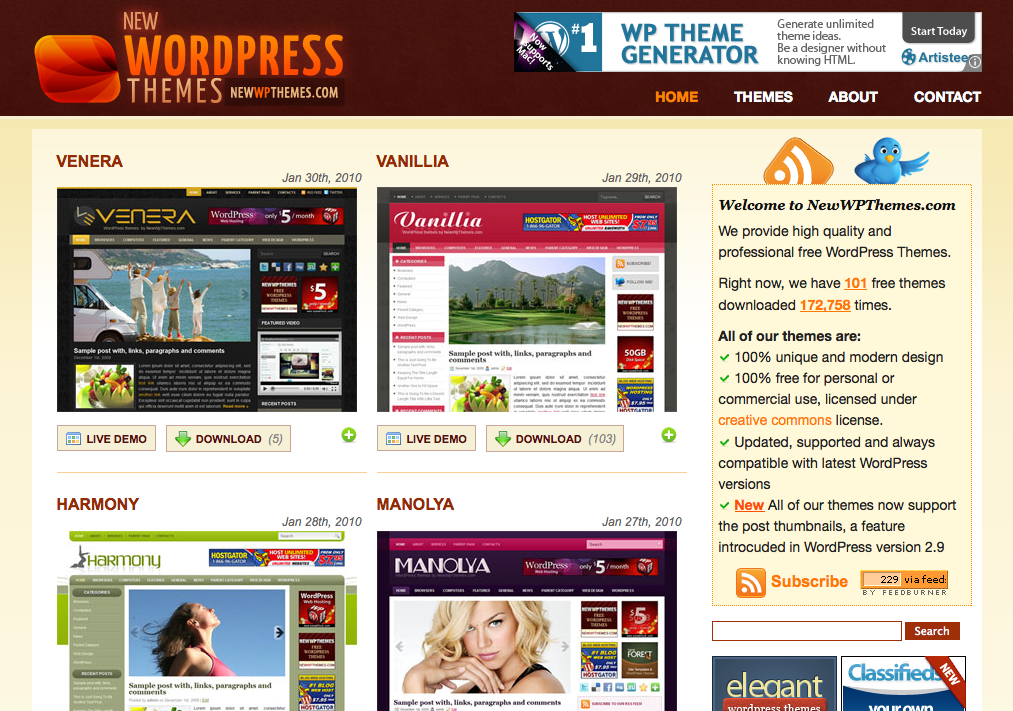 ---
Best Premium WordPress Themes
Let's face it: when things are free, you often get what you pay for. While there are a LOT of resources for high quality Free WordPress Themes listed above (the best in my opinion), sometimes it's hard to know which of the Premium WordPress Theme sites are worth the investment. Here are my 3 favorites…
Number 3: WooThemes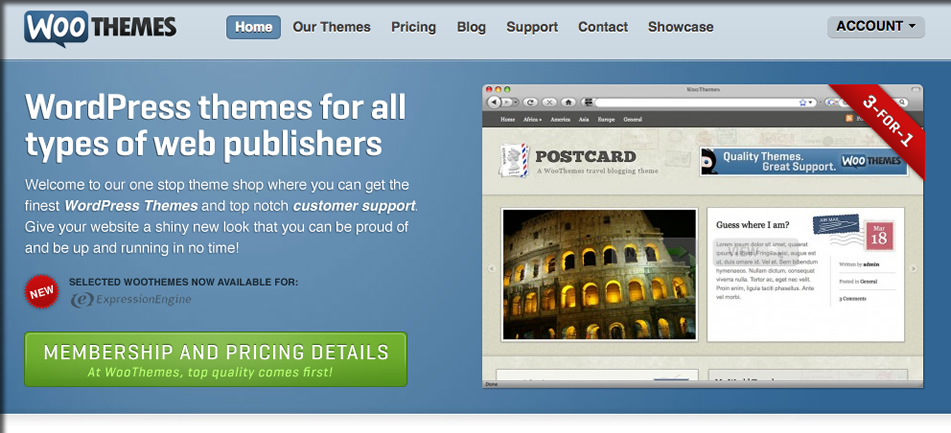 WooThemes not only releases some of the Best Free WordPress Themes, they are also one of my favorite places for Premium WordPress Themes. I have bought a lot of themes from Woo, and if you are in the market for a top-notch premium theme, you should definitely check out their offering. It's one of the best!
Visit WooThemes
Number 2: ElegantThemes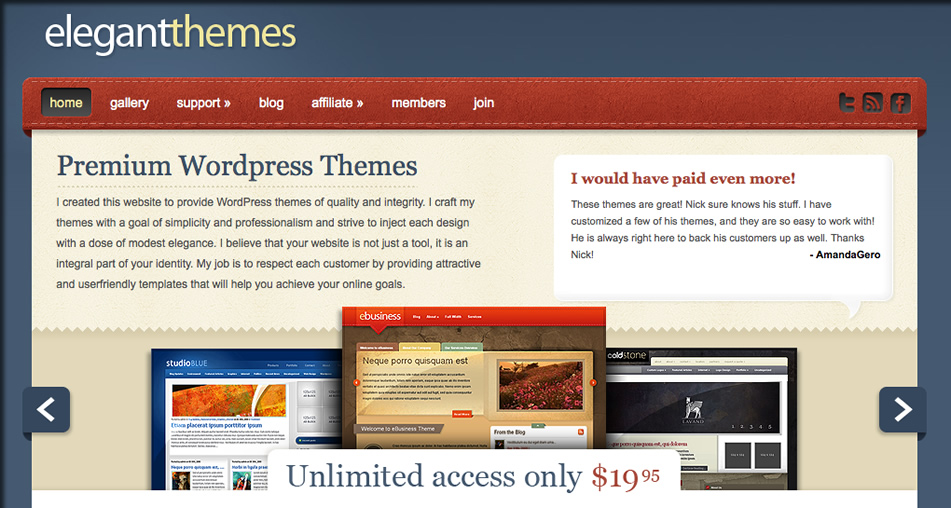 It was a tough decision between this and my top recommendation, so let me start off by saying this: If you are even thinking about purchasing a premium them, I would sign up for Nick Roach's Elegant Themes Membership Club. For $39/year you get access to all of his custom designs.
They are not only some of the most high quality Premium WordPress Themes of 2010, they come at the absolute cheapest price I have seen anywhere! This is one example where you as the customer get the better end of the bargain. While most individual premium themes cost $40-$100…for a fraction of that, you can download ALL of the premium themes from ElegantThemes. I am personally a member, and I couldn't be happier.
Visit Elegant Themes
P.S. If you'd like a more in-depth review of Elegant Themes, be sure to check out my detailed Elegant Themes Review.
Number 1: ThemeForest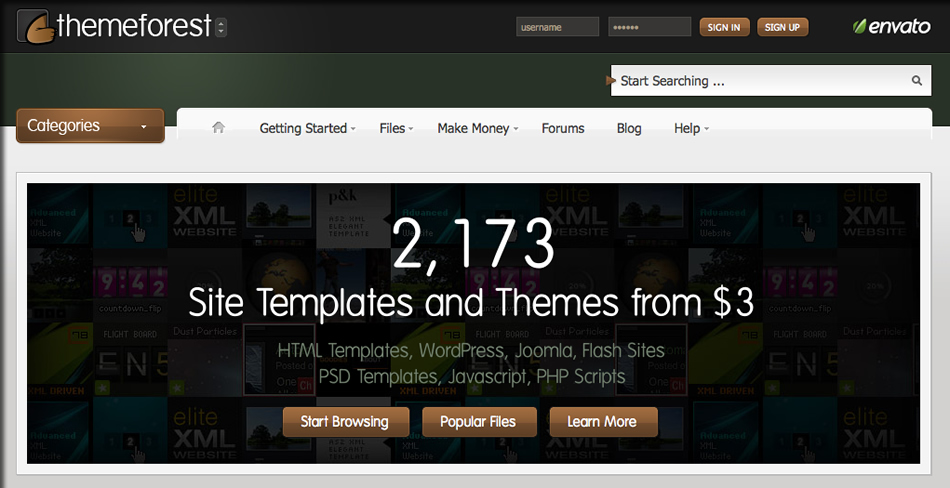 Let me tell you why I ended up picking Theme Forest as the Number 1 destination for Premium WordPress Themes in 2010. About 6 months ago, I stumbled across a site called Audio Jungle where you could buy stock audio and sound clips. I had been looking for a marketplace like this for sometime, and was happy to discover that not only could you purchase stock audio, you could visit one of the many other sites in the Envato Marketplace and purchase things like graphics, pre-coded software and solutions, video, flash, and…you guessed it…Wordpress Themes.
Now the reason this is so powerful is because this is really the only "marketplace" where WordPress developers can come together and release their work to the public, giving us as consumers the chance to sort through hundreds and thousands of different themes. There is no place on the web with a more diverse range of high-quality Premium WordPress Themes at such great prices.
FURTHERMORE…when you create your free account at ThemeForest, it can be used at any of the sites on the Envato Marketplace. Now you can not only buy audio, video, code, themes and more, you can do it all in ONE place, with ONE account (you can even sell your own work on the marketplace and earn money).
The bottom line: Visit Theme Forest, setup your own account, browse the different marketplaces they have created, and I'm sure you will quickly grow to love the Envato sites as much as I do. They are the first place I turn for all things "web" related, and they are my top pick for Premium WordPress Themes in 2010.
---
Related Articles