Balance WordPress Theme by StudioPress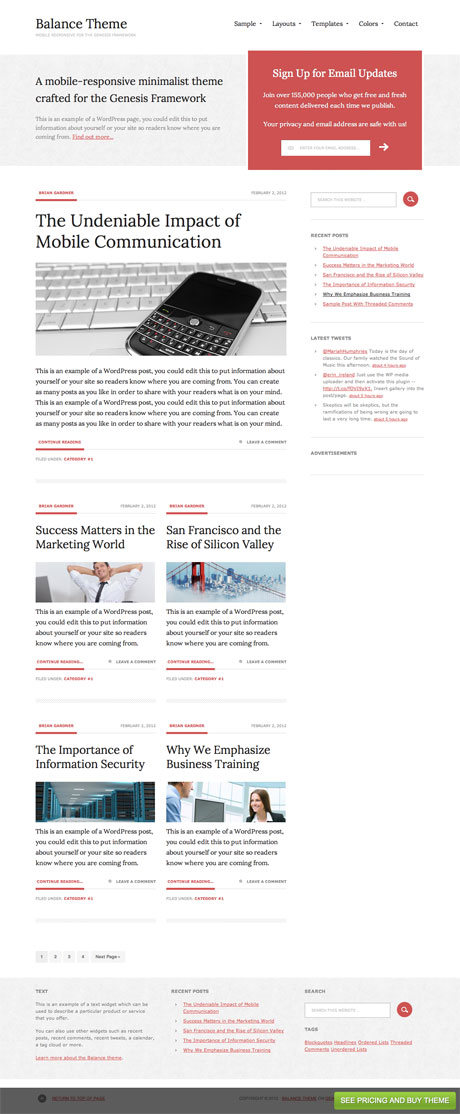 Got an email list of everyone who visits your site and is interested in hearing more about what you have to offer in the future? No? Well you're missing out on all the fun! Any online marketer understands that it is crucially important to amass a list of people who come to their site regularly so that they can communicate them about upcoming events, promotions, products, and more. But how do you get there? Most people don't even know where to begin and find themselves giving up before they ever truly start. Fortunately, that's where StudioPress comes in with a little help from Balance premium WordPress Theme.
Balance is a great template to use if you're looking to put your online marketing efforts at the forefront of everything you do. At its core, it is a theme constructed with layouts that funnel traffic towards the emphasized email opt-ins, which will ultimately assist you in continuing to grow your business and your success. The thing that really puts Balance over the top though is the fact that it is mobile optimized with its responsive design, meaning that it will automatically detect the features of any device viewing the site and adjust the layout of content accordingly. No more troublesome zooming in and out and having your customers hunt and peck for information they're looking for. Instead, Balance helps to create an effortless experience on the user's part, which ultimately leads to happier customers and better business.
Furthermore, your visitors can feel safe knowing that their personal information is all being handled by a theme built off of the Genesis Framework, prized for its attention to detail in all areas of theme development, including security. With Genesis backing your site, you can rest assured that everything is in good hands and that your site's foundation is as up to date as can possibly be against would-be attackers. But it's not just good-looking, secure theme (as that only gets you so far). It's a theme that performs. All of StudioPress' designs are search engine optimized in the way their markup is structured to ensure that major search engines are able to quickly and easily find the core content of your site and deliver it to searchers.
With a theme that offers up this much functionality and flexibility, you'd think that you would have to put up with a pretty hefty price tag, wouldn't you? Believe it or not, you don't. All of this can be had for an extremely reasonable rate that is among the best in the business. Take a look through a few features below before checking out the live demo at the bottom of this page.
Balance Theme Features
5 color styles
3 layout options
Custom background
Custom header
Featured images
Footer widgets
Mobile responsive
Threaded comments
Balance Theme: $24.95 | Demo & Download
Note: Many of the articles on this site include affiliate links that may earn us a commission if you decide to buy the recommended product.
Related Articles