Auld Premium WordPress Theme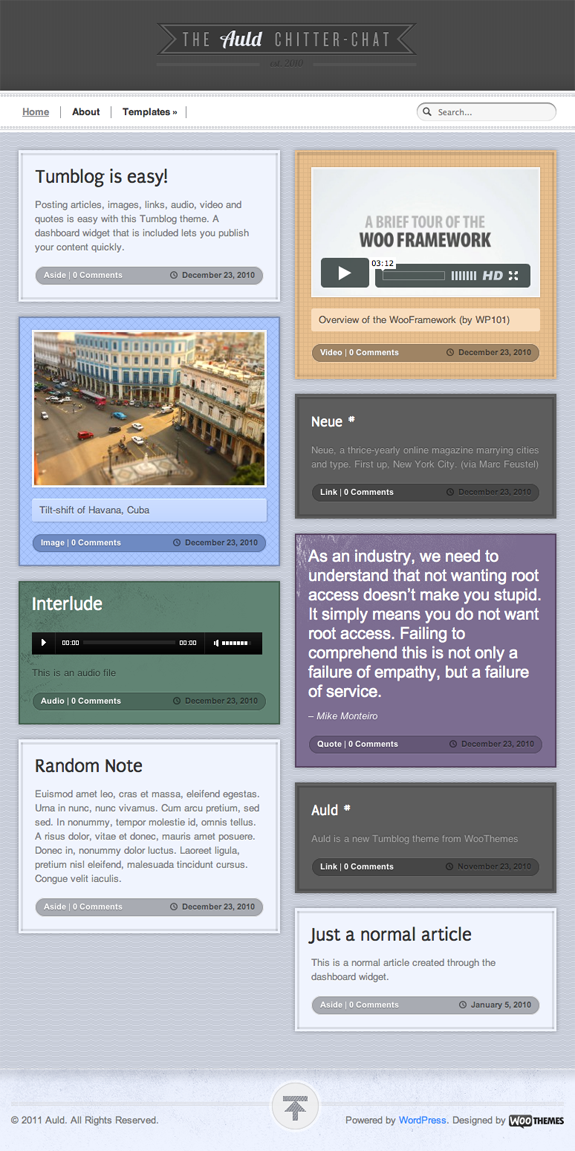 Auld is yet another truly unique premium WordPress theme by WooThemes featuring tumblog functionality for speedy publishing (for those of us who never seem to get a moment to sit down and relax). Auld is colorful, vibrant, and comes with a fun layout that is perfect for any personal blog. Designer James McDonald has truly given WooThemes something that is different and simple to use, yet doesn't sacrifice design and style.
Auld Features
jQuery post alignment — Auld uses the jQuery Masonry plugin to align the post blocks nicely below each other in a two column fashion.
Custom typography — You can customize the typography in the theme to suit, and there is full support for Google Fonts in the font selector.
Custom widgets — The theme has widgetized sidebar, and as always comes with custom Woo Widgets (ad space, blog author, search, Flickr, and Twitter).
Alternative styles — The theme includes 10 alternative color styles which you can preview in the demo, and also has styling options for background color/image and setting link and button color.
Works like Tumblr — Tumblr is an impressive and very popular platform and now you can replicate that functionality on your WordPress-powered tumblogging site.
Publish from your iPhone with Express App — Auld premium theme supports the Express App for iPhone, which lets you post images, notes, links, and quotes while on the go!
Extensive multimedia support — Posting a variety of multimedia elements (images, video, audio, quotes, notes, and links) is super-easy to do and the Auld theme handles all of the different "post types" without worry.
Advanced QuickPress — Post to your tumblog from your dashboard, using the amazing new AJAX-powered and WooThemes-exclusive QuickPress functionality that is bundled with Auld.
Sidebar manager — Sidebar manager allows you to replace all widgetized sidebars and footers in WooThemes' themes with unique, custom sidebars.
Custom shortcodes — All of WooThemes' layouts include custom shortcodes that allow you to easily add buttons, boxes, social buttons, columns, and more to your posts, pages, and widgets.
Standard Auld Features

Backend Theme Options
Making simple changes without editing code — like adding your own logo, changing to an alternate color style, or adding Google Analytics — couldn't be easier with WooThemes' backend options panel.

Cross-Browser Compatible
WooThemes has tested their layouts to ensure they are compatible with all the modern web browsers like Firefox, Safari, Google Chrome and Internet Explorer. All are web standards compliant.

Auto-Sizing Thumbnails
An image resizer script built into the Woo Framework automatically scales your post images for pixel perfect display in your template. No need to upload new cropped images when re-designing your website.

Localized for Translations
All of WooThemes' templates come packaged with a PO file for easy WordPress translations into your desired language — editing one neat, little file without hunting down text in all your theme templates. (Supports WPML plugin)

Woo Framework
All themes are built on the same Woo Framework — modifications through the options panel are a breeze, and all is neatly coded for search engine readiness and further theme development.

Custom Page Templates
Every WooThemes layout comes packaged with a full-width page template without the sidebar, and sitemap/archives page templates for efficient quick links to all the hidden posts you wrote ages ago that still deserve to be seen.
Auld Showcase
Take a quick look at some of the sites from around the web using the premium WordPress theme, Auld:
Auld: $70 | Demo & Download
Buy one for $70 or get access to EVERY WooThemes layout for only $125!
---
Related Articles