Signing up for AuctionAds
As you've probably noticed, AuctionAds are now appearing on the right side of this blog. I've never used the system before but I've heard nothing but good things about it. The system was developed by ShoeMoney in cooperation with eBay and has taken the blogosphere by storm. I've heard a few mixed reviews but I figure if it's good enough for 21,000 other publishers, it's good enough for me to give a shot.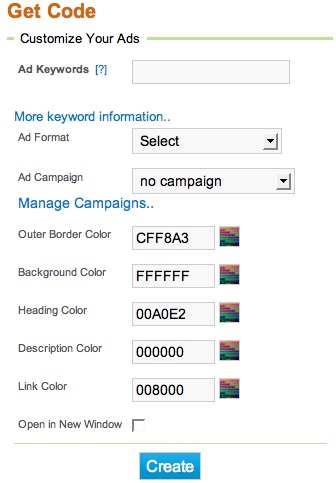 The sign up process was pretty stinkin easy. You enter your pertinent information and as far as I can tell, you're approved immediately. Creating the actual ad should be a breeze for anyone that's ever set up AdWords or something similar. However, unlike AdWords, AuctionAds is NOT a contextual ad system. It serves eBay auction items based on the keywords you enter in that fairly self explanatory field you see to the left. After adding the keywords you then choose from 11 different ad formats (banners, skyscrapers, etc.). The final step is to choose the colors for your ads in much the same way you do for AdSense etc.
I debated for a while whether to make the ads stand out or keep the color scheme pretty consistent with the rest of the site. I think it probably depends on both your tastes and your purpose. If the ads are your primary call to action or the desired action visitors will take when entering your site, you'd probably want the ads to stand out and draw eyes towards it. However for this site, the ads are more of a last resort options. I'd rather you subscribe to the blog or comment but if you either aren't going to do those things, or you've already done them, then I wouldn't mind earning some money from the site as well. After all, the goal is to have this site generating a full time income by Independence Day next year.
I've gone with the 160 x 240 Wide Skyscraper and decided to place it just under the Archive section. I wanted to at least keep the ads above the fold but didn't want to push down any of the Subscription information. I'm still not quite sure whether the ads make things a bit too cluttered or not but I think it's good for now. Of course I'll keep everyone up-to-date on the AuctionAds' performance and any other testing or tweaks I make.
Think the AuctionAds make things too cluttered? Think I should go with a different ad system? Let your opinion be heard by leaving a comment below!
---
Related Articles