An Inspirational Talk With Fabio Sasso of Abduzeedo.com
We designers always look for visual references to pump our brain juices. Inspiration usually gives us some sweet ideas for designs. It is a somewhat random but wholly natural association of ideas and sudden unison of thought. Today, we will have a chance to meet Fabio Sasso of Abduzeedo.com, a most popular blog about design inspiration nowadays. This is an really interesting talk with him about inspiration which certainly becomes one of important tasks in design process.
Could you please introduce yourself?
Hey, I'm Fabio Sasso, I'm a graphic and web designer from Porto Alegre, Brazil. I've been working with internet since 1999 even though I majored in graphic design. Since then the web has evolved a lot and I've learned so much. In 2006 I started a personal blog about design inspiration and some tutorials called Abduzeedo, which has become the most important tool to promote my work.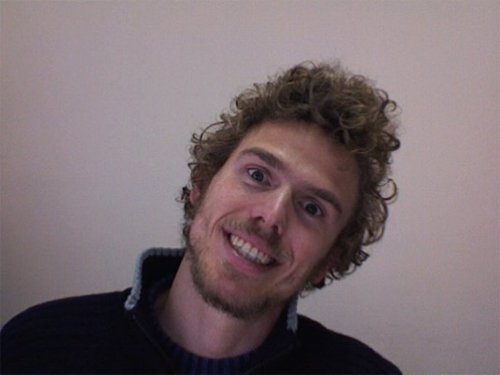 Your blog is one of the biggest inspiration-dedicated blogs of the scene. Why do you focus on inspiration (of course there are other topics too, but inspiration is the main one)? Is your stolen computer a reason?
I focus on inspiration because as designers we are always looking for visual references, I always loved design books that were about things like big showcases of logos, identities, business cards, posters, all sorts of things. So in 2006 after my office was robbed I lost my computer and my 2 backup drives where I used to have tons of references that I used to keep to myself. So I started the blog to sort of backup my references but at the same time share them.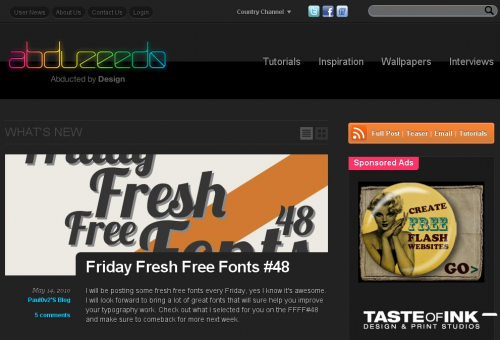 If you're looking for inspiration for your own designs, what are the steps you're doing first? Any favourite places or websites?
Well, I look at Abduzeedo, eating one's own dog's food

however I'm always checking lots of sites like Behance, Flickr, Deviantart, blogs and of course, off-line inspiration like books, package design etc. Inspiration is everywhere, the key here is to understand what you are looking for and sort of filter to not waste time.
What is your personal opinion about the importance of good inspiration in design?
I'm sure that it's really important for a designer to have lots of references, most of the times our first idea usually is based on something that we already know or saw, so to start getting something new you have to a understanding. You also need to understand the goals of the project and the audience. That way you can filter the possibilities and be more efficient.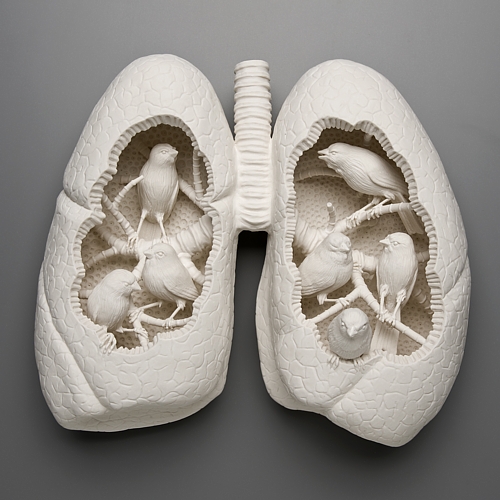 How have inspiration things changed since you started with designing and writing on Abduzeedo?
We have seen some styles coming and going, like light effects, watercolors, textures, doodles etc. It's hard to say how things have changed because our idea is to collect things that inspire us, no matter which style they are. But I've been following some designers that were contributing since the beginning of the blog, especially with sending their works to us for the daily inspiration, and it's amazing how they evolved by the simple fact of practicing.
Imagine sitting in a room with just four white walls – no windows, no pictures, no furniture. Would you still be able to design?
Absolutely, that's why we always have to be looking for inspiration so we can have this visual library in our minds, because when you start a project, like when you start designing per se, you will always have a blank page or sheet of paper.
In Brazil, where you are from, web design and design in general is maybe much more important and present than in other countries – do you actually think so? What are the advantages and disadvantages of being a designer in Brazil? How's about the competition and the community?
I have to say that in Brazil things are more difficult, we're a developing country, but still a third world country with lots of social problems and a poorly distributed society in terms of wealth. There is a huge number of poor people and a very few with a lot of money. Things take longer to develop here, even though it's getting better. But it's still not as fast as in the US, for example. Another factor is that we speak Portuguese only, so most of the new things happening have to be translated and once again that creates noise and makes it more difficult to spread the innovation. However we're a very creative country and the guys who succeed here are ultra capable because they had to overcome all those constraints.
A very important element of your blog abduzeedo.com are predefined, weekly or daily published posts. Are you a very structured designer or is just the blog based on a predefined structure?
I'm not, to be honest. Some of these series started naturally because we were always posting about the same topics – like wallpapers for example -, so we organized ourselves to have a wallpaper of the week, which was the best thing to do, otherwise we could have a cool wallpaper today and another tomorrow, what would be a waste of good material. The daily inspiration started mostly because I'm always looking on tons of images, so I thought to myself, if I do that other people must do the same, so why not start making that social and public. The same thing was with the best of the week.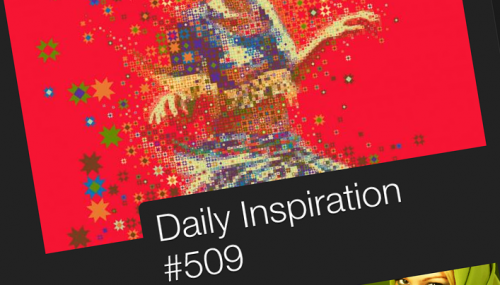 How important are the Abduzeedo user-news (which allow readers to share their inspiring resources) for the blog?
It's really important because it's a channel where everybody can post their news without moderation. We are working on some new features to give more freedom and extend the possibilities of the user news, allowing users to post full posts. We're also working on some new features that will make the blog even more open, because that's the idea of Abduzeedo: to be an open channel to the community.
Much appreciated Fabio for taking time to have a talk with us. Your experiences in design industry are always helpful to all designers.
---
Related Articles