Aggregator Free WordPress Theme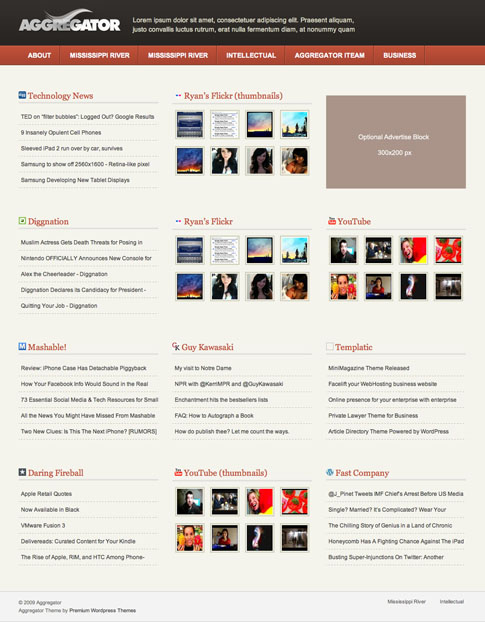 Much like Templatic's LiveTwit free theme, Aggregator is a free WordPress theme that takes things one step further allowing users to aggregate all of their feeds in one place! If you're in need of an attractive format to display all of the happenings in your life with friends, loved ones, or whoever, Aggregator free WordPress theme is the perfect way to do it.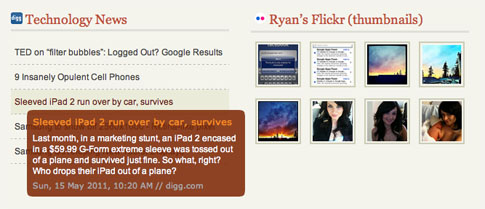 Rolling over news titles displays article snippets
Aggregator Theme Features
Widget-based layout allows you to add as many feeds as you want using one single widget throughout the entire theme
Specify post count on each feed
While aggregating feeds for image/video sites, you have the option to display the feeds as images or post titles
Aggregate any kind of feed — Flickr images, video, blog posts, audio, et cetera
Article snippet displayed while hovering over news feed title
2 detailed colorschemes
Dropdown menu
Traditional blog layout (includes commenting)
Aggregator Theme Showcase
Come back and check out the showcase as we find more sites from around the web using Aggregator.
Aggregator: FREE | Demo & Download
Templatic also produces incredible premium WordPress themes at some of the best prices in the industry — make sure to check them out while visiting the site!
Note: Many of the articles on this site include affiliate links that may earn us a commission if you decide to buy the recommended product.
Related Articles