AgentPress Real Estate WordPress Theme StudioPress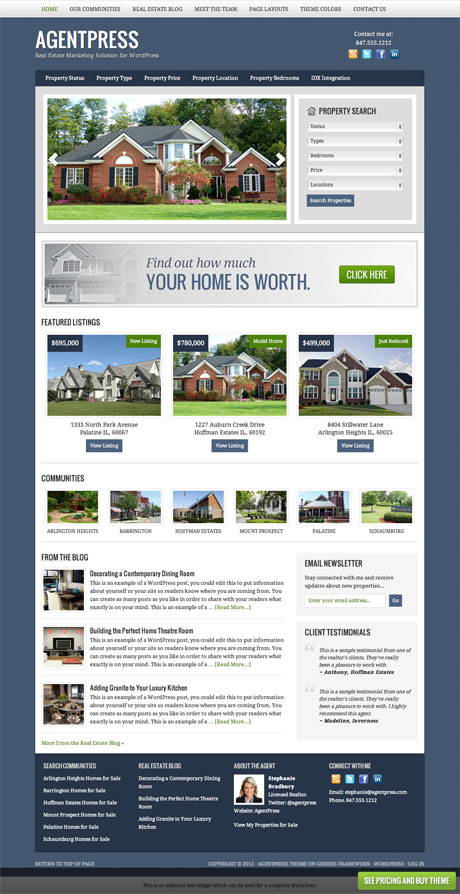 In today's real estate market, it's more important than ever to have an edge to rise above the competition. Savvy agents know that a web presence is increasingly important as more and more people are shopping online for a place to live. AgentPress premium WordPress theme features an intuitive design, powerful functionality, and smart listings.
One of my favorite features of the AgentPress WordPress theme is the "Quick Search" function that appears towards the top of every page. What I love most about this is that it keeps your listings front and center no matter where your visitors are on the site. It doesn't matter if they're looking through your team page or reading your blog as the main purpose of the site is always right there and easily accessible. Additionally, it's easy to market your homes not simply by features, but by community as well. As we all know, everybody tends to shop around a little differently.
Make sure that you have the ability to rise above the market and work towards goals you've laid out by showcasing your professional services and listings to your clients in real time. Up to the minute updates that were never before possible are something that is easily achieved with AgentPress premium theme. Check out the live demo towards the bottom of the post to see everything that AgentPress has to offer.
AgentPress Theme Features
5 color styles
6 layout options
Custom background
Custom header
Custom menus
Featured images
Fixed-width
Theme options
Threaded comments
AgentPress Theme: $99.95 | Demo & Download
Note: Many of the articles on this site include affiliate links that may earn us a commission if you decide to buy the recommended product.
Related Articles