Admirable Free WordPress Theme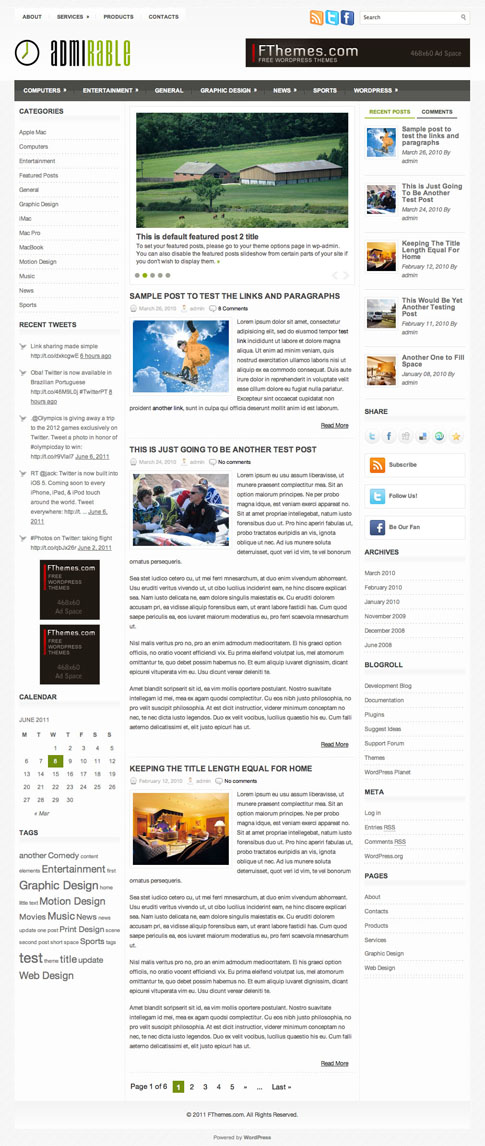 Admirable free theme is a wonderfully versatile WordPress layout generously provided by FThemes for your enjoyment. It's name most certainly holds true as there is much to admire about Admirable WordPress theme including Gravatar support, included PSDs, and WordPress 3.0 compatibility. I really like the work that FThemes is publishing and think it's absolutely worth your time to check out Admirable theme today!
Admirable Theme Features
WordPress 3.0 ready
Custom menus support
Custom background support
Options page
Featured content
125×125 banners (easily editable)
468×60 banner (easily editable)
3 columns
Gravatar support
Compatible with the latest release of WordPress
Widget-ready
Optimized for search engines to achieve better results
Fixed-width
PSD included in the theme folder
Works in all major browsers
Admirable Theme Showcase
Take a quick look at some of the sites from around the web using the free WordPress theme, Admirable:
Admirable: FREE | Demo & Download
Note: Many of the articles on this site include affiliate links that may earn us a commission if you decide to buy the recommended product.
Related Articles