Abstract Premium WordPress Theme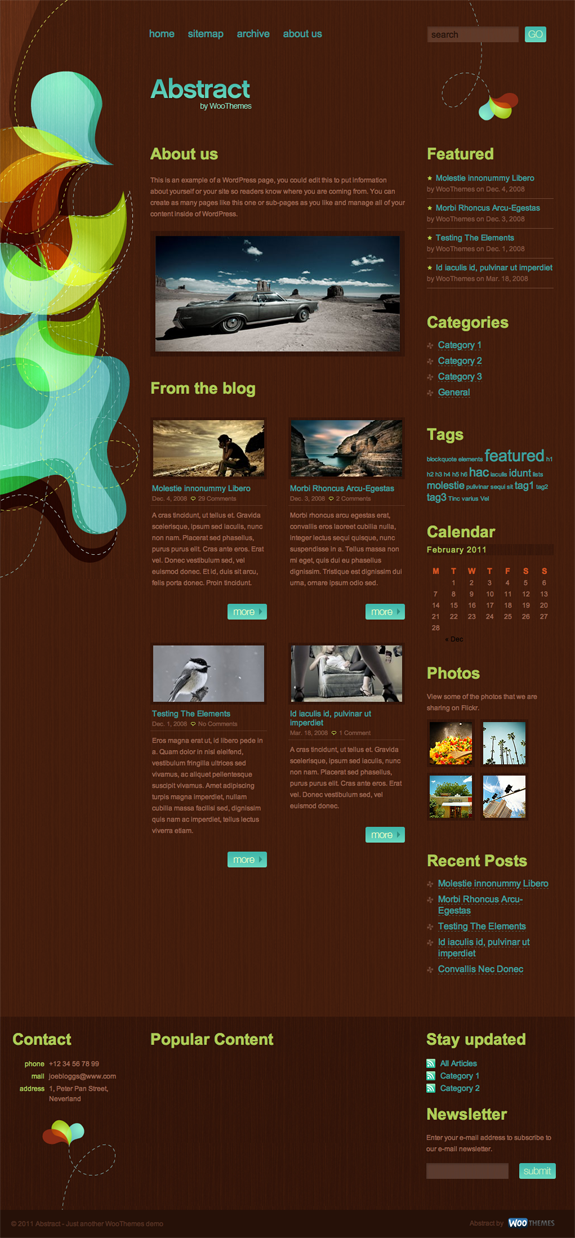 Abstract is a beautifully illustrated and colorful premium theme that WooThemes and the fabulous Veerle Pieters collaborated on. Abstract theme sports a fun, yet professional layout that is flexible enough to be used as either a business theme or a personal theme. Also, site alterations on Abstract are a breeze with the Woo Framework. So think outside the box and try something different — give Abstract a try today!
Abstract Features
5 amazing color schemes to choose from
A custom home page to include specific page content and your latest "x" number of blog posts
A completely widgetized sidebar & two widget spots available in the footer
Custom widgets included in the theme packaging, including a "Featured posts (by tag)," "Contact Details," "Campaign Monitor subscription," "Ads," and a dedicated "Popular Content" block — no third party widgets required
Styling for the lifestream widget
Standard Abstract Features

Backend Theme Options
Making simple changes without editing code — like adding your own logo, changing to an alternate color style, or adding Google Analytics — couldn't be easier with WooThemes' backend options panel.

Cross-Browser Compatible
WooThemes has tested their layouts to ensure they are compatible with all the modern web browsers like Firefox, Safari, Google Chrome and Internet Explorer. All are web standards compliant.

Auto-Sizing Thumbnails
An image resizer script built into the Woo Framework automatically scales your post images for pixel perfect display in your template. No need to upload new cropped images when re-designing your website.

Localized for Translations
All of WooThemes' templates come packaged with a PO file for easy WordPress translations into your desired language — editing one neat, little file without hunting down text in all your theme templates. (Supports WPML plugin)

Woo Framework
All themes are built on the same Woo Framework — modifications through the options panel are a breeze, and all is neatly coded for search engine readiness and further theme development.

Custom Page Templates
Every WooThemes layout comes packaged with a full-width page template without the sidebar, and sitemap/archives page templates for efficient quick links to all the hidden posts you wrote ages ago that still deserve to be seen.
Abstract Showcase
Come back and check out the showcase as we find more sites from around the web using Abstract.
Abstract: $70 | Demo & Download
Buy one for $70 (and get two more free) or get access to EVERY WooThemes layout for only $125!
---
Related Articles