50 Useful UI Design Tools and Resources
Web User Interface (UI) elements are the crux of the matter for a web designer. A complete set of nice Web UI elements not only signifies the beforehand preparation of the web designers but also demonstrates his interest in designing web UI elements. Keeping this in mind, we thought to compile a post that features highly valuable and outstanding UI toolkits along with best practices, techniques, and examples of UI designs. We hope you will improve your skills by trying these toolkits and using the resources listed in this post. Speak your mind and do let us know what you think about this compilation and which toolkit you like the most.
Echo 3
Echo is an open-source framework for developing rich web applications. From the developer's perspective, Echo behaves as a user interface toolkit–like Swing or Eclipse SWT.
ZK
ZK is a highly productive open source Java framework for building amazing enterprise web and mobile applications.
Free Web UI Wireframe Kit
Totally scalable web UI template kit is made completley with shape objects and in some cases converted into SmartObjects.
EightShapes Unify
A beautiful collection of templates, libraries, and other assets for Adobe Creative Suite of products, primarily Adobe InDesign.
DHTMLX
It is a JavaScript library that provides essential functionality for building cross-browser, Ajax-based user interfaces. Develop impressive web applications faster with a set of ready-to-use UI widgets
LivePipe
LivePipe UI is a suite of high quality widgets and controls for web 2.0 applications built using the Prototype JavaScript Framework. Each control is well tested, highly extensible, fully documented and degrades gracefully for non JavaScript enabled browsers where possible.
Wireframe Magnets (DIY Kit)
This DIY magnet template is based on the Konigi wireframe stencils and includes 3 sheets of elements that might be useful in whiteboard prototyping. Simply download and print the PDFs onto magnet sheets, optionally laminate them if you intend to use with dry-erase markers, and finally cut them out.
User Interface
A beautiful collection of User Interface stencils for OmniGraffle.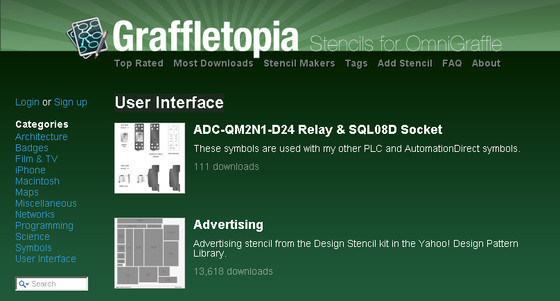 Download a Stencil Kit
Yahoo! Design Stencil Kit version 1.0 is available for OmniGraffle, Visio (XML), Adobe Illustrator (PDF and SVG), and Adobe Photoshop (PNG), and covers the following topics.
Android 2.2 GUI
A beautiful set that contains GUI for android 2.2 (FROYO)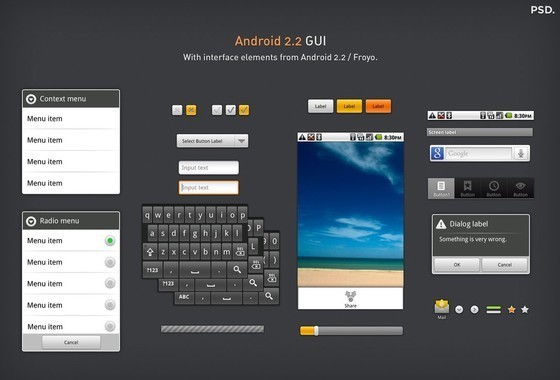 Concept Feedback
Post your designs and concepts and get free feedback from the design community
Landing Page Optimization
Get feedback from real people on your landing page's 5-second impression
Flex 3 Stencil
This set includes all Flex components from Flex 3 Style Guide: panels, data grid, buttons, fields, links, toggle, menu, scrolls, accordion, tabs, list, data picker, tool tip, errors.
Small GUI Pack
This set contains small Graphical User Interface Elements Pack.
Midori
Midori is an ultra-lightweight JavaScript framework that gets the job done without getting in your way.
Scripty 2
Scripty2 is a powerful, flexible JavaScript framework to help you write your own delicious visual effects and user interfaces.
Snippet Library
A very useful resources of user-submitted and reviewed snippets and code tutorials from a variety of programming lanugages.
Eclipse Stencil for OmniGraffle
This stencil enables you to easily prototype Eclipse (wizard) dialogs with OmniGraffle(TM)
Turquoise PSD
Turquoise PSD Template designed for windows
JQTouch
A jQuery plugin for mobile web development on the iPhone, iPod Touch, and other forward-thinking devices.
The Javascript Source
These JavaScript snippets can be used in conjunction with other scripts to enhance their usefulness. These can save you a great deal of time. Many of these are generic and can be used in most scripts.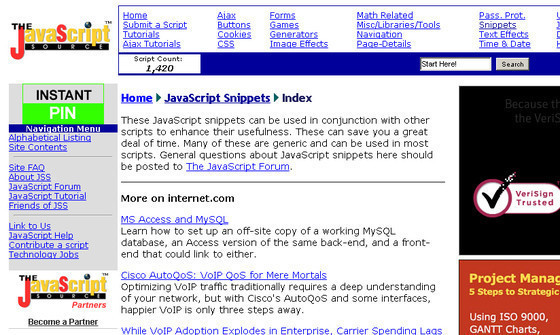 Editable Grid
EditableGrid is an open source Javascript library aimed at turning HTML tables into advanced editable components. It focuses on simplicity: only a few lines of code are required to get your first table up and running.
Moonify UI
A useful set of free PSD every day for life.
"Grayness" UI Kit
A useful set of "Grayness" UI Kit.
Simple UI Elements
Simple UI Elements is a clean, well organized PSD file containing common user interface elements for web and app designs.
Solid UI Kit
Solid UI Kit is a fresh design created by Alvin Thong from Sixbase. The download includes a well organized, easily editable PSD file.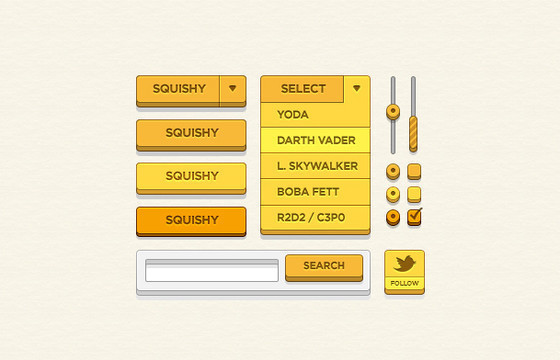 Blue and White GUI Kit (PSD)
A beautiful set of Blue and White GUI Kit (PSD).
Fluidia
FluidIA is an emerging agile design tool for prototyping rich user interfaces.
JuiceKit for Visual Analytics
JuiceKit is a Software Development Kit (SDK) for building Information Experience™ applications. JuiceKit integrates with Adobe Flex to create components that are easy to implement and aesthetically pleasing. JuiceKit components include controls, visualizations, and utility classes.
Lumzy
Lumzy is a Mockup and Prototype creation tool for websites and applications. With Lumzy, you can easily create your mockups and send them to clients on the fly. Lumzy also features collaboration tools for team editing, a chat engine for deliberating over designs, file versioning and so much more.
The Pencil Project
The Pencil Project's unique mission is to build a free and opensource tool for making diagrams and GUI prototyping.
Free Sketching & Wireframing Kit
The Sketching & Wireframing Kit is a free set of elements for sketching and wireframing. It consists of form elements, icons, indicators, feedback messages, tool tips, navigation elements, image placeholders, embedded videos, sliders and common ad banners.
Graphite Navigation
A collection of Graphite Navigation.
Black UI Elements
This set contains free PSD every day for life.
"Sepia" GUI Elements
This set contains "Sepia" GUI Elements.
Add to Cart Buttons
A set of add to cart buttons. As a consistent component of ecommerce design, these should come in very handy.
Dojotoolkit
Dojo saves you time, delivers powerful performance, and scales with your development process. It's the toolkit experienced developers turn to for building superior desktop and mobile web experiences.
Mocklinkr
Make your life easier and impress clients by using mocklinkr to deliver your static mockups as a linked-up and clickable website.
Serena Prototype Composer
Serena Prototype Composer enables IT organizations to quickly simulate process flows and mock up UI screens to help quickly clarify requirements.
User Interface Design Framework
A very useful User Interface Design tool for Web Designers.
Hot Gloo
Hot Gloo is a Online Wireframe Application.
MepholioBox
A nice resource to find commonly used design pattern inspiration.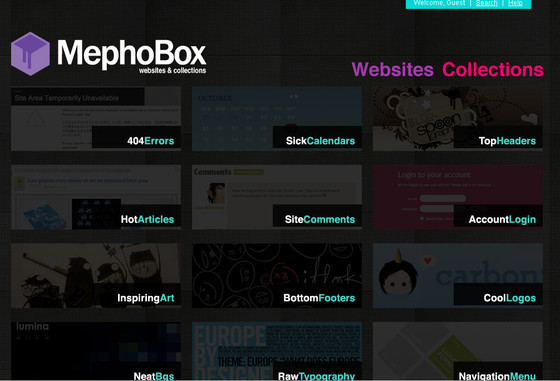 Mobility
A free set of mobile UI design elements.
Pattern Tap
A useful resource to find commonly used design pattern inspiration.
Big Download Button
A big green call-to-action download button. Grab the free layered PSD that you can use in your projects, even commercial, with no attribution required.
OmniGraffle Wireframe Stencils
This is a set of shapes for making wireframes in OmniGraffle version 5.x (Mac OS X).
Sleek dropdown menu
A gorgeous button featuring a slick dropdown menu in a wonderfully organised PSD.
Pop-up Contact Form
A beautiful Pop-up Contact Form for your next project.
Patternry
Patternry is a user interface design pattern library aimed to help solve common interface design problems. With the new Private Libraries users can also build their private pattern libraries.
All In One Web Elements Kit
A great collection of elements for your web layout in layered PSD files.
iPad GUI PSD
Very useful collection of iPad app layout in layered, vector PSD files.
Android UI Elements Set
Useful and free set of beautiful Android OS UI elements.
OSX Leopard GUI Set
The package includes fully editable vector Photoshop sources and a customizable Fireworks PNG file, the original fonts that were utilized for the making of the GUI are also included.
---
Related Articles