35 WordPress Plugins to Spice Up Your Comment Box

Comments serve a variety of purposes on your blog. You can get new post ideas after reading the response of your readers, good comments add to the original discussion of the topic of the post, and by interacting in comments you can get to know your readers in a better way (and they in turn get to know you). You and your readers will get to know many other people of your niche through comment threads so it's important to have a nice and inviting comment system that actually makes people WANT to leave their thoughts. We've put together a list of amazing comment plugins for WordPress that will help you do just that.
Out of the box, WordPress has a nice commenting system, but you can play with the technology to modify it as and how you please to make it even more spectacular. There are thousands of plugins to change the way your default WordPress commenting system will work. Different people have different norms and strategies and hence, below we present you with 35 WordPress plugins to spice up your comment box.
They all have very varied applications. Check them out and choose the ones you like.
This plugin integrates the Facebook commenting system (new, old or both) right into your website. If a reader is logged into Facebook while viewing any comment-enabled page or post, they'll be able to leave a comment using their Facebook profile.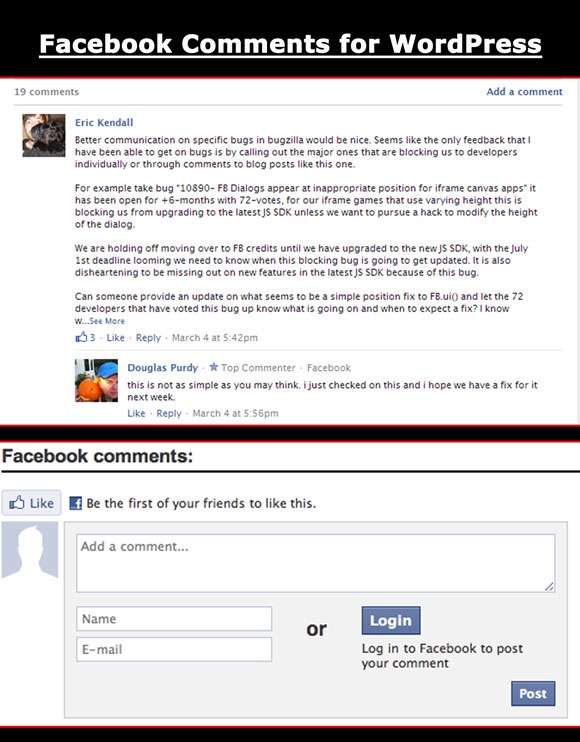 This plugin adds a tiny link that says "Quote" on each comment on your posts. Click it, and the contents of the comment is copied to the comment area, wrapped in block quote tags. It's even compatible with MCEComments.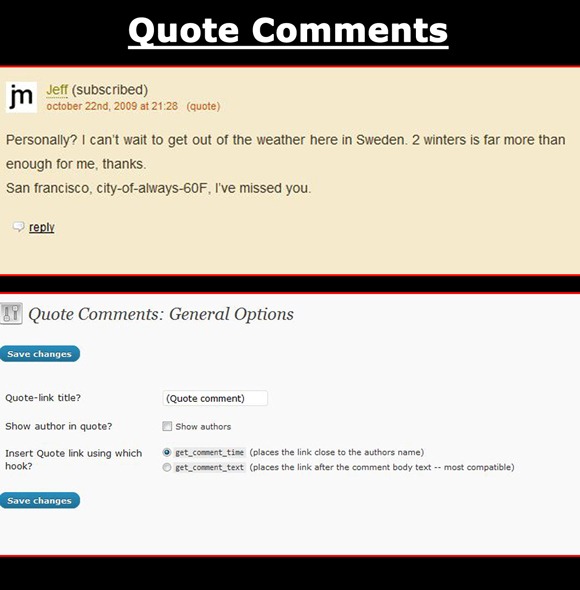 This plugin creates a capcha box before your submit button in the comments section to prevent all that unwanted spam. It comes with a mini-admin panel and love.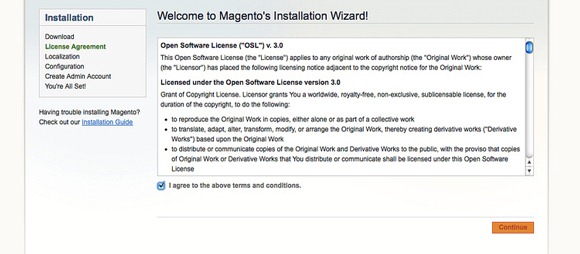 This is a widget plugin which helps to display the visitors who left the most number of comments in the WordPress blog.

Adds an options page that has a dropdown menu of all your posts and pages. You select what author information you want to appear, and paste a block of text into the comment section. Use %*% to break the text into separate comments.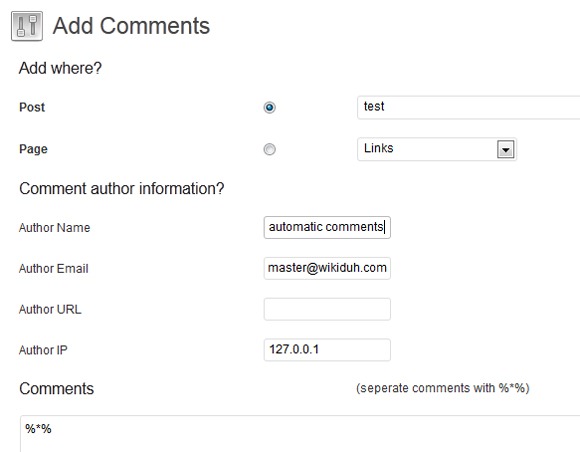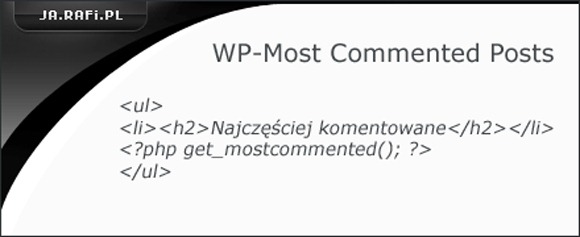 create a plug-in that uses Twitter to show avatars in comments in WordPress blogs. But after discovering the potential of the Twitter API, the plug-in evolved into a complete "avatar for comments" solution for WordPress.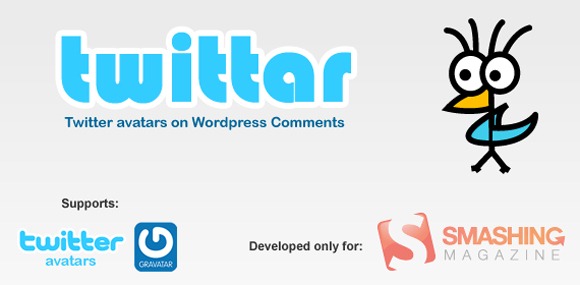 The plugin can run on WordPress and WordPress Mu at least version 2.8.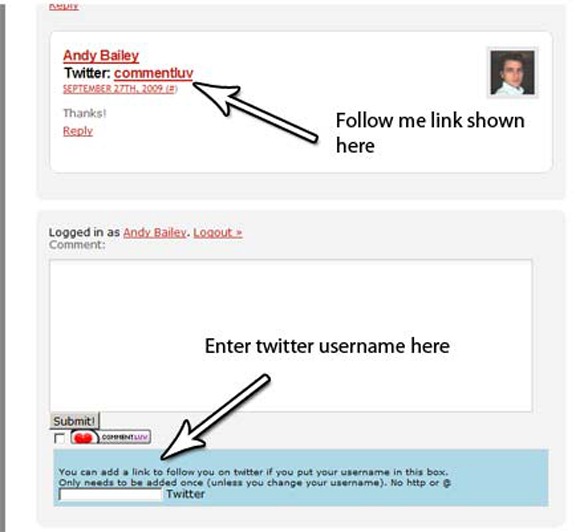 If a comment is held for moderation an email message is sent to the comment author with a link to verify the comment author's email address. When the comment author clicks on that link the comment gets approved immediately. This makes discussions more lively as users don't have to wait for the blog admin to approve the comment.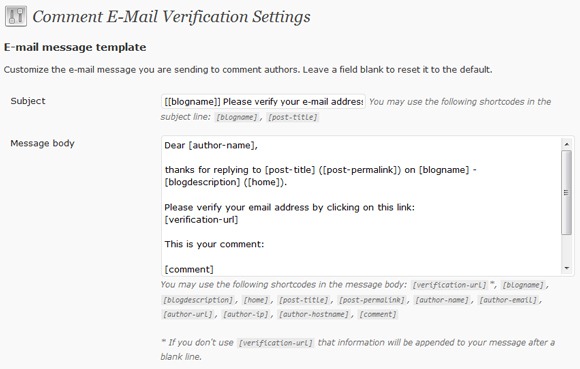 If you install this plugin, you'll get a new option page with 2 input fields, in the first of which you can set the amount of characters people should use at minimum for their comment to be accepted. It defaults to 15, which is a pretty nice number.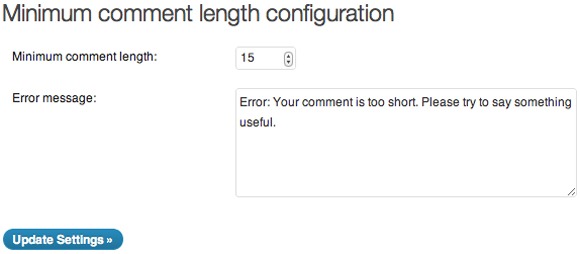 This plugin is used to have sticky comments on your blog.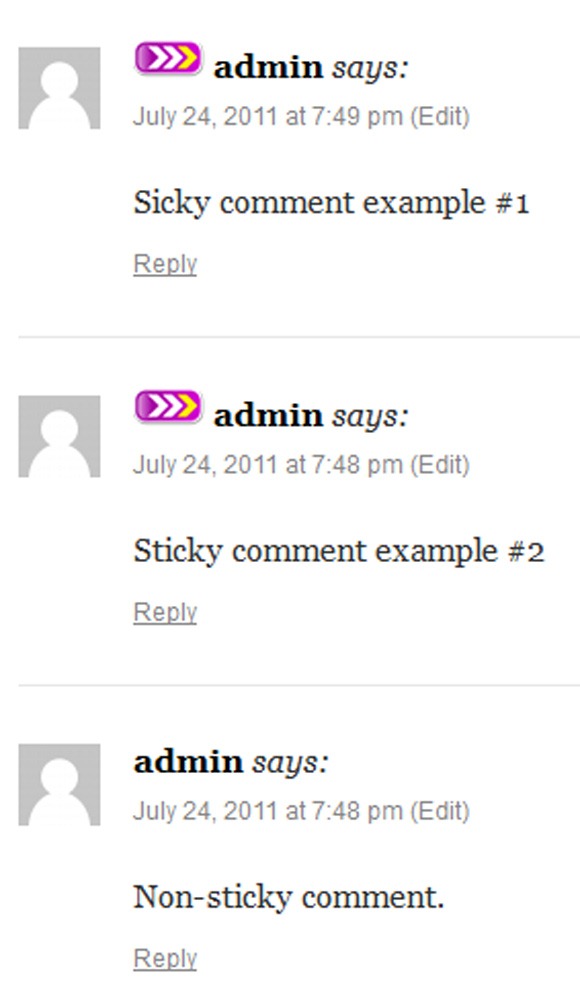 This plugin displays recent comment lists at assigned locations, with comprehensive support for widgets.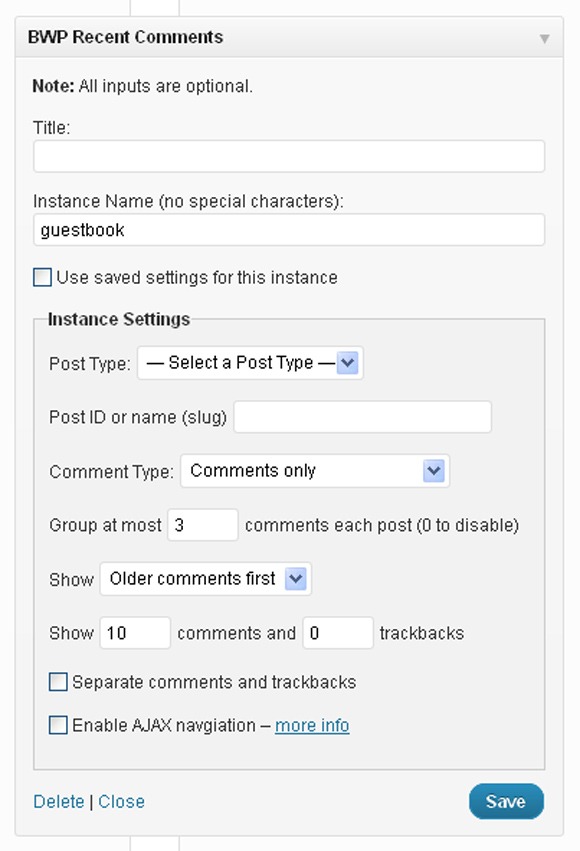 The Disqus comment system replaces your WordPress comment system with your comments hosted and powered by Disqus.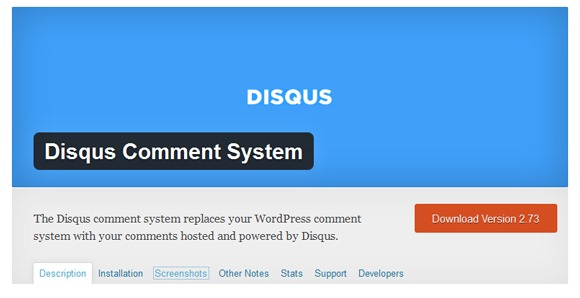 Intense Debate comments enhance and encourage conversation on your blog. Build your reader community, increase your comments, & boost page views.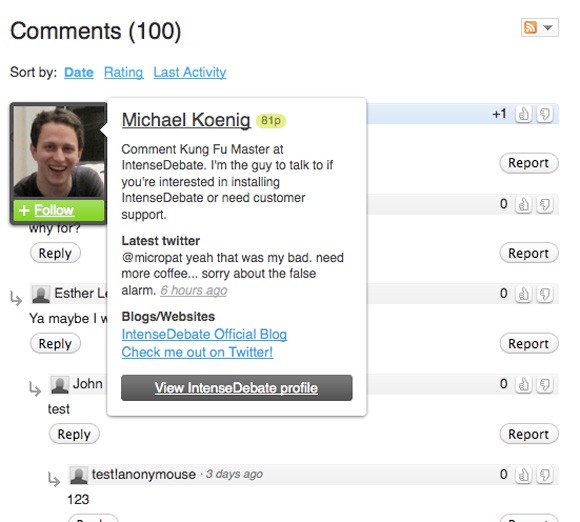 This plugin numbers your comments sequentially and hierarchically, with full support for the new comment features available in WordPress 2.7 and later — including threading, paging, and your choice of ascending or descending date order.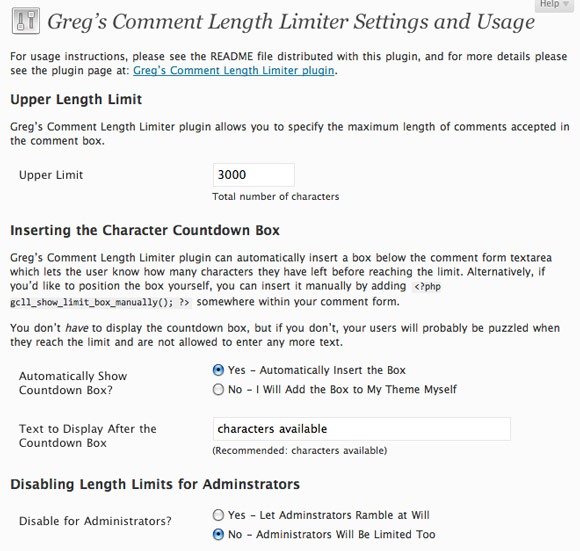 The Top Commentators Widget a sidebar widget to show the top commentators in your WP site. Adapted from Show Top Commentators plugin at Personal Financial Advice, this widget is easier to manage via the control form (no need to edit the PHP file); additional options are also available to make it more flexible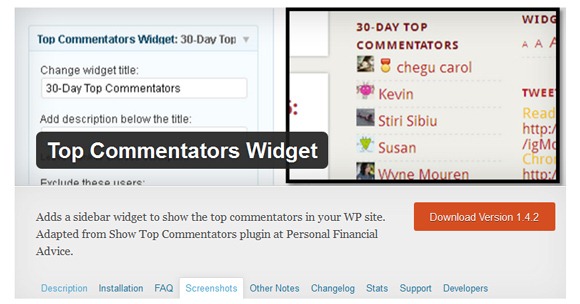 Version: 2.2.1 Conveniently close or open comments for a post or page with one click.

Simple coComments is a simple WordPress Plugin to add coComments support to WordPress.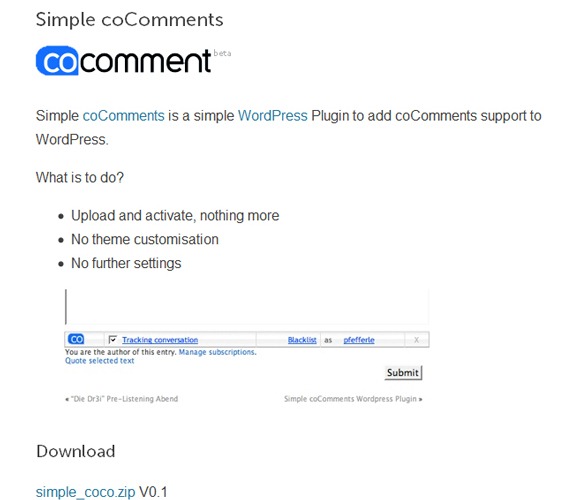 Open ID is an open standard that allows users to authenticate to websites without having to create a new password. This plugin allows users to login to their local WordPress account using an Open ID, as well as enabling commenters to leave authenticated comments with Open ID. The plugin also includes an Open ID provider, enabling users to login to Open ID-enabled sites using their own personal WordPress account.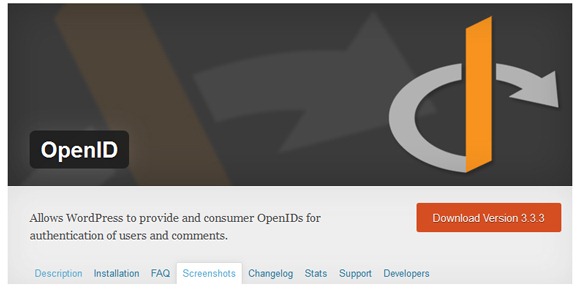 Live Comment Preview (LCP) allows your users to see how their comment will appear on the site as they type it.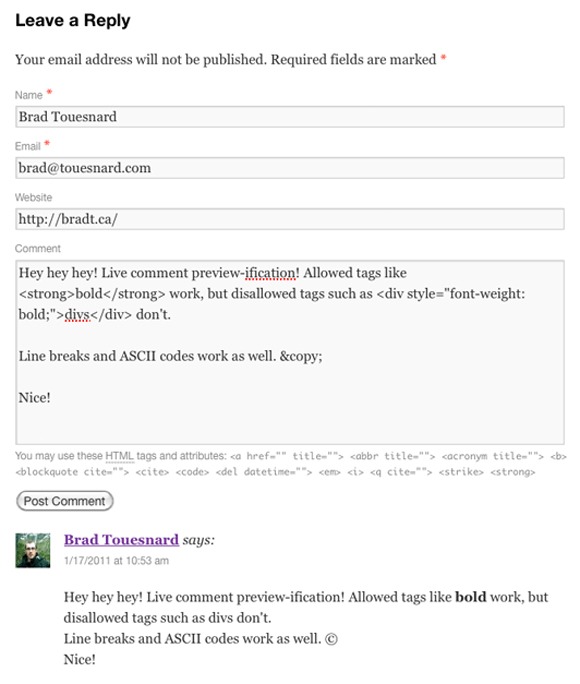 This was initially written for a client and he agreed to open-source it. Thanks, John! Your visitors will be able to choose from the avatars you upload to your website for each and every comment they make. Various configuration options are available.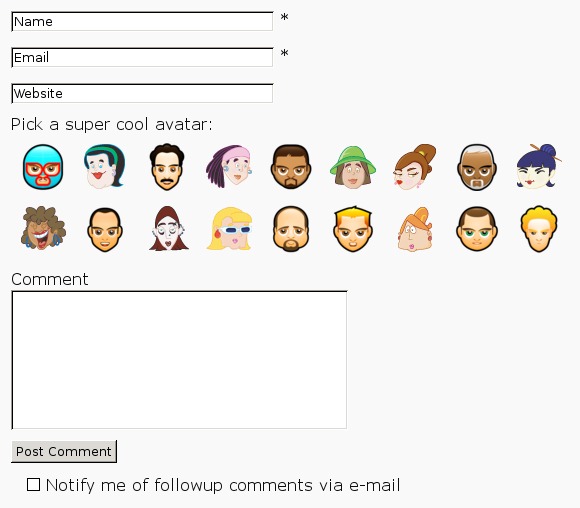 The plugin allows you to change the title of the comments form of a post. On a fresh WordPress install, the title of the comments form will be 'Leave a Reply.' This plugin allows you to set the comments form title per-post or set a global default value for all posts and pages.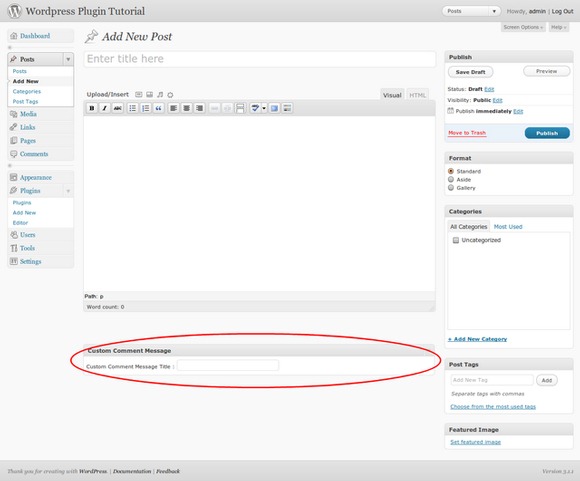 Facebook AWD is an all in one Facebook capabilities for wordpress. Add like button, like box, activity box, FB Comments, Open Graph and FB connect .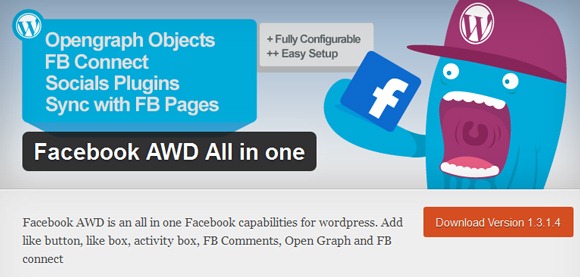 Stops spam on comments box. User needs to enter result of a simple math problem in a text box before posting a comment. User will only be prompted if not logged in. It's a simple to use plugin that won't leave your user frustrated when trying to post.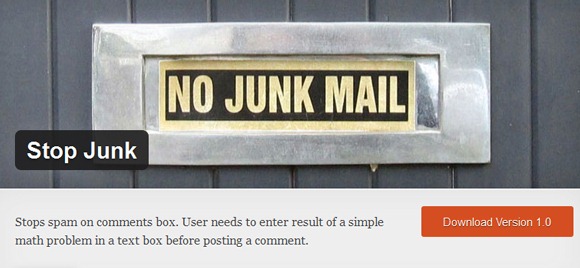 This widget plugin shows the last comment of the WordPress blog in the sidebar.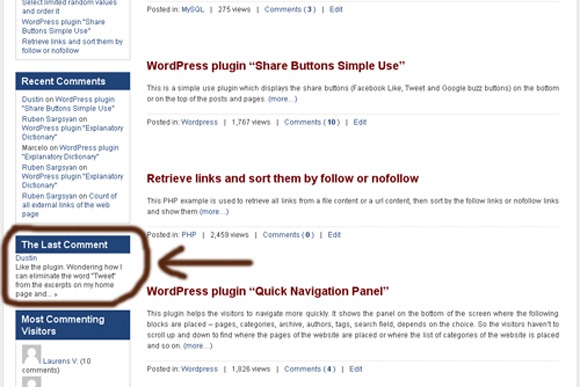 Users can edit their own comments for a limited time, while admins can edit all comments.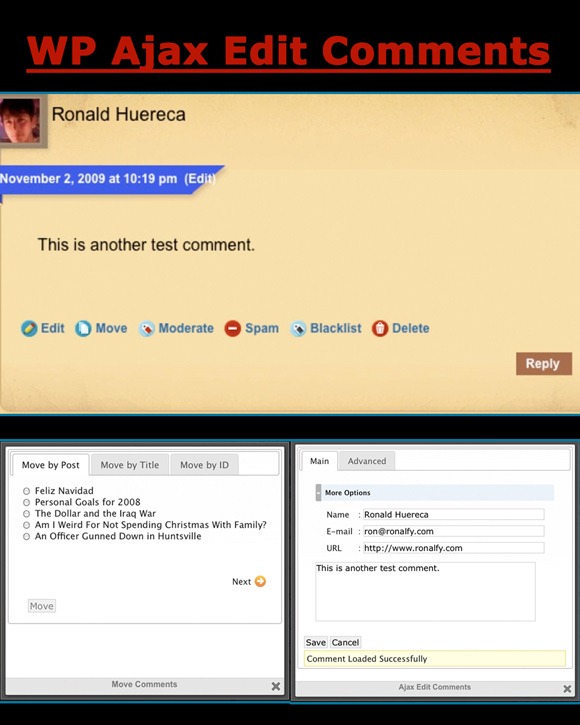 Version: 1.2 Displays a count of each commenter's total number of comments (linked to those comments) next to their name on any admin page.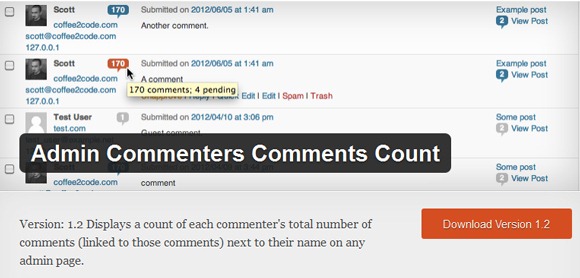 Edit Comments XT is a simple WordPress plugin that allows commenters to edit their own comments. To edit a comment, a user must have the same IP address as the user that made the comment and they must also make the edit within a specific time frame. The default edit time window is 30 minutes, but it can be changed easily in the plugin's option page.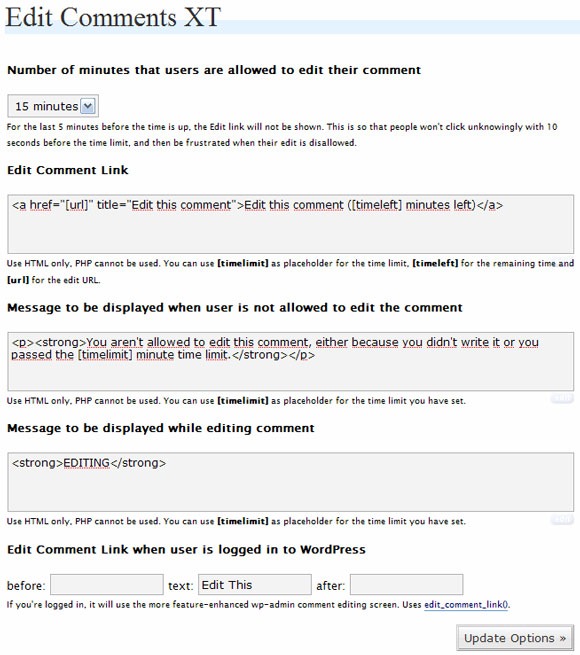 Comment Luv Pro has even more amazing features that can bring even more traffic and comments to your blog by giving you the ability to fight spam, add keywords, integrate twitter link, add a top commentators widget, social enticements and by having it installed on your site, you get advanced backlink features on EVERY Comment Luv blog when you comment.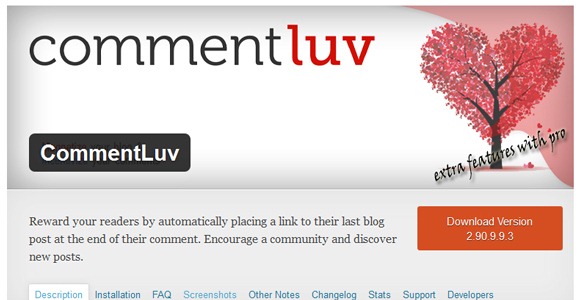 Twitter Mentions as Comments does exactly what it promises to do – scours Twitter for people talking about your blog posts and silently inserts their Tweets alongside your existing comments. The plugin leverages the power of Word Press's built-in commenting system – notification, comment moderation, author white/black listing – making Twitter an extension of your blog.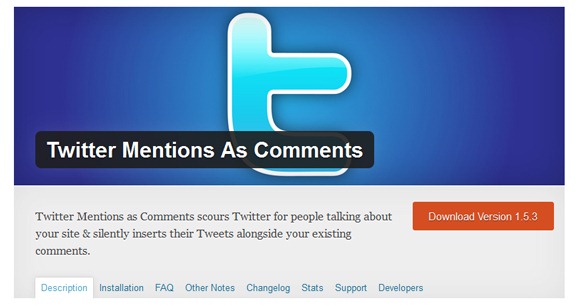 The "Redirect After Comment" plugin allows you to automatically redirect your users to a predefined page after they leave a comment on your WordPress blog. Usage is simple. Once the plugin has been installed you will need to configure where your commenters should be redirected.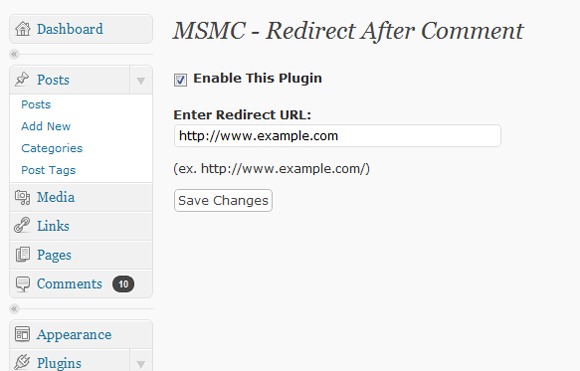 Subscribe to Comments Reloaded is a robust plugin that enables commenters to sign up for e-mail notification of subsequent entries. The plugin includes a full-featured subscription manager that your commenters can use to unsubscribe to certain posts or suspend all notifications. It solves most of the issues that affect Mark Jaquith's version, using the latest WordPress features and functionality.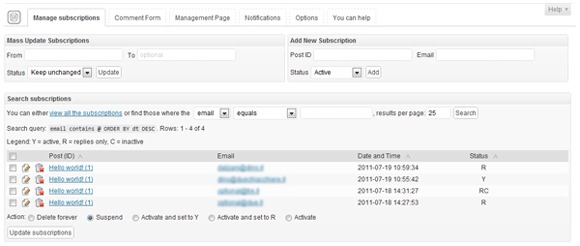 SEO Super Comments turns your comments into new pages.

Numbers comments sequentially and hierarchically; handles comments which are threaded, paged and/or reversed. Coders can call the function directly.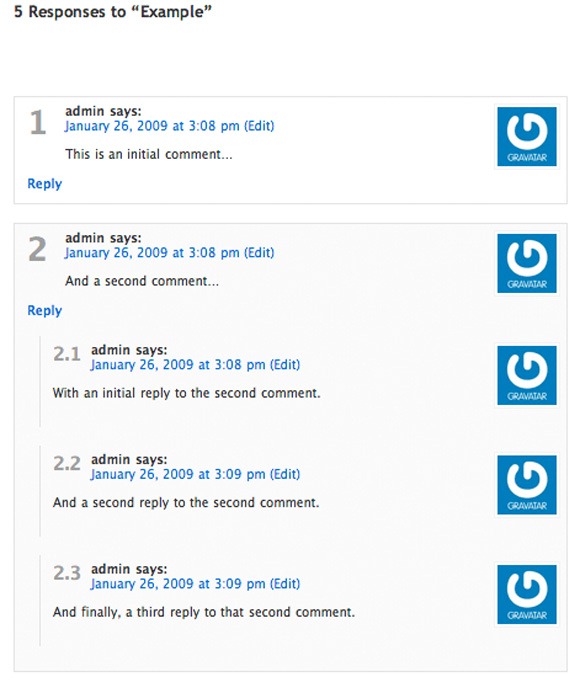 Add an verification code when user posting a comment to keep robots away. You can use an image verification code or a math equation instead.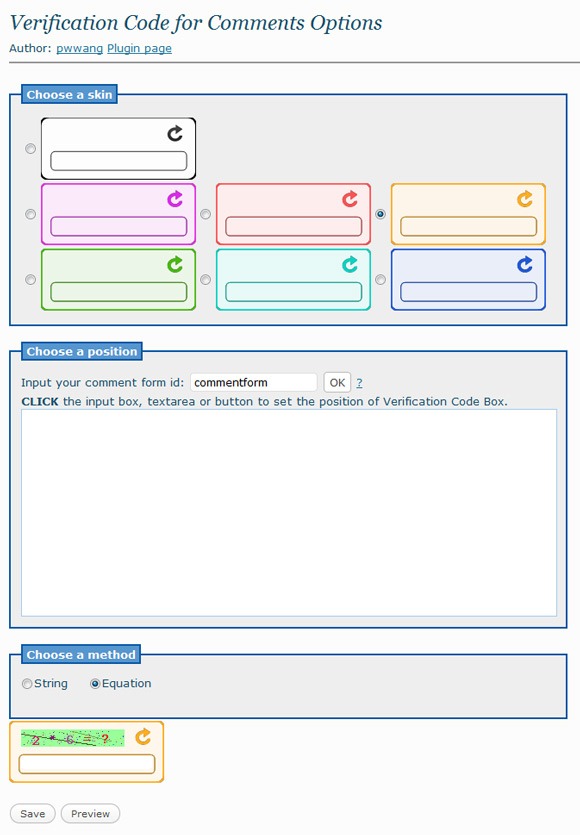 Which of the above comment plugins do you like the most? Leave a comment

and let us know…
---
Related Articles