25 Real Estate WordPress Themes For 2012 – Must See!
Real estate is an industry rich with competition. To showcase new homes and houses for rent, WordPress powered websites will be the best platform for those in the real estate profession. WordPress is a powerful publishing platform that can be used for any number of specialized purposes including professional real estate websites, and its features allow you to easily manage and update new listings. These WordPress real estate Themes will turn a WordPress site into a powerful, feature rich, yet easy to manage real estate destination, providing an ideal solution for real estate agents to showcase properties online with ease.
Keep in mind that this is one category of WordPress Theme where there are almost no free Real Estate Themes. Typically, this is because the features used to create a high-end Real Estate Template go far beyond the standard layouts you see in most Free Themes. Having said that, we scoured the web to bring you the best collection of Real Estate Themes with our favorite being the Elegant Estate Theme (best looking and best price). Check it out plus all the other wonderful real estate Themes below.
Turn your WordPress powered site into a full-blown Real Estate site with Elegant Estate from our friends at Elegant Themes. This feature rich WordPress Theme is one of our all-time favorite Real Estate templates and comes packed with numerous premium features. Get Elegant Estate.
RealEstate 2 by Templatic has all the bells and whistles of a high-end premium Real Estate Template for 2012. With a homepage that is dynamically generated with featured properties and features like multiple-search criteria, a large footer, and numerous widget ready areas, RealEstate2 is one of the best looking Real Estate Themes on the market today. Get The RealEstate2 Theme.
Smooth Pro Word Press Real Estate with IDX-MLS integration is the most advanced and flexible Gorilla Themes Real Estate template yet. Add your property information in one click with the integrated Real Estate module featuring auto-resized video modules for all your video tours, Google maps integration with Street View, and lightning fast search module for your properties. Get Smooth Pro.
Estate is a hugely powerful yet simple to manage business "theme" built specifically for real estate agencies. Built on the Woo Framework it boasts advanced SEO control, clean code and styling modification features from one of the most trusted names in WordPress Themes. Get Estate.
LightHouse is a clean and minimalist word press theme for real estate companies that is also suitable for a more business or corporate type site. Get Light House.
Real Estate Gold comes with built in basic real estate listing filtering, featured slider banner and admin options to customize the theme, plus many other bells and whistles to make your Real Estate site stand out from the crowd.. Get Real Estate Gold.
Stylo makes your project or real-estate website easy to manage with handy mini icons/ribbons that are very pleasing to the eye. The Theme works in all major browsers, has massive features, and detailed documentation so you can quickly get your site up and running. Get Stylo.
Real Estate is a very clean and minimal Real Estate Template with no distractions and a streamlined approach to presenting real estate listings. While it isn't our favorite minimal real estate design, it is worth a mention if you're in the property profession. Get Real Estate.
DeCasa is a light and elegant real estate theme with a lot of nifty features like a search panel, multi-agent support, and a professional property expose that lets you easily setup your real estate website. Get DeCasa.
The Allure Pro Real Estate theme is for Real Estate Pro plugin powered sites (that was a mouthful). Allure provides all that you need to easily create robust sites for generating leads while providing you with a professional branding in the process. Easy option menus make it super simple to personalize your site, and you can even create a network of sites with specific listings focused on niche markets. Get Allure.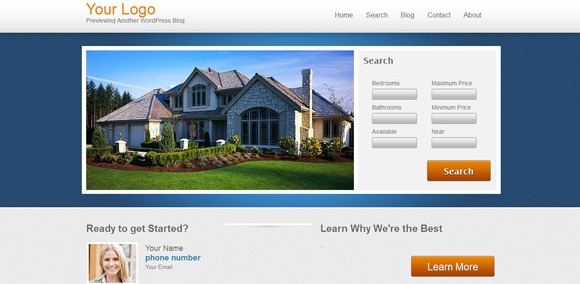 The Bell Air WordPress Real Estate theme (with MLS-IDX search integration) is the ultimate theme for displaying your real estate listings. Built from the ground up on top of the Gorilla Themes framework, agents can login, modify and delete their own listings while using a clutter free easy to understand admin panel created for one simple reason: to make managing the web portion of your real estate biz as easy as possible. The theme can also be used for a single or multiple agents platform. Get The Bel Air Theme.
Exotic Real Estate is a WordPress real estate Theme suited to showing off real estate listings or vacation properties with an exotic or tropical feel. Exotic Real Estate has a very customizable homepage and is compatible with popular WordPress real estate plugins including Great Real Estate and Simple Real Estate Pack. Get Exotic Real Estate Theme.
Real Estate Theme is a professional WordPress Template that comes with an easy to set up "featured" image slider (with it's own admin options), a color switcher with 3 color schemes, and a built-in contact form. Get Real Estate WordPress Template.
This is a free travel related WordPress Theme packed with numerous features including being RSS ready, Gravatar ready, XHTML valid, compatible with all major browsers and more. Get Travel WordPress Theme.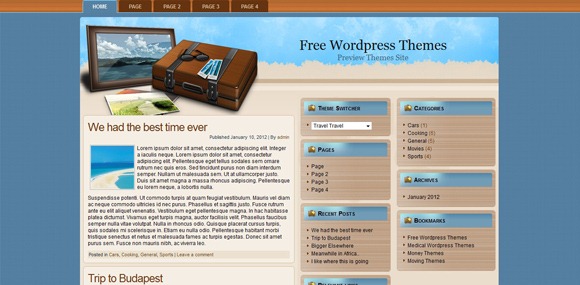 With built-in basic listing filtering, a featured slider banner, and admin options to customize the theme, Elegant Real Estate is a clean and streamlined way to stay ahead of the competition…in STYLE! Get Elegant Real Estate.
This real estate Template comes chalked full of many of the features you've come to know and love in WordPress. While you can get if for free, there are some limitations that you should read about at the developers site. Get The Agent8 Theme.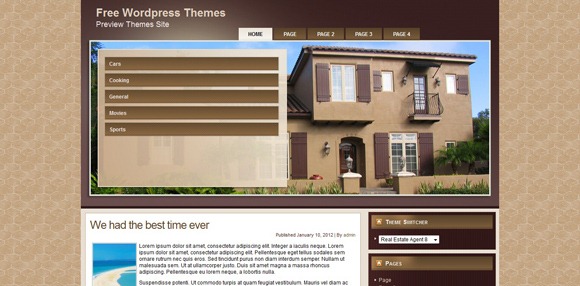 This is a free real estate related WordPress Theme with the following features: ads ready, options page, widget ready, rss ready, gravatar ready, xhtml & css valid, crossbrowser compatible (working in all major browsers), working with the last version of WP and lower versions, plus more. Keep in mind that there is a free and premium version of this real estate Template. Get WP Real Estate.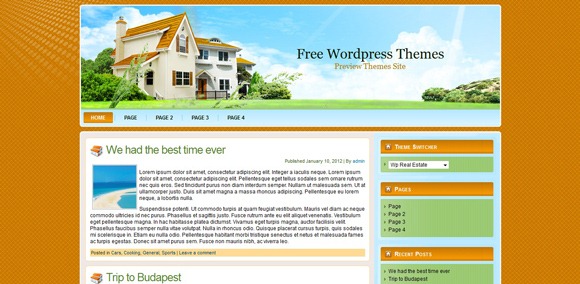 Agent13 has many of the features listed above with a little different design approach. Get The Agent13 Theme.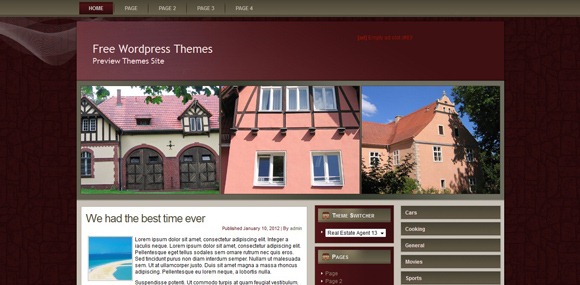 If you're running a real estate agency you might want to take a look at this theme! Seven different backgrounds, lots of customization options, and many functions that help you create your website from scratch. Check out the live demo to see more. Get Real Estate Dream Theme.
The Vistas WordPress Real Estate theme with MLS-IDX search integration features a grid layout for the homepage and a property slider showcasing the agent's featured properties in great style. Get Vistas Theme.
Homebuilder is a Premium Real Estate WordPress Themes with a clean and simple interface. The Theme is very simple to use and and get up running with just a few clicks of button. It allow you to create a dynamic listing of your real estate property with no hassles. Get Home Builder.
Main Street is a WordPress compatible real estate Theme with a dynamic real estate framework management module for easy edit-delete-add features making this Theme SUPER easy to customize to your market needs. Get Main Street Theme.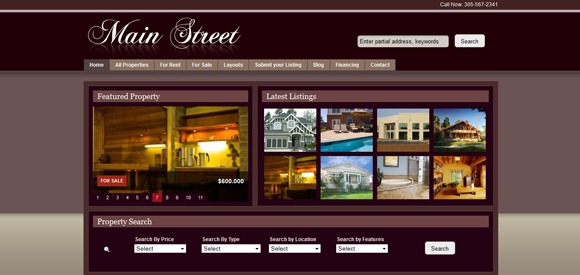 DeCondo is a light and elegant real estate theme. Nifty features like a search panel, multi-agent support and a professional property exposé let you easily setup your real estate website using DeCondo. Get The DeCondo Theme.
Property is another Real Estate Theme listed at WPDaddy. With some interesting features, this is a interesting twist on a Real Estate Template for WordPress. Get The Property Theme.
RealEstate is a free 2 column WordPress Theme with Option/Admin Panel, featured posts, and post thumbnail images. This Theme may also be suitable for business blogs. Get The ThemePix Theme.
We hope you've enjoyed this selection of the Best Real Estate WordPress Themes on the market today. Stay tuned to AEXT for more on the latest WordPress Templates, and if you are looking for our favorite Real Estate Theme be sure to check out Elegant Estate from ElegantThemes.
---
Related Articles