17% Of The Web Is Powered By WordPress…WOW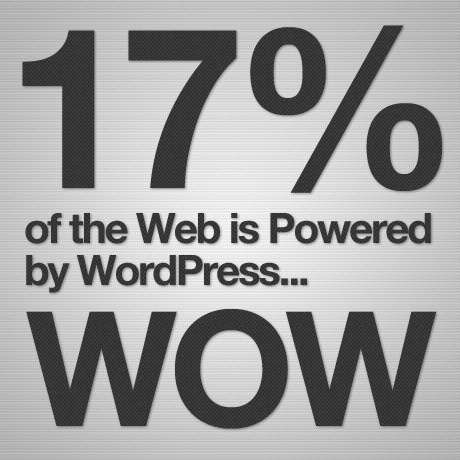 eBay. Yahoo. Wall Street Journal. Ford. Sony. Katy Perry. Mozilla Firefox. GigaOM. Ben & Jerry. America.gov. Mashable. CNN. Familiar names. Different industries. Well-known brands. What do they all have in common? Although you probably won't find this tagline on their sites anymore, under the hood they are "Powered by WordPress". If you have a website hosted on WordPress then you are in pretty good company.
As of June 2012, almost 17% of the web use WordPress as a Content Management System compared to other CMS systems (source: w3techs.com's monthly usage report). WordPress stats to date: a mind-blowing 74,788,977 sites in the world (half of which are hosted on WordPress.com). And the figures just keep on increasing.
According to Matthew Mullenweg, founding developer of WordPress.org (the free open source software) and head honcho of Automattic, the company behind WordPress.com (the free blogging host), Akismet, Intense Debate, etc.:
More sites being created is a good benchmark for our adoption, but ultimately WordPress matters not for the blogs it creates but for the lives it affects. We have some huge opportunities this year, particularly around making our software more accessible to the next 50 or 500 million people who want to have a voice online…
What's the best thing about WordPress? The most common response is ease of use. Of course there are other benefits to using WordPress but the consensus is that it's beautiful and it's easy to use.
So what makes WordPress the choice CMS solution? From being the best blogging platform to becoming one of the most robust and dynamic Content Management Systems capable of handling multimedia, syndication and social networking features. The recent update to the 3.4 version has made it more flexible and responsive to the needs of both developers and users.
Why choose WordPress?
It's Open Source — it's cost effective because it is free. Not only is it free but because it is open source it has millions of users actively contributing to the its development to make it the best CMS platform available.
Ease of use — customization, plugin availability, variety of design themes.
Built with SEO in mind.
E-Commerce — WordPress is no longer just a blogging platform. It is capable of handling e-commerce needs for your online business.
So why WordPress? Well, why not.
Note: Many of the articles on this site include affiliate links that may earn us a commission if you decide to buy the recommended product.
Related Articles