10 WordPress Plugins To Boost Up Your Theme You Have Ever Known
Do you know what the most difference between the hard-working wordpress theme developer and the lazier one is? The hard-working always finds the ways to restrict plugin using for his theme, but the lazier one just needs a plugin that can use for his theme and save his time is fine. However, sometime, there are wordpress plugins that two kind of designer above must use.
This post contains 10 wordpress plugins that help you to boost up your wordpress design. Some of plugins in this collection based on the ideas around the web blog design tutorial posts. Enjoy it!
Paginator or Paginator 3000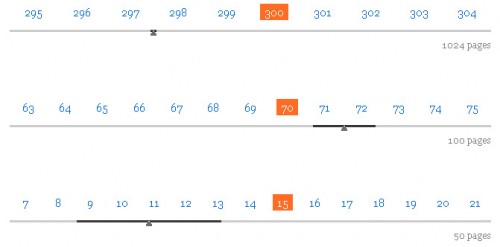 This is a pagination plugin that based on the idea of scrolling. Your pagination will not be split into parts, it will display all the pages but you can easily access all page by the scroll bar. You can find a demo here.
Download: Paginator.
Freebie Images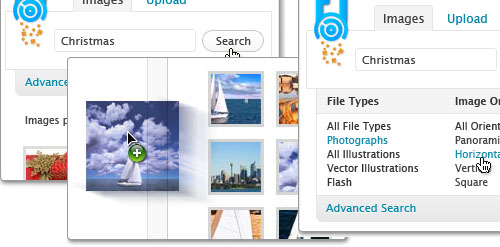 The Freebie Images Plugin allows you to search among hundreds of thousands of high quality stock photos, illustrations & vector files. Spice up your blog with high quality free stock photos & images created by professional photographers and illustrators: Easy to use search interface with advanced filtering and Drag & Drop functionality.
Download: Freebie Images: Free Stock Images Plugin.
Category and page icons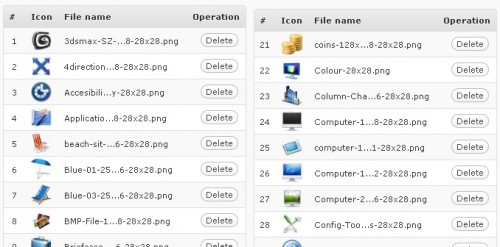 Using this plugin, you can add icons (images) to sidebar of your site or blog into section of categories and pages.
Download: Category and page icons plugin.
Login With Ajax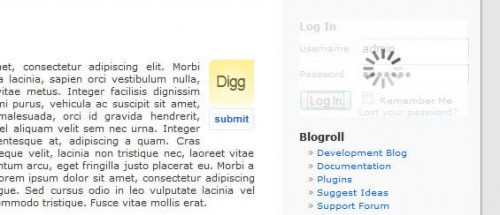 Login With Ajax is for sites that need user logins and would like to avoid the normal wordpress login, this plugin adds the capability of placing a login widget in the sidebar with smooth AJAX login effects.
Download: Login With Ajax.
Attachments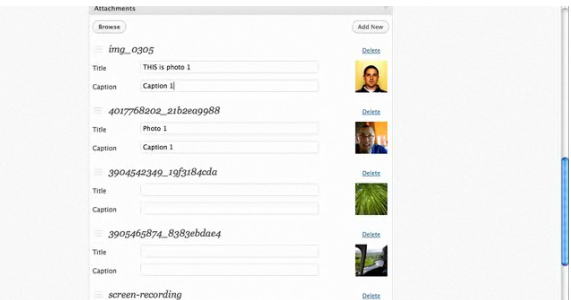 Attachments allows you to append any number of items from your WordPress Media Library to Posts and Pages. This plugin does not directly interact with your theme, you will need to edit your template files.
Download: WordPress Attachments.
WP Content Slideshow

If you plan to build WordPress theme for sell, you should put this plugin in your pocket. Here below is the plugin description.
WP Content Slideshow shows up to 5 Posts in a very nice and powerfull Javascript Slideshow. On the left side of the Slideshow it displays a Image for every Post. On the right side, there are all the Titles (and a small description under the Title) of the Posts. The Slideshow highlights the active Post and repeats automatically after getting to the 5th Post. You have a powerfull Administration Area to adjust the Category, the number of Posts, the width and height, and many colours for the Slideshow!
Download: WP Content Slideshow.
Drag To Share
The plugin was developed on the source files created by Dan Wellman. Read more here. This plugin is basically a similar effect release by Meebo.com and used by big players like Mashable.
Download: Drag To Share.
I Like This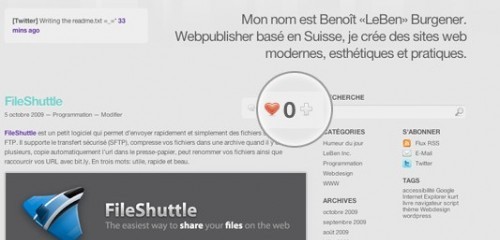 This plugin allows your visitors to simply like your posts instead of comment it.
Download: I Like This.
WP Sliding Login/Dashboard Panel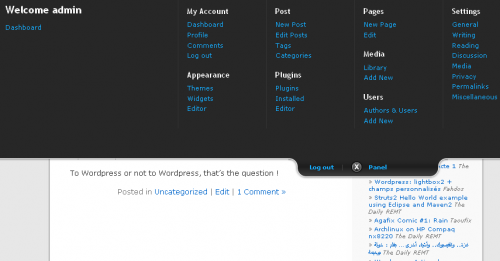 Add a sliding login/dashboard panel to WordPress Theme. This awesome panel is based on Nice clean sliding login panel built with jquery
Download: WP Sliding Login/Dashboard Panel.
Author Exposed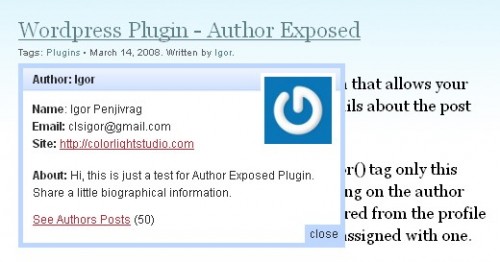 Author Exposed is a simple WordPress plugin that allows your visitors easy and elegant way to see more details about the post author.
Download: Author Exposed.
---
Related Articles