10 Tips for Managing Multiple Blog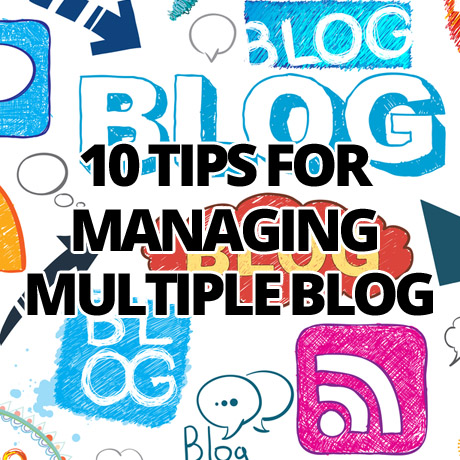 Many bloggers actually have multiple blogs instead of just one. If this is the case for you, working efficiently and being organized can mean the difference between success and failure for all of your blogs.
Since I started my first blog about 6 or 7 years ago I've had multiple blogs for all but the first few months of that time frame. At times it's a major challenge to get everything done and to keep growing, but with time, and through a lot of mistakes, I've learned some things that help my work to go much smoother now.
Here are 10 tips that will help you if you're trying, or thinking about trying, to manage multiple blogs.
1. Know Your Priorities
When you have multiple projects going on at once, it's only natural that priorities will form. Whether you view one of your blogs as a priority or not, one of them is ultimately likely to demand more of your time and attention than others.
Most likely the blog that is bringing in the most money be your priority. If you're trying to get a few new blogs off the ground at the same time, your priority may be the one that has the most potential for growth or the one that shows signs of taking off quickly.
Personally, I always prefer to have one website or blog that is clearly my priority, both in terms of income and the time that I dedicate to the site. Then I like to also have one, or maybe a few, other side projects that get smaller amounts of my attention. If you have several different sites or blogs with no clear priority you're in danger of spreading yourself thin and not having a real impact with any of them.
Keep your priorities in mind when deciding how to use your time and you'll find that managing multiple blogs doesn't become a drain on your most successful projects.
2. Use Batch Processing
I remember reading a post by Darren Rowse at ProBlogger back in 2008 about batch processing. Darren explained how he "batched" his typical tasks to make more efficient use of his time. This is something that I had been doing to some extent, but I took it more seriously after reading that post.
If you're running multiple blogs you're probably doing a lot of the same things for each of your blogs. If you organize your time so that you do all of those things together you can wind up saving some time.
For example, my morning routine includes checking Google Analytics, responding to blog comments, checking my RSS reader, and interacting at social media sites. I start by logging in to my Analytics account and quickly looking at the previous day's numbers for each of my blogs. Then I go to the admin dashboard of each blog and reply to any new comments that need attention. Then I open my RSS reader, Feedly, and browse through the new posts which are categorized by industry according to the different blogs that I'm managing. As I come across interesting posts share them via Twitter or some other social network, and I'll take a few minutes to actively participate at various social media sites.
By doing each of these tasks for all of my blogs I can get them done and out of the way, and then I move to my "real" work like creating content for my blogs.
3. Have a "To Do" List
One of the biggest keys for me to stay productive is to have a to-do list. Personally, I create a new list each week, and then I break it down by creating a smaller list for each day.
The to-do list helps me to stay on task and to maintain productivity. I started using the to-do list because I found that when I didn't have a clear order of priorities for a day or a week I wound up bouncing around from a lot of different things and got very little accomplished.
If you're managing multiple blogs there is no doubt that you've got a lot of things pulling you in different directions. I highly recommend that you take a few minutes to put together your own to-do list so that you'll always know what should be the focus of your attention.
4. Focus on Quality Over Quantity
Managing one blog that publishes a high volume of content can be a lot of work. Managing multiple high volume blogs is almost impossible to do effectively.
Instead of taking the approach that you need to publish a post every day, or multiple posts every day, on all of your blogs, focus on quality over quantity. In most cases you'll get much better results by cutting back on the number of posts and making each one count.
5. Delegate
If you have multiple blogs I'd recommend hiring some freelance bloggers if you're able to fit it into the budget. You don't need to outsource all of the content creation, but getting some help with it can take responsibility and stress off of you, and allow you to focus on doing the best job that you can with your blogs. If your blogs are bringing in a good stream of revenue you may even want to hire an editor who can oversee all of the blog's content.
6. Set Up a Publication Schedule
One of the challenges of managing multiple blogs is to remember when you published the last post and when you should be publishing the next. I recommend setting up a schedule for each of your blogs to simplify this.
For example, you could publish new posts on Mondays and Thursdays on one of your blogs, and publish on Tuesdays and Fridays at your other blog. This way you're not overwhelmed on any one day and you'll always know when you need to publish something. Of course, you don't have to stick to the schedule religiously, but it can serve as a helpful guide.
7. Work Ahead
Once you have a publication schedule set, I highly recommend that you work ahead. If you manage multiple blogs and you wait until you need to publish a new post to start working on the post content, it can get pretty stressful. The end result is that your quality of content will usually suffer.
I try to always work at least a week, if not a few weeks, in advance. That way I don't feel the pressure to come up with something that I can publish immediately, and the quality of content improves.
8. Write Down Your Post Ideas
It's a good idea to keep a running list where you can write down and post ideas that you have. It can be a list on paper, of just use a Word document or Google Docs to record your post ideas. Keep a separate list for each of your blogs and you should always have some ideas ready when you need to write a new post. If you don't write down your ideas you'll be more likely to forget them, and having multiple blogs you'll have all kinds of thoughts and ideas running through your mind at any point in time.
9. Embrace Helpful Tools
Take advantage of tools and resources that can help you to make more efficient use or your time. For example, I use the free version of Hootsuite to manage all of my social media accounts from one place. With one login I can schedule tweets for each of my Twitter accounts, which saves a lot of time.
You can also use Gmail to manage email accounts from each of your blogs together, so you don't have to check email in separate places.
With Google Analytics you can keep all of your websites in one account. Even if you want to keep the main admin account separate for each of your blogs you can have one main account that you assign permission so you can view the analytics for each site in that one account.
WordPress users can also look for themes and plugins that allow for unlimited use or offer developer's licensing so you can use them with all of your blogs.
10. Consider Hosting Your Blogs Separately
Most bloggers that have multiple blogs will host them on the same account, but that is not my recommendation. While it may make it slightly easier to have only one hosting login, and it can also save some money, there are some potentially significant downsides to having your blogs hosted together.
If you experience downtime your problems and frustrations will be multiplied if your blogs are hosted together. Even if you have them on separate accounts but with the same host it's possible that all of your sites will be down at the same time.
Personally, I prefer to keep my sites/blogs hosted with separate companies so if one goes down it doesn't bring my business to a screeching halt.
Another potential downfall from hosting the blogs together is security. If a hacker is able to access your server it's likely that they can get access to any site on that server.
If you're just getting started and you've got multiple blogs on a single shared hosting account, it's probably not that big of a deal that you host them together. But as the sites grow and as your income becomes something significant, I would recommend that you consider hosting them separately.
What Tips Do You Have?
If you manage multiple blogs please feel free to share your own tips in the comments.
About the Author:
Marc Andre has been blogging and working online full-time for the past 5 years. If you're interested in learning more about making money with a blog please see his free e-book, the Guide to Profitable Blogging.
Note: Many of the articles on this site include affiliate links that may earn us a commission if you decide to buy the recommended product.
Related Articles