10 Leading Presentation Tools Every Designer Should Know
Here are 10 top of the line programs that will help you take your PowerPoint presentation global. If you haven't used any of these to create some great video, give them a shot!

---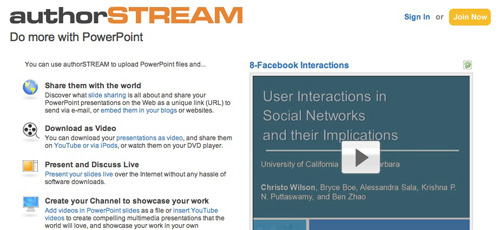 With AuthorSTREAM, you can take your PowerPoint presentations and upload them to be shared with others. You can download the presentations that you create to embed them in blogs and send them to your favorite video hosting site. The basic service is free, the premium services boost the number of presentations you can have.
---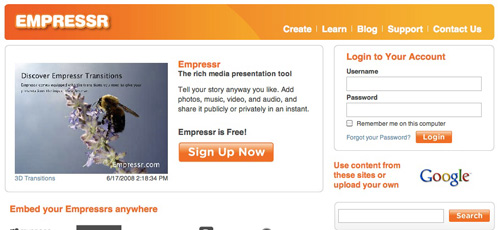 This application takes your slides, video, audio and photos and allows you to Empress your colleagues with cool looking presentations. You can share your work on all of the social media sites, or keep it private. The on-line library helps you to manage your media assets quickly.
---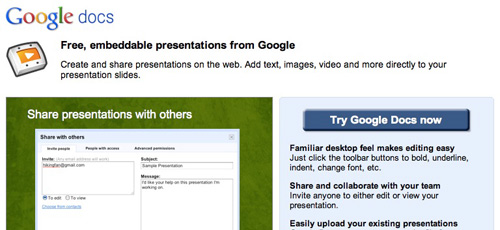 With Google Presentation, you can import video, slides, and tables to make a show. You can collaborate with others all over the world using this application. After creation with this no frills program, you can download your finished project as a PowerPoint file, PDF or text document. You can also upload it to YouTube.
---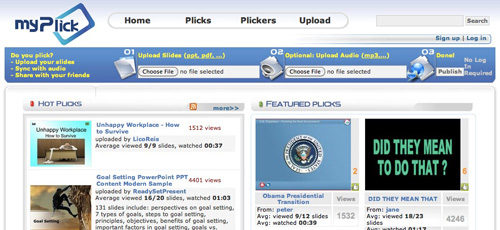 Import most of the major file formats including PDF, OpenOffice, PowerPoint, Word, JPG, MP3 and WMA. You can synch audio with video on your 'plicks' and share them with users worldwide. Presentations have to be kept to 150 slides and uploads to 50MB. This is a free service.
---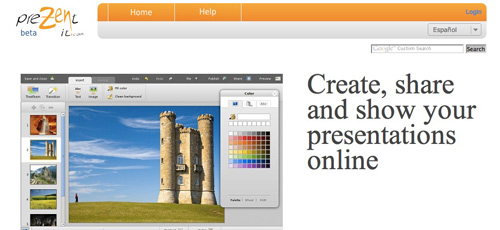 Prezentit is a free presentation application. It offers online editing and collaboration, where you can make changes simultaneously. There is a 250MB upload limit on PreZentit, and you can bring as many people as you want in on a presentation. You can edit your presentations by hand since they are all stored as web pages.
---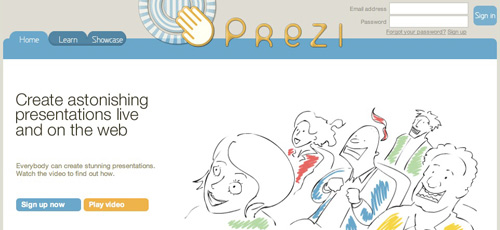 Using Prezi, you can collaborate with others to produce high quality flash documents. The web-based program has an editor that is designed to be intuitive. The basic level of Prezi is free, but there are two levels of subscription which offer you more than the 100MB of disk space that the public license offers.
---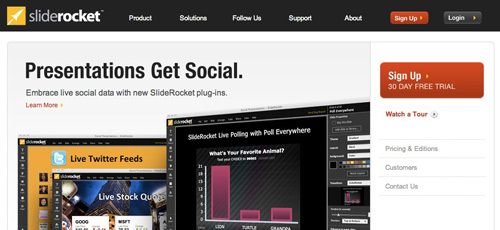 You can upload almost any file format to your presentation, including video from YouTube and information from Google Docs. You can put transitions and effects into your presentations and download the finished product for later viewing. The basic service is free. With a monthly subscription, you can get a good collaboration tool.
---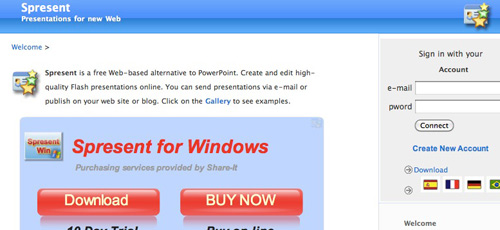 You can take content from YouTube or Flickr and create a flash presentation. By embedding your presentations into blogs, emails and web sites, you can get your message across quickly and easily. For $29.95/yr, you can import more file formats and have a copy of Spresent on your desktop.
---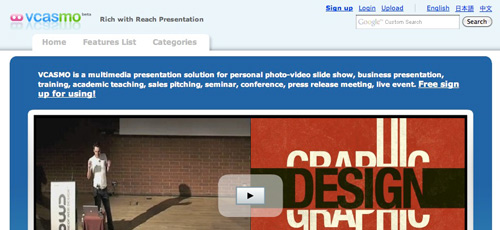 VCASMO allows you to upload all kinds of audio and video formats into your presentation. Two of its cool features are video seeking and the ability to add subtitles to your slide. You can keep your presentation public or private, synchronize video and audio, and bring that slideshow to your blog of web page.
---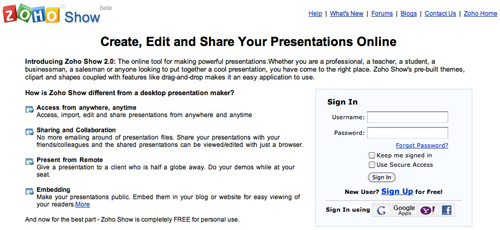 Zoho offers a wide range of online document applications. Show is a fully collaborative presentation program which can import a wide range of file types. You can export your slide shows to HTML, PowerPoint and PDF. One great feature of Zoho Show is that the presenter can use online chat to communicate with the viewers.
Whether it is from a small cafe in London, or a Starbuck's in Seattle, you can access your presentation files from anywhere using these web-based applications. Eliminate travel and boarding costs by making your presentations on the internet instead of paying extra cost for a website hosting company.
---
Related Articles