10 Killer WordPress Tutorials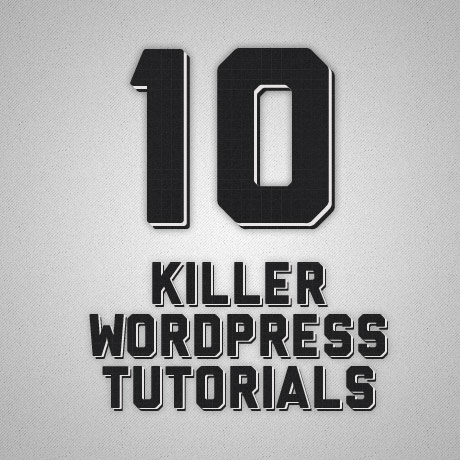 In this latest post we've set out to scour the web far and wide to bring you some of the best content available that will walk you through all sorts of topics related to WordPress. We've got a little bit of everything in here: something for the beginners, novices, and expert developers even! Our aim is to help everybody learn a little something by directing you towards some great tutorials related to some of our most frequently asked questions. So sit back, relax, enjoy, and try and soak up as much knowledge as you can!
1. WordPress Theme Development Training Wheels
Are you a savvy site owner with some experience in HTML and CSS looking to take your site's development into your own hands? Or perhaps you're an aspiring developer looking to widen your knowledge base a bit. Whatever the case may be, if you're ready to begin working with WordPress on your own projects, this fantastic article is focused on beginners and will take you through all the basic steps necessary to convert an HTML template into a fully functional WordPress theme!
2. How to Install a WordPress Child Theme
To a lot of WordPress users, the idea of how to go about using child themes is a little confusing. Your first time of going through the process of setting everything up can seem a little intimidating and can scare some users off. Well we're here to tell you that you have nothing to fear!This WP Beginner article takes you through all the steps of working with a parent/child theme setup. Once you do so, you'll quickly see why working with a child theme is the way to go!
3. Checklist: 15 Things You MUST DO Before Changing WordPress Themes
If you've spent any time trying out new themes on a WordPress installation, you know how much of a hassle it can be to move from one template to another. Before you make another big switch, check out this great rundown of 15 things you absolutely must do before hitting "Activate."
4. How to Fix the Error Establishing a Database Connection in WordPress
We've all been there. That moment when you receive the message that nobody wants to see: "Error Establishing a Database Connection." While the stark white background and boldfaced copy of this alert can seem scary, you'll find that oftentimes there are a few different issues that are usually culprit whenever this occurs. Take a look at this guide to help you troubleshoot this issue the next time it arises.
5. Protect Your WordPress Site with .htaccess
The numbers are in and the facts don't lie: WordPress is the most widely used content management system in the world with over 70 million users. Unfortunately, with all that popularity comes a slew of other problems, including security risks from plenty of bad dudes out there looking to exploit any gaps in your install if possible for any reason whatsoever. This helpful article from .NET Magazine aims to walk you through some methods to lock down your site and keep it air tight. A must read.
6. Enabling HTTPS on WordPress
Who better to put together a WordPress tutorial than the team at WordPress themselves? If you've found yourself needing to enable HTTPS on your WordPress site for added security, this guide is extremely helpful. It's a pretty short read and you're sure to have things setup properly in no time.
7. Add Infinite Scroll to a WordPress Theme
Make your site load content dynamically by following the steps in this short and sweet article from WP Theming. After all, paginating blog posts is so 2011.
8. How To Add Custom WordPress Pagination Without a Plugin
While plugins can be incredibly useful for more complicated matters such as search engine optimization, caching, or minifying scripts and CSS for better performance, they're not necessary for all tasks. If you're a developer looking to integrate pagination into your next design without needing a plugin, definitely check outBoutros AbiChedid's article on how this can be achieved.
9. Developing a WordPress Theme for a Real Estate Website
WordPress has grown into an incredible platform that can be used for so much than a standard blog. If you're a curious developer looking to expand your horizons a bit, check out this excellent WP Tuts article, which walks you through all the ins and outs of turning WordPress into a real estate website.
10. WP Snippets
WP Snippets is an excellent resource for anyone doing work on WordPress sites as it features a large collection of quick snippets to use in your templates for various purposes. Take some time to check out the site and see what sort of helpful nuggets of knowledge you can walk away with!
Note: Many of the articles on this site include affiliate links that may earn us a commission if you decide to buy the recommended product.
Related Articles