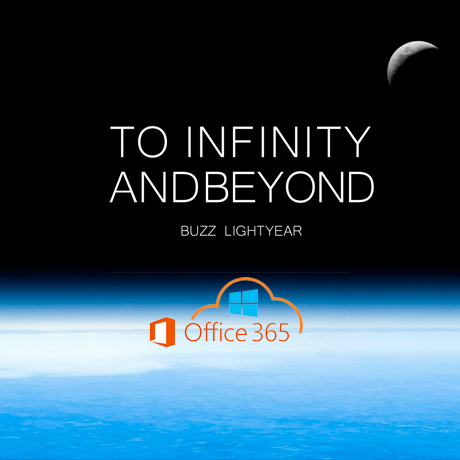 To Infinity and Beyond
Christmas is early for Microsoft Office 365 subscribers as Microsoft announced that Office 365 customers can now get unlimited cloud storage space on OneDrive at no additional cost. Forget about storage in gigabytes or terrabytes – this one just went through the roof. Julia White, general manager of Office 365 Technical Product Management gave this announcement on the Office blog.
Today, storage limits just became a thing of the past with Office 365. OneDrive and OneDrive for Business will now offer unlimited storage—at no additional cost—to our Office 365 consumer and business customers.

With unlimited OneDrive storage coming to Office 365 subscribers across consumer, commercial and education plans you can get more done on the devices you love—the possibilities are, well, unlimited.
Chris Jones, Microsoft's OneDrive corporate VP, also said in a blog post,
While unlimited storage is another important milestone for OneDrive we believe the true value of cloud storage is only realized when it is tightly integrated with the tools people use to communicate, create, and collaborate, both personally and professionally. That is why unlimited storage is just one small part of our broader promise to deliver a single experience across work and life that helps people store, sync, share, and collaborate on all the files that are important to them, all while meeting the security and compliance needs of even the most stringent organizations.

We're thrilled to continue our quest of making OneDrive the world's cloud storage leader – and, always a key part of the best productivity service with Office 365.
The Sky Wars
Having enough storage or disk space has always been a problem because we accumulate so much stuff on our hard drives. Accessing data can be difficult to manage especially if you have so many backups on external hard drives to maintain.
Some of the reasons why cloud storage services are becoming more and more acceptable is because of the simplicity, accessibility, ease of use, and cross-platform support they provide users. This means that these services allow you to easily upload your files and use it anytime, anywhere, using almost any device.
The more popularly known cloud storage service providers aside from OneDrive include: Dropbox, Google Drive, Amazon Cloud Drive, iCloud Drive, and a few others. Storage-wise, here's what you get for free:
Microsoft OneDrive – 15 GB (+ 3 GB extra storage when you activate camera roll backup)
Dropbox – 2 GB (+ up to 1.5 GB extra storage as bonus)
Google Drive – 15 GB
Amazon Cloud Drive – 5 GB
iCloud Drive – 5 GB
But, Microsoft has something else to give aside from the unlimited storage space. Microsoft calls it – Office Everywhere! This was announced Nov. 6 bringing Office to everyone and on every device with the start of Office for Android tablet Preview, new Office for iPhone apps, updated Office for iPad apps and more.
John Case, Corporate Vice President of Microsoft Office, in his announcement also said,
Today we're taking the next major step to bring Office to everyone, on every device, and I'm excited to announce that Office apps customers love are coming to Android tablets with the start of our Office for AndroidTM tablet Preview. We're also delivering Word, Excel, and PowerPoint apps for iPhone® and updates for the iPad apps–to ensure a consistently beautiful and productive Office experience on every device. Our vision of Office everywhere wouldn't be complete without Windows, so I'm pleased to confirm that new, touch-optimized Office apps for Windows 10 are in the works and we'll have more to share soon.
These changes will definitely change the way cyberscape works and will set the tone for others to match. How it will unfold we have yet to see. To infinity and beyond, indeed.
ETA: Interesting Gamechanger – Microsoft and Dropbox just announced a partnership that will see Dropbox better support Microsoft's Office suite, and the latter better integrate into the product stack of the storage firm. The news comes after Box, another enterprise-facing storage firm, integrated with Office 365, Microsoft's Office-as-a-service solution, and OneDrive improved its product mix with unlimited storage. Let's see how all this unfolds.